As the first month of 2011 draws to a close, we hope that your year has started with lots of positive action and blessings. Over the Christmas holiday, there were lots of weddings – we all danced, ate and celebrated. But what happens after that festive day… This is what inspired this very special edition of BN Our Wedding Story.
This blessed couple, Olatokunbo Morin-Muhammed & Saheed Muhammed have been married for over 7 years and recently celebrated their 7th wedding anniversary with a beautiful ceremony and event. Olatokunbo and Saheed's story illustrates that there is so much to look forward to after you say "I Do".


____________________________________________________________________________________________
I Do! – Olatokunbo & Saheed's Love Story
by Olatokunbo
The Call
I was introduced to my beau through my cousin's husband. He told me of Saheed and I didn't pay him any mind. A couple of weeks later I received a call from Saheed…I was extremely infuriated that my cousin's husband would pass my number to a guy without my consent, luckily it worked out for the best!
Then…
I was living in Detroit, Michigan; my beau was a soldier living in Killeen, Texas. I was with someone else at the time and not remotely interested in the prospects of being with Saheed, but he was rather persistent…and I happen to find 'men that know exactly what they want' appealing. After numerous calls, rudeness on my part, an air ticket purchased to come visit him but never used, I met him for the first time almost a year later, decided to be nice for a change and we hit it off from then on.
The Proposal
My birthday was approaching – my birthday is the 29th of February, it wasn't a leap year so no 29th was coming this time around. I told him this birthday year will not be special because my actual birth date wasn't coming till the following year, I always have to wait 4 years. He said "it will be special" and I was like "Sure" (sarcasm). I flew in from Michigan to Texas to see him and on my alternative birthday (the 28th), I was getting ready to where he was going to take me to make my day special. He stepped out of his apartment briefly while I ironed my pants, came back in and got on one knee, pulled out the magnificent ring and said
"I want to marry you" ,
Me: "Okay" (grinning)
Him: "…like right now!…"
Me: "huh??"
We went to court that same day and got married! Yes, he made my day special alright!.
The Wedding…After the Wedding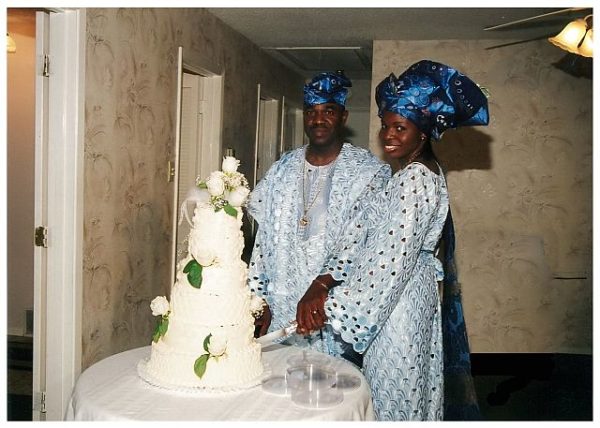 We secretly got married on the 28th of February 2003. Made announcements that we were engaged and openly celebrated our union to about 250 something guests in a traditional Nigerian wedding ceremony.
____________________________________________________________________________________________
Marriage Q & A with BN
BN: Advice for young couples who just got married?
Olatokunbo: I am not into giving advice because the reality of it all is that relationships are not "one size fits all". What might work for me, will not necessarily work for another. For Saheed and I, Love is a choice. And that means; a continuous conscientious effort to love each other regardless of our "pros and cons", it's our choice.
BN: How did you transition from dating to marriage, adjusting to children etc…?
Olatokunbo: We actually didn't date long, it really was one of those stories when you just know he or she is the one. We meet for the first time in December and two months later we were married. The 'great transition' began when we lived together. I will not sugar coat anything, if one survives the first two years of marital life, they might be together for a long time. Living together as newlyweds was our greatest challenge. Like most couples; we needed to figure each other out. We both had difference experiences, upbringings, personalities and also different religions. We have 2 adorable girls now and Saheed is such a great dad to his girls. It's such a delight to watch an "All-around-Nigerian" guy love is children and not be afraid to show it.
BN: Advice for the single ladies and gentlemen?
Olatokunbo: Just a favorite quote: "the virtue of true love is not to find the perfect person but to love the imperfect person perfectly" – Facebook quote written by a guy with introspective sense!
____________________________________________________________________________________________

The 7th Year Anniversary Celebration
Inspired by the number 7 which is a number of perfection referenced in both the Bible and the Koran; Olatokunbo who is Christian and Saheed who is Muslim wanted to do something that was not cliché. The couple did not want to follow the trend of a "5, 10, 15 or 25 year anniversary" celebration, instead they wanted to create their own tradition with a number that is universally acknowledged and unique – 7! Olatokunbo and Saheed's 7th anniversary happened to fall exactly on 10.10.10 – that was the perfect sign that this was the perfect day for them!
**
Date: 10/10/10
Venue: A New Leaf, Lincoln Park Chicago, Illinois, USA
Style: Individualist/Afrik-Contemporary Vintage
Inspiration: Romance and Royalty
Colours: Plum-berry, tea rose, champagne, lavender & gold leaf
Custom-made jewelry: Yemisii – www.yemisii.com
Gown: Rosa Barrito inspired by House of Wu
Couture Invitations and papery: IJORERE – www.Ijorere.com
Singer/guitarist/saxist/keyboardist: Annie Bridges and the band
Photographer: Raheem of Rhphotoarts – www.Rhphotoarts.com
Cinematographer: Ope of AdsMedia
***
Surrounded by their family, friends and their beautiful children, Olatokunbo & Saheed rededicated their love and commitment to each other in exquisite style. The ceremony was set up with an individualistic "Afrik-Contemporary Vintage" theme with unique touches such as their "magic briefcase" couture invitations which were crafted by Olatokunbo's company – Ijorere.
Guests could feel the aura of romance and royalty as they stepped into the "A New Leaf" event venue in Lincoln Park, Chicago. Olatokunbo was simply radiant as she was dressed in a custom designed champagne-gold dress accentuated by Fulani inspired jewelry and she had the perfect partner in life and in style by her side – Saheed who was dapper in his grey suit.
As this was all about creating their own traditions – Olatokunbo and Saheed exchanged the "gift of time" as they gifted each other watches. After that, it was about enjoying great music, food and company. The band delivered the couple's favourite songs, as the couple, their family and friends danced and enjoyed this wonderful occasion.
BN is so thankful to Olatokunbo & Saheed for sharing their story. We pray that they will be blessed and enjoy each and everyday together as one.
***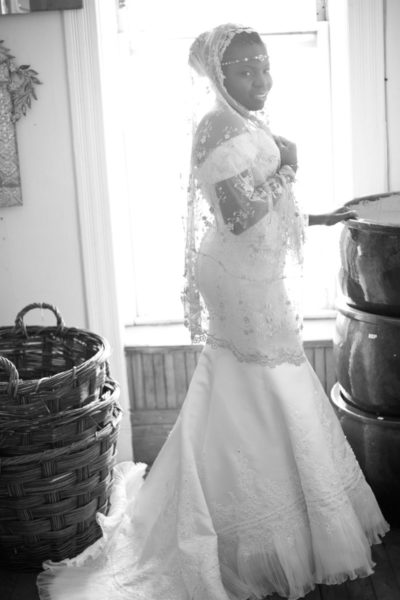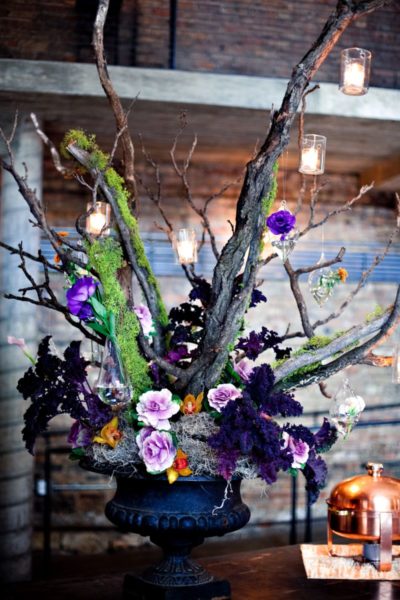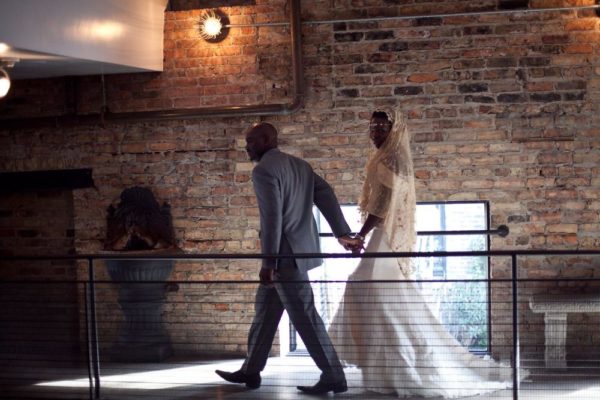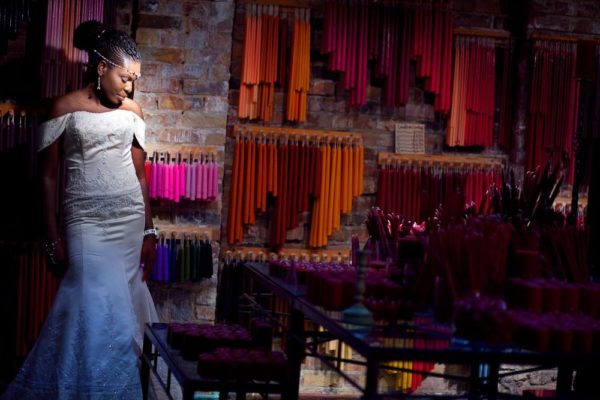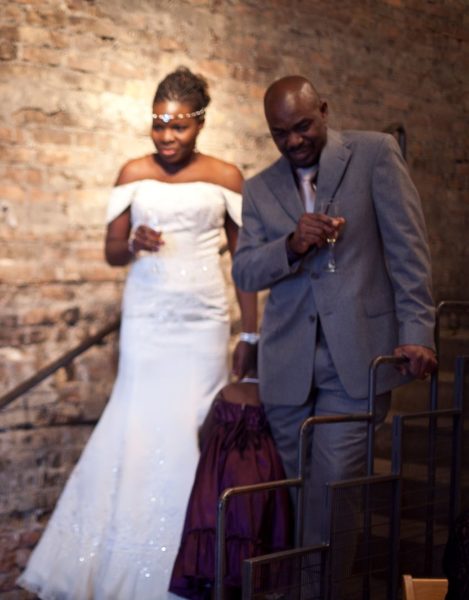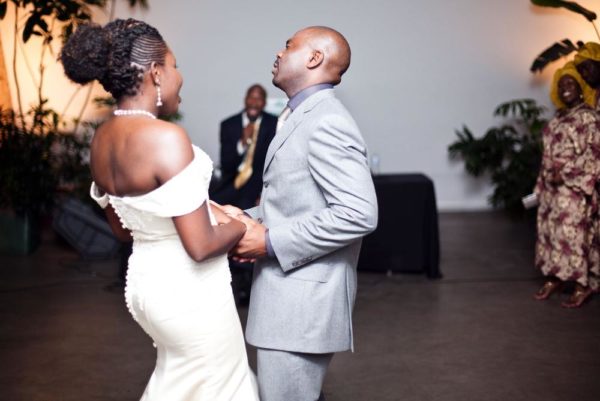 ***
Special Thanks to Yetunde @ Icy PR – www.icypr.com
Experience IJORERE – www.Ijorere.com