It's a New Year, and for Nigerian Fashion, I am looking forward to being blown away by amazing, fresh and groundbreaking talent. Last year, here on Bella Naija Style, we featured quite a few emerging designers – not just that, many of their designs rocked the red carpets as we saw on BN Red Carpet Fab. While we look into the future for brand new design talent, we hope the current players continue to push the style boundaries to propel the development of the African Fashion Industry.
Over the last few years, we have seen a crop of young designers make their way into Nigerian Fashion, and for the designers who made our LIST, we hope for  accelerated growth in 2011.  In the midst of an industry saturated with talent, there are those who stand out.
Putting together this list was an exciting experience for me, there has  been an explosion of talent in the industry for the past few years and I am immensely proud of this! Maki Oh, Phunk Afrique, Zebra, Okunoren Twins, Eniola David and so many more have made a commendable impact.
I am glad to introduce this crop of designers to you; many have not released their first 'official' collections yet have caught out attention. It is a mixed bag – From  Port Harcourt to Lagos and over to Abuja – These designers are definitely worth knowing and it is our hope that they will contribute towards making 2011 a wonderful year for Nigerian fashion.
The designers listed on this feature were picked based  on design talent, the strength of their brand, our interest in what their brand has to offer in the future, and also PR , Marketing , Visibility and Identification of the brand. We considered how they are pushing their brand to the consumers and also the response from the target consumers – the fabulous fashion loving African stylistas and trend setters.
It should be an exciting year for Nigerian Fashion!
**
BABUSHKA
Babushka is a young label headed by Simi Osinubi. The label which launched in 2010, set alarms across the Nigerian fashion scene towards the end of the year with a constant flow of designs gracing the big events.
Simi initially started out sketching her designs and then over time she started making some of the designs for herself, and opened up a small studio at her home where she currently runs Babushka.
This hands-on designer, who considers herself the muse of her label,  favours simple clothing – clean lines and great attention to detail which she reflects in Babushka creations.
"The Babushka woman is one who is self-assured. She understands her own style and is never a fashion victim. When asked to describe my label I always say 'wearable is the new couture'. I like to think our pieces are all very special but at the same time fit into the Babushka woman's existing wardrobe and she can mix and match our pieces with items she already has in her wardrobe."- Simi Osinubi
What I get from Babushka is this young, sexy, elevated modern spirit. It is well crafted, detail-oriented pieces, but they leave room for flexibility and for an individual's personality to shine through, allowing the wearer to tell their own story through their deigns. The brand presents itself as very youthful, but with a deep sense of maturity and confidence in who they are and their style.
During a short period of time, Simi has managed to generate interest in the brand, and I am personally looking forward to what the brand has to offer and to Babushka continually validating its spot in Nigerian Fashion Industry as a hot newcomer.
Follow @simibabushka on twitter
_______________________________________________________________________________
TOJU FOYEH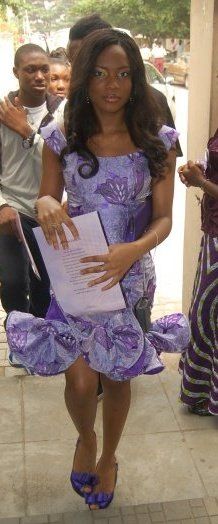 Designer Toju Foyeh is not exactly a newcomer to Nigerian Fashion. She's been featured here on BellaNaija.com and MyAsho.com stocks her designs, so she's been able to lay some ground on her label.
What I hope for all designers as they establish their brands in the midst of competing ones, is growth in their visual narratives, in the execution and presentation of their collections. I hope to watch them evolve, especially the young ones, and see how their personal growth transitions to their creative.
Toju Foyeh is one of those designers who started out young, her intrigue for the creative art of high fashion, compelled her to start putting her ideas on paper at the age of nine, and then she launched her label as an undergraduate student.
Earlier in 2010, the label seemed to have taken a back seat, but obtained revived interest with Tiwa Savage, who has been seen gracing event  red carpets wearing Toju Foyeh. What we've seen from the brand is definitely an evolution, as we can see she's become more confident as a designer. She's discovering more of herself as a designer and she is using her label as a means of expression. We see bolder pieces form the brand, in colour and cut, and the brand expands beyond  sleek cocktail dresses and is now more embracing of volume.
The Toju Foyeh label has managed to extend itself to a more mature audience, it still remains girly, but we an added appeal to its designs that is more likely to resonate with an older audience than  previous designs did.  I've seen two pieces and I'm already raving, hopefully she'll continue the trend in 2011, if she does, I predict an amazing year for the brand.
Click Join Toju Foyeh group on facebook
_______________________________________________________________________________
RE BAHIA
Re Bahia is a brand conceived by 20 year old student of Art History at the University Of Manchester, Orire Omatsola. Re Bahia, which she describes as a mother-daughter brand, as her mum is greatly involved in executing the vision for the brand, got its name from her infusion of her love for Brazilian culture and the last bit of her name.
Orire though new to the Fashion Industry, got the conviction that this was the right path to follow at 17 after her experience at a summer fashion programme in Milan, thus, taking the plunge to start her label at an age most would consider quite young.
Re Bahia got thrown into the fashion spotlight after Orire took part in the FAB Night Out event which was in partnership with Vlisco. Her appearance at the show led to Eku Edewor and Dolapo Oni of Studio 53 Extra along with Silverbird's Yvonne Ekwere showing up to the to the 2010 MAMA's glamed up in Re Bahia creations.
In an interview with HauteFashionAfrica.com, when asked about the aesthetic of Re Bahia, Orire says: "The brand's aesthetic is all about Simplicity. I love fabrics and I believe when you've got an amazing piece of fabric, keep the designing to the minimum. I commend people that can create new species of birds with their designs but that's not me".
Although a new label, the brand has already released two collections: 'Non' and 'Lola'. When I saw both collections, I was genuinely excited, the work speaks for itself and Orire is definitely a talent. I love the colours, Re Bahia is a vibrant, engaging brand. I love how she uses textures, fabrics and prints. Re Bahia happens to have gotten the basics; cut, finish, aesthetic, brand personality right from the start, and as someone young in fashion,  continuous improvement in her craft is key to keep her label in the spotlight. The question for Re Bahia becomes where do they go from here as a brand, how would she beat her last collections, and show growth in her vision and the brand's style power. I can't wait to see how she achieves that  this year!
For someone whose inspiration comes from dreams, she's definitely presented quite a few pieces which I'm sure will be haunting my dreams as they make their way on my wishlists.
http://www.rebahia.com/
Follow @Re_Bahia on twitter
___________________________________________________________________________
BRIDGET AWOSIKA
In December 2008, Bridget Awosika launched her brand in her home country, Nigeria with the preview of her Spring/Summer 2009 collection titled "art nouveau", a collection I described as " a breath of fresh fine air" because she was bringing something new to the Industry.
Bridget Awosika brings experience, she's worked with Donna Karen and Giorgio Armani. Over the years, she's nurtured her talent, which has developed into a refined and assured sense of who she is as a designer and what her label has to offer.
Bridget is one of those designers whom you can relate with their personal style, and she uses it to express her point of view as a designer. While she's taking her time to bring out her collection, her red carpet style has kept us all entertained and her brand in the loop as she is constantly in her own creations.
My expectations are quite high for the next collection from the brand, I was blown away by the first I had seen from her and I am hoping for a similar reaction when I'm confronted with the next.
Bridget Awosika is a brand I see emerging as a major player in the Nigerian fashion Industry. What I would hope for the brand, is consistency in delivery. 2011 will be a big year for the brand, as we look forward to an official collection from the brand, I expect to be dazzled.
_____________________________________________________________________________
EJIRO AMOS TAFIRI
Ejiro Amos Tafiri is an emerging brand in Nigerian Fashion. Her road to fashion began with a choice to take a clothing and textile class, which transformed this young lady from a  wannabe doctor to a fashion designer.
Her interest in the industry led her to study fashion at YABATECH, and intern at Zizi Ethnic Clothing and then transition to a role with iconic Nigerian label, Tiffany Amber. Ejiro still has a few buns in the figurative oven, with plans to launch a menswear collection later in the future, though last year, Ejiro Amos Tarifi's modern, stylish and chic ready-to-wear pieces was what got people talking.
"We pride ourselves in our production of wearable clothing and accessories inspired by the vibrant, fun loving, joie de vivre culture of the Lagos people and the cultural diversity of its populace which spans the globe. Creativity and excellent craftsmanship are our watchword."– Ejiro Amos Tafiri
One of the reasons I love this brand, is because it is truly home grown and she proves that the development in Nigerian Fashion Industry is hitting at the grassroots, with fashion courses available, and internships with established designers.
With monthly appearances at Le Petite Marche, Ejiro Amos Tafiri is pushing her brand to fashion enthusiasts which has seen her pieces worn at major events and I predict that this will be a continuing trend in 2011.
_______________________________________________________________________________
MARIAM ILAKA
Mariam Ilaka is a fashion brand owned by Istituto Marangoni trained designer Mariam Ilaka. Mariam Ilaka sells well tailored clothes for women as well as leather accessories. Her style of designing is "chic and original".
Prior to starting her fashion company,  Mariam Ilaka who is a CIPD certified HR professional worked in several blue chip organisations but decided to make a career of what come to her naturally….making women look good. She says "I have always created fashionable clothes right from my days in the University of Lagos where I graduated with a Second Class Upper in Geography". She recently graduated from Istituto Marangoni in Milan and has returned to Nigeria in to make women feel and look beautiful in her pieces.
Mariam Ilaka's debut collection put her on the BN watch list.  The collection boasts of simple, structured pieces, some dabbed in embroidery and others with intense layers of tulle. She presented contemporary pieces, and long gowns with a vintage flair.
I see more pieces  from the collection being worn in 2011, and they do deserve an  audience, they are immaculately designed and are standout pieces in their own right.
www.mariamilaka.com
Follow @Mariamilaka on twitter
__________________________________________________________________________
OBSIDIAN
Isoken Ogeimwonyi is the talented brain behind Obsidian – "An independent fashion line for the discerning lady with a flair for the bold and unusual but with her own individual style.
Sexy, fun and spunky, an Obsidian girl sets herself apart and is the epitome of all that is chic and elegant. A bold use of colour and attention to detail in all the garments ensures that when you wear Obsidian you STAND OUT".
Last year, the label set a standard for creativeness and innovation in the Nigerian Fashion Industry, with the launch of  a short film for the "Control" collection.
We've spotted Obsidian designs at events, and on Model & Muse of the brand, Nicole Chukwueke.
The brand has already done a tremendous job in positioning itself as a pacesetter for young upcoming designers. This year, I hope to see them take more steps forward in establishing their brand as a creative powerhouse in design and the mediums in which they choose to push their brand  either to encourage individuals to buy Nigerian or to gain the  attention of Nigerian fashion enthusiasts.

Check out a sneak peek of Obsidian's new mini-collection courtesy HauTe Fashion Africa

Click to Join Obsidian group on facebook
_______________________________________________________________________________
APRIL BY Kunbi
APRIL by Kunbi is a fashion label that specialises in bespoke and ready-to-wear fashion for women who place a premium on the principles of fashion, fit, and functionality.
Founded in the spring of 2010, the brand is the brain-child of Olakunbi Oyelese, a graduate of the renowned Fashion Institute of Technology in New York. Inspired by the month of April – the start of the Spring season, APRIL by Kunbi has been built on the philosophies of "newness, freshness and colour".
With an ever-growing portfolio of prêt-a-porter and custom-made fashion items, APRIL aims to be a one stop source, a lifestyle brand for everything from Evening and Cocktail dresses to Casual/Active wear, Sleepwear, footwear,Accessories, and lingerie. The company aspires to be in a position to boldly assert; "You name it, APRIL by Kunbi has it"!
Kunbi Oyelese is a fortunate newcomer, as she is undoubtedly one of the most sought after young designers at the moment. The later part of 2010, saw numerous APRIL by Kunbi designs grace the red carpet,  for one, we've seen Mo' Cheddah in their designs for two major events; Channel O Awards and the MAMAs.
APRIL by Kunbi pieces ooze  fun, flirty, and girly. Her pieces will continue to be embraced by young Nigeria and I look forward to official debut collection from the brand.
Follow @ Ola_kunbi on twitter
_______________________________________________________________________________
SIDI BESPOKE
Self trained designer,  Alhassan Mohammed is the man behind Sidi Bespoke – A menswear label based in Abuja. His understanding of the  perfect execution of a finely tailored suit can amazingly be attributed to  lessons from Saville Row via Youtube and Google – Talk about the power of the internet!
Sidi Bespoke has gathered  some press since its inception: The label was featured in Mode Men Magazine's Black Night 2009 fashion show, Sidi Bespoke styled MI for the album cover of  'Talk About It'. He also dressed and styled Jesse Jagz for the just concluded Dynamics awards.
In 2011, plans are already on the way to launch a ready to wear line that will feature, suits, jackets, pants, shirts, tunics, polos and leather products. The brand is also working on a flagship store in Abuja and another in Lagos to launch during the last quarter of 2011.
Follow @sidibespoke on twitter
_______________________________________________________________________________
AKPOS OKUDU
Akpos Okudu is a promising young designer based in Port-Harcourt, Rivers State, Nigeria. Her label: Akpos Okudu delivers " romantic, flirty, feminine dresses in lots of bright colours; for the woman who wants to be elegant and confident without losing her soft feminine side".
For Akpos, the interest in fashion runs in her family, with her grand mother as a dressmaker and her aunt a designer based in the Caribbeans.
In a recent interview, Akpos said, "I'm very inspired by colors and fabrics, especially bright colors. I also love pastels and warm colors, so I usually have a mix of bright and muted tones when designing a collection." Celebrities including Omowunmi Akinnifesi and Joke Silva have been spotted in Akpos Okudu pieces and we envision even more to come from the Akpos Okudu label in 2011.
_______________________________________________________________________________
GREY
Grey was formed by the talented duo – Rukky Ladoja and Obi Obi in September 2008 by thoughwas not fully operational until 2009.
Rukky had design and styling experience prior to the start of Grey, and in choosing to start a line in Nigeria Obi Obi proved to be the perfect partner. Currently, Rukky handles the designing of their collections and Obi deals with all the the PR, the finance and customer relationships.
The label burst into the Nigerian Fashion Industry to satisfy a gap in the emerging market; the need for everyday pieces. The casual staples that occupy the most bits of the average woman's closet. Focusing on classic style and the playful personality of the brand and affordable pricing, the duo have been able to build a seemingly sustainable brand.
Their pieces cut across a variety of individuals, and have a place in every woman's closet. Grey is very "get-up-and-go" – to work, to lunch, on a date, and to a formal event and that's the major attraction to the brand- the easiness and wearability of the pieces.
I love that they have identified a market for themselves, and one that they are excelling at. This year, all I want is more from Grey...I think I can do with no colours as far as there is some touch of Grey.
___________________________________________________________________________________________
Credits: Toni Tones – http://tonitones.shutterchance.com/archive/ , Kola Oshalusi | Maestro Media – http://maestromedia.blogspot.com/ | Style By Queens – http://stylebyqueens.co.uk/| Saze Osayande | Ijaw Girl – http://ijawgirl.blogspot.com/ | April by Kunbi | Grey | www.BellaNaija.com