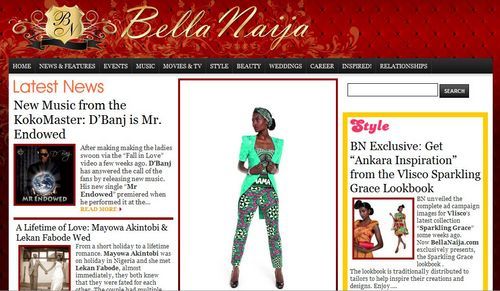 Wow! I can't believe we are here.
After a blessed 12 months in 2010, a new year has bloomed and we are here in January 2011.
2010 was an amazing year for me and the BellaNaija and BainStone (BellaNaija's Parent Company) family.
When I quit my full-time job in late 2009 to focus on building this brand as a business, I had no idea where to start. I knew two things though – 1) I was passionate about BN, and 2) I also knew that the people who visit BN are incredibly passionate about BN as well – So that was convincing enough for me to take the plunge!
It has been a thrilling (sometimes scary but always exciting) journey. A little over a year after  'the big plunge', we have been featured on Oprah and CNN, we won the Africa Fashion Award for Fashion Communicator of the Year 2010 – we have also seen our readership soar from 427,533 Pageviews in January 2010 to 1,793,346 Pageviews in November 2010! With that, our web ranking rose making us the No 1 original content entertainment and lifestyle website in Africa.
We have only one person to thank for that – YOU!
Along with the BellaNaija team including our fabulous (and award-winning) Style Editor – Ijeoma Ndekwu and our wonderful Features Editor – Glory Edozien, our savvy Editorial Assistant – Gbenga Awomodu alongside Jite Ovueraye – our smart Business Development Analyst from the BainStone team and the talented writers and photographers (Kola & D) who contribute their work to be featured on BN; I aspire to make this a groundbreaking year for BN and for YOU!
We shall be amping things up with a glorious stream of what you have come to love about BellaNaija – Weddings, Events, Style, Music, Movies, Celebrities, Relationships and all that fun stuff! Did you notice that I did not mention – gossip? BN is focused on celebrating 'the African Dream' – entertaining, informing and most importantly – inspiring everyone who ever clicks on the site. We are currently building the areas which were on the backburner including our Career and Beauty sections. Late last year, we re-energized our Inspired section and we will be building it even further in 2011. In addition, we are exploring and testing new sections and features that we believe will add to the BellaNaija Experience. We are also working through technical upgrades (For Example, we  have heard your feedback and are working on the comments section) and improved social media interaction on the site.
Later in the year, expect a MAJOR change plus a big celebration for our 5th anniversary (Yes, we shall be sharing gifts!)
I will like to extend a sincere THANK YOU to everyone who visits BellaNaija as well as our advertisers; you are a blessing to us and we are so grateful! I will also like to encourage you to embrace this year as a new opportunity to explore and live a happier, healthier, wealthier and more exciting life – Take the plunge!
Anyway, enough of the mush! We've got lots of exciting content on the way – starting today. Over the next few weeks, we will be dishing out lots of content that you might have missed over the last month – the Christmas events, weddings etc…alongside fresh content – as it happens! We already have a major exclusive coming up next week!
Thank You.
God Bless.
xx
Uche
Founding Editor, BellaNaija.com | MD, BainStone
___________________________________________________________________________________________
Get In Touch
General Enquiries: bella @ bellanaija.com
Style Editor – Ijeoma Ndekwu: ijeoma.ndekwu @ bellanaija.com
Features Editor – Glory Edozien: glory.edozien @ bellanaija.com
Weddings: bella @ bellanaija.com
Music: music @ bellanaija.com
Advertisements: adsales @ bellanaija.com
Only the individuals listed above are authorized to represent BellaNaija.com