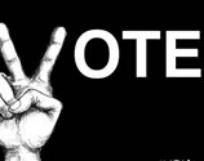 I'm not a fan of politics of any sort. In fact, much to my shame; I haven't followed the political preparations for our upcoming elections that closely. I got my voters card very reluctantly at the end of the allocated period and ended up queuing for 3 consecutive days before I could get my card. But for some strange reason, I've suddenly gotten very fired up and upset about the state of things.
Maybe it's the fact that we are more comfortable going to the pharmacy instead of the hospital when we are sick. Maybe it's the realization that a majority of Nigerian youth are either unemployed, or underemployed. Maybe it's the fact that Nigerian education can either be affordable or academically sound, not both. Or maybe it's because NEPA has refused to provide power for the last 3 days and my freezer now stinks of rotten meat. Or perhaps it has something to do with the price of diesel growing faster than the speed of light. Take your pick.
This is not a call for any political aspirant or a clarion call for any party. But for how much longer are we going to wait before we realize that it is up to US, to make our country the nation of our dreams? 3 out of 4 Nigerians live on less than N250 a day. We relocate to other countries for a decent standard of living, and polish off our education abroad for it to make sense. 8 hours of steady electricity a day is impossible for some states and traveling by road is more of a risk than anything else. When will we have enough?
The elections are finally here, have we thought of who we are voting for and why? We must, because we are the only ones who can bring change to this country. When Lagos Sate citizens protested against the tolls on the Lekki-Epe tollgate and the government responded by canceling the collection of toll fees, it was not just an indication of a listening government, but the clear evidence of what people can achieve when they come together to declare for a common goal.
In a taxi on my way home recently, I listened to Fela singing "Suffering and smiling"…how many years after that song was first heard, we still complain of the very same problems, the very same situation and yet the truth is, change can only come from us.
I for one am tired of reading in the international press about our intertribal violence, our fraud or our immense and immensely mismanaged wealth. I'm ready to hear more about scientific advances, about a growing economic climate, about the harnessing of our natural and mineral resources. Do you know that almost every state in Nigeria has at least one exportable product? From coal, cash crops to limestone, every state has got something to offer and let's not even talk about tourism. Yet, there are people who still do not know that you can fetch water from a tap, people who still think that the only way to cook is with firewood. It's our sad reality, but it doesn't have to stay that way.
Just like every Nigerian seems to know exactly how the Super Eagles should be coached, and we all know exactly what is wrong with every Nollywood movie we watch, we are also experts on our problems as a nation. For years now we have complained on Facebook, Twitter and in the ears of passers-by about all of Nigeria's problems. We not only know what the problems are, we know exactly how they must be fixed. Yet, how many of us will take the step to the polling booth to vote? For the first time in a long time, we are in a position to affect our direction; we have watched Election Debates, listened to reports and read editorials. We know our aspirants, we also know what we expect from these aspirants, so we can make it happen. This is our opportunity to finally take a step in the right direction. We might not achieve the Nigeria of our dreams overnight, but at least we can end the nightmare that things have become.
If we don't vote in these elections, then to be honest, we have no justification any longer to complain about the state of our economy, epileptic power supply, poor roads or any of the other ills. If we don't vote and things stay the same, we should all accept it as our due and make the best of it, because it was up to us, and we let it go.
We should not only be angry for Nigeria, we should be angry enough to make a change. We are fortunate that we do not have to fight to the death for that change, as happened in Egypt and Tunisia, but this is a fight nonetheless. I don't know yet though, if we realize just how much of a fight it is.
A couple of weeks ago, a young aspiring actress named Chidinma Mbalaso died in a hospital in Kaduna. For hours after her accident, friends sent broadcasts asking for Type B or O blood. It seems ridiculous to me that there was none available in a hospital! We will never know if the early provision of that blood might have saved her life. Practically everyone knows a story like this; aren't we tired of hearing and repeating them? We deserve hospitals where we can get the best medical care, where death is more than an avoidable calamity. This is what voting boils down to not just who rules Nigeria, but how those people will change our lives.
We are fighting a war of our own, we have casualties almost daily, we have our weapons (our votes) and yet some of us are refusing to use them.
We cannot all be Presidents, Ministers, or Lawmakers, but we can all be agents of change. So come tomorrow, let us together take a step towards the necessary change that Nigeria, our beloved Country so desperately needs.
Photo Credit: http://news.onlinenigeria.com