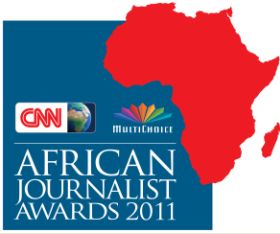 Finalists in the prestigious CNN MultiChoice African Journalist 2011 Competition were announced on Tuesday 19th April 2011 by Joel Kibazo, Chair of the independent judging panel. The competition is now in its 16th year.
This year the competition received entries from 42 countries across the continent, including French and Portuguese speaking Africa.
There are 27 finalists from 13 countries:
• Kofi Akpabli, Freelance for the Daily Graphic, Ghana
• Claudine Efoa Atohoun, ORTB, Benin
• Rabin Bhujun, L'Express Dimanche, Mauritius
• José Bouças de Oliveira, Televisão Santomense, São Tomé
• Sylvia Chebet, Citizen TV, Kenya
• DispatchOnline Team, Daily Dispatch, South Africa
• Kimani Githae, Citizen TV, Kenya
• Lamia Hassan, Business Today, Egypt
• Virgil Augustin Pascal Houesson, L'événement Précis, Benin
• Mahamud Abdi Jama, Waaheen, Somalia
• Norman Katende, Freelance for The New Vision, Uganda
• Farouk Kayondo, UBC, Uganda
• Mark Klusener, eNews Africa, South Africa
• Selma Marivate, Record, Mozambique
• Melini Moses, SABC, South Africa
• Lindile Mpanza, e.tv, South Africa
• Kamau Mutunga, DN2 Magazine, Daily Nation, Kenya
• Nigel M. Nassar, The New Vision, Uganda
• Fatuma Noor, The Star, Kenya
• Oluwatoyosi Ogunseye, Sunday Punch, Nigeria
• Nnamdi Okosieme, Next Newspaper, Nigeria
• Benon Herbert Oluka, Sunday Life Magazine, Sunday Monitor, Uganda
• Beryl Ooro, K24 TV, Kenya
• Sonny Serite, Freelance for The Sunday Standard, Botswana
• Portia Solomon, TV3 News, Ghana
• Kipchumba Some, The Standard, Kenya
• Nkula Zau, Televisão Pública de Angola
This year the recipient of the Free Press Africa Award is Mahamud Abdi Jama, Editor of Waaheen, an independent private newspaper published in Somaliland. Waaheen, part of the Waaheen Media Group, is known for its critical coverage of the Government.
Mahamud was sentenced to three years in prison and fined in connection with a story alleging public corruption. After pressure on the Government Mahamud was granted a Presidential pardon and released after spending over a month in prison.
He is awarded this prize for working under stressful conditions, and in the face of opposition and providing the public with important information, regardless of the consequences to himself.
The winners of the competition will be announced at an Award Ceremony and Gala Evening in Johannesburg, South Africa on Saturday 25 June 2011.
The hosts for the evening will be Isha Sesay, presenter of CNN International's weekly programme 'Inside Africa' and Robert Marawa, the face of one of DStv's SuperSports channel and regular host of Metro FM's Discovery Sports Centre.
Announcing the finalists, Joel Kibazo said: "African journalists are becoming noticeably more challenging, showing greater courage and strength which would have been unimaginable just a few years ago. Entries this year have demonstrated this – bolder, more determined on their home patch, and with a new found zeal to cover countries beyond their own borders."
The independent judging panel, chaired by Joel Kibazo, journalist and media consultant, includes: Ikechukwu Amaechi, Editor, Daily Independent, Nigeria; Jean-Paul Gérouard, Deputy Editor-in-Chief, France 3 TV; Ferial Haffajee, Editor-in-Chief, City Press, South Africa; Arlindo Lopes, former Secretary General, Southern African Broadcasting Association; Zipporah Musau, Managing Editor, Magazines, The Standard Group Ltd, Kenya; Kim Norgaard, CNN Bureau Chief, South Africa and this year CNN's sports anchor Pedro Pinto joined the panel to assist in the judging of the Portuguese General News Category.
Freelance journalist Paul McNally assisted the judging panel and carried out the first round of pre-selection, removing the entries that didn't meet the required journalistic standards to be put forward to the judging panel for the next stage of judging. Paul was the winner of the Health and Medical Category at the 2009 CNN MultiChoice African Journalist Awards, and a runner-up in the HIV / AIDS Reporting category of the same year.
This year has seen communications company, Ericsson, join a loyal list of sponsors who continue to lend their valuable support to the awards: Coca-Cola Africa; Ecobank; IPP Media, Tanzania; Merck Sharp & Dohme (MSD); Research In Motion (RIM), the company behind the BlackBerry solution; Sandton Sun Hotel and A24 Media.
The Sandton Sun is the delegate hotel for the CNN MultiChoice African Journalist Awards 2011. Situated in the heart of Sandton's business and entertainment centre, it provides the perfect location for finalists, judges, attending media and guests from across the continent to explore this vibrant district of northern Johannesburg. An all expenses paid five day programme of workshops, media forums, networking has been set up for the finalists during the run up to the award ceremony on 25 June 2011.
Tony Maddox, Executive Vice-President and Managing Director of CNN International said: "The passion which African journalists display for telling compelling and top class stories knows no bounds. Once more, CNN proudly continues its commitment to encouraging inspired journalistic excellence with these awards."
Collins Khumalo, President MultiChoice Africa said "We remain committed to the development of media in Africa and to giving recognition to outstanding journalists for their tireless effort and work in telling the African story. Our wish is to inspire all the finalists to use this opportunity to not only strive to become the best in Africa but to become the best in the world."
Competition Criteria
To enter the CNN MultiChoice African Journalist 2011 competition the journalist must have been an African national and have worked on the continent for African owned, or headquartered, media organisations that produced a printed publication or broadcast through an electronic medium (television broadcaster, radio station or website) primarily targeted at and received by an African audience.
Criteria Change 2011
This year, it was decided to reduce the number of entries submitted by an individual journalist to two stories across all categories, ensuring that journalists carefully reviewed their stories of 2010 and focussed on their best one or two stories of the year.
Entries were published or broadcast in 2010 for the following awards:
Arts & Culture: Digital Journalism Award; Economics and Business: Environment: Free Press Africa; HIV/AIDS Reporting; MSD Health & Medical: Mohamed Amin Photographic; Print General News; Radio General News; Sport; Television Features; Television News Bulletin; Tourism; Francophone General News Awards (Print and Electronic Media); Portuguese Language General News
Website: www.cnn.com/africanawards
Facebook: https://www.facebook.com/#!/CNNMultichoiceAfricanJournalistOfTheYearAwards
Twitter: @africanjourno
____________________________________________________________________________________________
Press Release