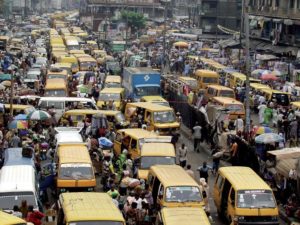 I don't know which is more annoying, watching the way most Lagosians drive or watching an unsuspecting driver dig into their nostrils while waiting in stand still traffic. How a normally, 30-minute journey can take up to 2 or even 3 hours during peak time is enough to make anyone loose their minds on a Monday morning.
There are various reasons why our Lagos roads are more congested than the arteries of a heart attack patient. Lagos is one of the fastest growing cities in the world with a population of well over 10 million residents (recent statistics put this number closer to 18 million), and the number is growing daily. It is likely that at least 50% or more of this population owns at least one vehicle or more. Our previous leaders have shown little foresight in terms of road development or in seeking alternate means of transport to road. Most growing cities have multiple means of transportation from rail, to water and even electronic trams like Amsterdam. But regardless of Lagos relative affluence and colossal population growth, we are reliant on one form of transportation-road. As if this wasn't enough, basic urban planning principles have been ignored as the city expanded outwards from its core. Instead of ensuring that adequate infrastructural developments such as schools, commercial, retail and leisure developments are located within close proximity to large scale residential developments, we have cases where residents travel for miles before getting to their place of work. The results are evident. Chaos and anarchy on the road as frustrated Lagosians go about their daily lives.
Regardless of these issues, Lagosians themselves do not help the situation. Our impatience and bid to outdo or outrun the next driver also upscale traffic issues. Sometimes, I really do believe that some Lagosians have taken complete leave of their senses when they get behind the wheel, from driving in-between two lanes, deliberately flouting right of way laws, and taking one way lanes when the mood takes them. I mean are you in such a hurry to get to work that you are willing to risk your life and the life of fellow passengers to get there? Do you really have that much spare cash that you are willing to take off the bumper of a Land Rover Sports car, just because you can't wait five seconds for him to reverse? Is your destination really that important that you are prepared to cut right in front of a petrol tanker? These are questions Lagosians should ask themselves daily!
The other day, as I drove home in the peak of Lagos traffic, I heard a loud bump at the back of my car. As I made to get out of my vehicle and inspect closely, I noticed a red jeep move quickly in the other direction. At first I thought nothing of it, until I noticed red paint lodged into the corner of my now disfigured dark grey bumper. To say I was angry would be an understatement. I experienced a surge of negative emotion that till today I find difficult to describe. I jumped back into my car and began to wade through the dense traffic on Falomo bridge in a bid to spot this hit and run driver. A few minutes later and after some helpful pointers from some Okada drivers, I spotted the red jeep, attempting to make a right into Bourdillon Road. Without thinking, I cut him off right at the entrance and came out of my car just as he began to get out of his.
Before his feet touched the ground, the young man proceeded to rain insults on me. I must have been foaming at the mouth because I couldn't hear a word of what he said. All I caught was something about me not knowing how to drive and how I must think I am somebody because my sugar daddy bought me a car. It took all the home training my family had instilled in me not to slap the teeth out of his mouth. Instead, I told him that it was his wife's sugar daddy who was paying his house rent, that was the cause of his foolishness. I refused to move from the spot until my mechanic, whose workshop is in Ikoyi, arrived with the estimate of how much it would cost to fix my car.
Everyday, I get behind the steering wheel, I have to pray. Lagos roads are filled with obstacles. It obviously isn't enough that one has to maneuver through congested roads and irate drivers, we also have to contend with tankers that move at 3km/hr, okada riders, wheelbarrow pushers, unnecessary police and LASTMA check points and even horse riders! Like really? Where is the end to this suffering? A colleague of mine barely gets to see his two kids because he spends almost 3 hours on the road for each journey he makes to work. Where is the joy of earning a salary, if you spend half of your life wading through thick torrents of traffic everyday?
While the continuing migration of Lagos is set to continue and with more people buying cars everyday, it does seem that our traffic woes are far from over. So, I would like to use this avenue to plead with our returning Governor, Governor Fashola. You will be forever immortalized in our minds if you can bring an end to this issue, or at least significantly ease the pressure on our roads. God bless you as you do so!