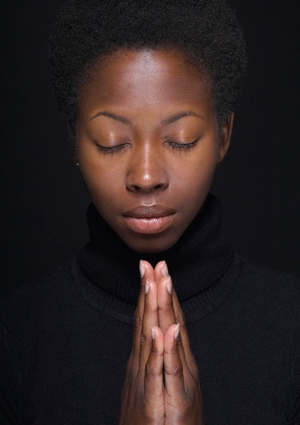 In a recent magazine interview, I was asked what spirituality meant to me. My answer
"Spirituality for me is an awareness of deeper values and meanings. It is a discovery of a connection and relationship with ones maker. It's about nourishing that awareness by praying, meditating and educating one's being with the word. Most importantly, I believe it is about a constant growth that goes beyond the material world".
In the subsequent edition of the magazine, writer and Arts journalist Molara Wood a lady whose work I admire was asked the same question and this was her answer;
"For me spirituality is a personal thing. It does not need to be demonstrated for the consumption or validation of others. Spirituality is being at peace with yourself and all around you. If we are attentive, the essence of God can manifest in all we do and see". Her answer I felt was even more apt because it highlighted our preoccupation with the overt aspects of one of the most ethereal and introspective of practices.
Whenever I find myself in a conversation about God, personal values, principles or even biblical philosophy, while the other person seems to be pumped up by the conversation, there is a ubiquitous question that seems to follow suit, asked with a fervent curiosity.
Please, if you don't mind me asking, what church do you attend?
It always sounds like they are seeking a recommendation but their spirits become highly dampened when I state in a casual reply " St Agnes Catholic Church in Maryland". The shock on their faces at times calls for a Kodak moment, and when the contortions finally smooth out, they reveal that they wouldn't have thought of me as a catholic. Most times though, you can see the disappointment afterwards and at other times, there is an invitation to come along to theirs the following Sunday.
I observe from a lot of people I encounter that they seem more concerned by what church to attend than the awareness of their faith, its understanding and the application or effect of the principles on their lives.
I claim to be non-sectarian, (a contradiction I know) so for me it shouldn't matter where I choose to worship. I feel that the basis of my faith as a Christian is dominantly based on a God principle. I enjoy the solitude and ritual of mass. It induces a meditative and reflective state that can prove very difficult to achieve even during personal quiet time living in such a hectic environment. I have also come to believe that one can be as inspired by other people's faith as much as theirs. I recall my friend developing epilepsy and watching her struggle during one of the most trying times in her life but mostly being inspired by her attitude, approach and the strength she exuded whilst dealing with this illness. Her re-dedication to her faith (Islam) and her level of discipline in relation to certain practices were always enviable but what was most moving was her openness to understanding other people's beliefs, and traditions and consequently appreciating them.
During an interview with Yemisi Ransome-Kuti, she stated that she believed, the way in which one lived their life truly reflected their beliefs and values. I suppose it re-enforced the idea that it all starts from the inside first.