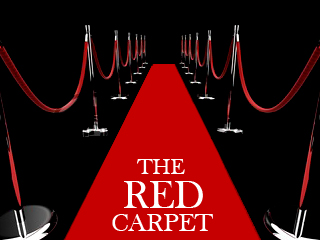 I never knew I was a nerd. Infact, I had always seen myself as an average student. However, after 9 years in higher education and 3 degrees later, I have decided to accept that my innate geek has arrived. Maybe it has something to do with the 6 years I spent with my head buried in Planning Theory books debating on the relevance of collaborative planning, structure and agency, power, institutional  mechanisms by Healy, Herbamass  and Foucault  but a good portion of my subconscious always finds itself drifting to the implied meaning behind certain human actions.
When I moved back to Nigeria last year, I was confronted with a new and strange world. The world of events. I will admit freely, that the allure of brightly coloured lights flashing as I put each gold covered heal on the red carpet was more enticing than I could have ever possibly imagined. The hobnobbing with people I had seen on TV, the first name basis with few 'celebs' followed by the obligatory side cheek kiss exchanged at these events was also quite exciting. Going to or being invited to these events became like a drug, one that satisfied my sense of self validation. No matter what anyone tells you, the truth is, having your picture taken on the red carpet and featured on BellaNaija.com, ThisDay Style or any other fashion media serves as a sense of self substantiation, indicating that you are part of the 'hip crowd' and that you have well and truly arrived. It carries with it an invisible almost intangible veil of celebrity superiority which becomes further entrenched by the validation others give you when they comment on your popularity.
So after a year of feeding my appetite with flashing lights and a few coloured carpets, I began to question the reasoning behind my new found addiction. The problem with asking questions is that more often than not, the answers are not always the ones you would like to hear. Unlike, most red carpets around the world, where people's accomplishments in their area of expertise make them celebrities; in Nigeria it seems people are christened as 'celebs' without any obvious accomplishments. Of course, we have bonafide celebrities; our entertainment scene is bursting at the seams with well- accomplished and upcoming musicians, directors, comedians, designers, actors and other professionals within the creative industry but sometimes I cannot help but wonder if we are really celebrating achievement or mediocrity.
Case in point, a few weeks ago I was accosted by a well-known celebrity stylist, who questioned why his picture never featured on BN Red Carpet publications. According to him, the pictures of many of the celebrities he had styled often featured on BellaNaija and even in cases where he was at the same event, his personal picture had never been featured. At first, I tried the polite route. I explained that even though I was part of the BN team and had covered many events, my picture had only been featured on BellaNaija once. I went on to further explain that for any one event, we are inundated with pictures, so it can be difficult to feature everyone. However, despite my somewhat tactful and polite response, he remained unappeased. He then began to recount some of the 'celebs' we had featured, what they wore and how he dressed better than them. After about 5 minutes of his celebrity induced ego speech, I decided to become a little cheeky. I replied 'maybe the issue here is that you aren't hot enough to be featured'. Needless to say that he hasn't brought up the topic since then.
I find it questionable that a stylist, whose work receives countless features is more concerned about his picture being featured in the papers than his work. Surely the strength of any stylists brand is being able to show the popularity that your work has gathered and not your ability to nurse your personal ego trip. But maybe his sense of reasoning isn't to blame, perhaps it has more to do with our generations desire to celebrate 'people' rather than their 'accomplishments'. Today, we are all too quick to label someone a fashion icon, just because they managed to string together a matching outfit and a Chanel bag. We are quick to label someone a stylist because they have a shop at the popular side of town and have 'sold' clothes to notable names in the industry. Another is known for their acting prowess when none of the 100movies they have been featured in can stand any form of international scrutiny. It really does all sound ridiculous.
On the surface, these things may not matter but the after effects are glaring. Without realizing it, we are breeding a society which feeds on recognition for doing absolutely nothing. We are cultivating a generation who will see no value in seeking to achieve merit but will chase after self validation by any means other than hard work. In the end our country will be populated with citizenry who have little ambition or drive but are satisfied by their popularity and addiction to nice clothes and glossy pictures in magazines. If and when this happens, we will have no one to blame but ourselves.
So what is the solution to this pending epidemic? It's quite simple, we need to start holding our celebrities and those we allow to entertain us to a higher standard. We should begin to question why certain people are on the covers of magazines and others are not. We need to encourage hard work and substance above anything else. Truth is, the only way we can realize any form of lasting self validation is to work hard and cultivate our individual talent. When I started writing, I did it because it was something I enjoyed, not because I thought it would get my picture in ThisDay Style. Till today, I find it humbling when people comment on my work. I write almost everyday because I want to improve and be better at what I do. That is what should validate us, seeing how our work has improved and knowing that our work is of value. When this has been achieved, there isn't a red carpet in the world that our feet wouldn't grace.
Photo Credit: www.itp.nyu.edu