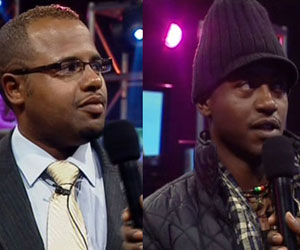 Africa voted in large numbers, making this week's M-Net Big Brother Amplified vote one of the biggest ever – but Danny and Nic couldn't pick up enough votes to stay in the game.
Both were evicted last night (19 June at 19:00 CAT on DStv Channel 198), leaving 17 Housemates in the hunt for 2 grand prizes of USD200 000 each!
With 5 Tails Housemates nominated for eviction this week – and a Head of House saving themselves for this first time on Big Brother Amplified – Alex had some explaining to do!
When IK asked him to reveal his decision, he said: "Crunch time! You know what it is, it's part of the game that we hate, but it's necessary. I was put up this week and I'm Head of House, so I swapped myself." The Tails Housemates listened intently as he went on. "The person that I chose to replace me, you know, no animosity, its part of the game. It's more of a chess move. The people that were put up are strong characters and this person is going to offset the nominees that were put up. I hope that the viewers will see what I'm trying to do and vote wisely, so – Karen," he said as the Housemates sat in silence.
When the time came to make the eviction announcement, IK asked Kim and Danny to stand. "Kim you've been saved – Danny, please leave the House now," he said, after making them wait in anticipation.
As the Ethiopian emerged on stage, IK asked him what he thought the root of all the tension in the House was. "If you're a strong character, you're always up for eviction and I'm proud I'm up there with all the strong characters. I'd like to thank all my fans in Africa!" Danny said with his arms raised, drawing a massive cheer from the Big Brother Amplified studio audience. He couldn't guess who had nominated him, but thought that "the girls" may have helped put him up for eviction.
As IK revealed who had nominated him, he was surprised to see Alex name him – and when asked afterwards which nomination offended him the most, he chose the Ghanaian's. Then it was time to Blow a Fuse. "Alex!" shouted Danny, immediately, before IK had a chance to read out the punishment. "Give it some thought, son!" IK said, before reading out the Fuse: "Every time anyone in the House laughs out loud, this Housemate must throw his or her arms around whichever Housemate is closest to them and kiss that Housemate. This fuse will last until this time next week." Unsurprisingly, Danny chose Alex as the recipient!
The drama didn't end there, though, as IK took viewers into the House for a second time to evict another Tails Housemate. He called out the names of Karen, Nic and Luclay, asking them all to stand. After a tense pause, he told Karen and then Luclay that they were safe, meaning that Nic was evicted.
When Nic joined IK on stage, IK revealed that viewers had voted in large numbers this week and asked him what the most difficult part of the show had been, for him. "Just getting to know myself – I thought I knew myself before getting into the House, but once you're inside you get to know yourself, you get to know how you react to people, react to your own emotions, so the biggest thing was the battle with myself," said the Kenyan.
"Of all the people in the House, who was your favourite and who was your least favourite?" quizzed IK. "My favourite was Kim because I got to know her…" he started. "Yeah you did!" teased IK, in reference to Nic and Kim's relationship. "No, no listen don't go there, relax man!" said Nic. "I got to know her, she has this wall that she puts up but once you get through she's a really soft person inside, extremely intelligent. There wasn't anyone I disliked, I had a bit of an issue with Karen in the beginning but then afterwards we got to know each other, settled our differences and that was OK. There's nobody that I disliked in the house," he revealed.
Once he had seen the nominations – and seen that Kim had nominated him – he said he wasn't surprised as they had "gone through a bit of a rough patch". IK probed the relationship further: "About that rough patch – did you ever reach the point where you were thinking that being in a relationship inside the House, sort of, is bad for you in the game?" "It's not that it's bad," Nic told him, "but I didn't come here to get into a relationship. I feel like I was being pulled into one, I didn't want to pull someone into something they weren't prepared for and I didn't want to keep it rolling like that".
Next up was Nic's turn to Blow a Fuse. IK revealed the details: "One Housemate must run up and down the stairs shouting 'I Am Amplified!' every time Big Brother makes any announcement in the House. This fuse will last until this time next week." Nic didn't think about it for too long before naming Luclay as the recipient of this tough punishment. "What are you going to miss most about the House?" asked IK as a parting shot. "I'll miss my pom-poms!" was Nic's surprising answer – in reference to the pom-poms he had to wield as part of the Fuse he received from Ernest. "I really got attached! I'm also going to miss the Housemates – I made some good friends, but we'll meet up afterwards," said the Kenyan before departing the stage.
Earlier in the show, hip hop stars VIP from Ghana had gotten the audience jumping, before returning at the end and again blowing the crowd away with their hit "Away".
Viewers had also had the chance to hear from last week's evictee Confidence. When asked about who she had bonded with most in the House, she said: "I got on well with the boys because I hang out with boys and I feel much more comfortable around them – but nothing romantic, not now!"
Four viewers picked up fantastic prizes for voting and interacting with Big Brother during the past week: Emelia Chushi (Zambia) won a DStv HD PVR, Boikanyo Pule (Botswana) won a Samsung Camera, Sharon Bwanya (Zimbabwe) won a Samsung Laptop and Fillikah Ntebang (Botswana) won a Samsung Galaxy S.
The show started with 26 Housemates – and now, just 17 remain. Two will walk away with massive prizes of USD200 000 each on 31 July – there's still a lot of action to come on Big Brother Amplified! Big Brother Amplified is headline sponsored by Coca-Cola. Fans can catch all the latest news, video – and all-important voting information – at www.mnetafrica.com/bigbrother. Tweet Big Brother @BigBroAfrica, send SMS messages to the on-screen strap, visit the Big Brother Africa Facebook Group to get the low-down on the continent's favourite reality show and get updated news and two video streams – and houses – by pressing the "OK" button on your DStv remote when on DStv Channel 198.
Evictions – Heads House – Everyone but Vina is Up for Eviction!
The Heads Housemates did a thorough job of spreading the nomination love on Monday (20 June) on M-Net's Big Brother Amplified – all but Vina are in danger of being evicted this Sunday!
Zeus, Hanni, Vimbai, Wendall, Lomwe, Millicent, Felicia or Sharon O could find themselves moving to the Tails House – or heading home altogether – after the viewer vote this week.
This week's Head of House 'save & replace' appeared to be one of the easiest in Big Brother history, as when the nominations were announced, only Felicia was not in danger.
Big Brother called first-time Head of House Vina into the Chat Room to make her decision and she couldn't help but save herself and put the Malawian up for eviction in her place.
While the rest of the Housemates referred to her potential decision as 'obvious', Vina seemed to wrestle with the way Felicia would react to the swap – but ultimately the fact that she has been up for eviction every 'Heads' nomination week swayed her decision and she decided to take herself out of the firing line.
· Vimbai, noting that Millicent needs to stop using alcohol to help her express herself, nominated the Kenyan.
· Vina tagged Zeus for being rude during the 'worm pizza' task last week and then Wendall, for hiding her things.
· Zeus nominated Vina for her constant negativity and lack of commitment to the 'team'. He also nominated Hanni, calling the duo the "Siesta Sisters" for constantly taking afternoon naps when everyone else was contributing to keeping the House in running order.
· Lomwe's nominations were also based on laziness – he named Sharon and Hanni as his choices.
· Wendall said that he was nominating Sharon O because he saw through her plan of flirting with the boys in a bid to avoid nomination.
In summary, Felicia nominated Hanni and Wendall, Wendall nominated Sharon and Vina, Sharon nominated Zeus and Vimbai, Zeus nominated Vina and Hanni, Millicent nominated Vimbai and Lomwe, Hanni nominated Zeus and Millicent, Vina nominated Zeus and Wendall, Vimbai nominated Millicent and Lomwe, while Lomwe Nominated Hanni and Sharon.
The winner of Big Brother Amplified, headline sponsored by Coca-Cola, will be named on 31 July – and the power to award TWO prizes of USD200 000 each to TWO winners, rests in the hands of the viewers.
Big Brother wants your vote: Just remember you are voting to keep a nominated Housemate in the House!
Which means, the more you vote for your favourite nominated Housemate, the better their chance of staying in the house.
When you Vote, you also stand the chance of winning weekly prizes, including DStv Decoders, and from Samsung: Cameras, Camcorders, Laptops, Smartphones and the Galaxy Tab.
The Housemate who receives the least number of votes will be Evicted.
You can vote to keep a nominated Housemate in the house in three different ways:
1. Using MXit
2. Via the website, or the WAPsite on your mobile phone.
3. By sending an SMS
To vote using MXit: open the browser on your WAP-enabled mobile phone, and type in m.mxit.com to download MXit for free. Then locate MXit on your phone in the applications or games section and register. Once in MXit, go to Tradepost -> Entertainment -> Mnet. You will find the Big Brother contact in the M-Net bot. Add the Big Brother contact. Please note that voting on MXit is free and you can vote up to 10 times on MXit per voting period
To vote online: Register on DStv Connect, or use your existing DStv Connect profile details to log in. (www.mnetafrica.com/bigbrother). Please note that voting on the website or wapsite is free and you are allowed to vote once per hour during the voting period.
To vote via SMS: send the word VOTE followed by the Housemate's name to the number for your country. SMS's are charged per specified network tariffs in the various countries. VAS rates apply. Free minutes do not apply. Please note that you can vote 100 times by SMS per telephone number during each voting period.
Angola
Unitel – 43333 – UTT 6.6 per SMS
Botswana
Mascom – 16626 – P2.50 per SMS
Orange – 16626 – P2.50 per SMS
BEMOBILE – 16626 – P2.50 per SMS
Ethiopia
Ethio Telecom – 835 – 5 Birr per SMS
Ghana
MTN – 1477 – GHC 0.60 per SMS
Vodafone – 1477 – GHC 0.60 per SMS
Tigo – 1477 – GHC 0.60 per SMS
Espresso – 1477 – GHC 0.60 per SMS
Airtel – 1477 – GHC 0.60 per SMS
Kenya
Safaricom – 5626 – Kes 30 per SMS
Orange – 5626 – Kes 30 per SMS
Airtel – 5626 – Kes 30 per SMS
Malawi
TNM – 15626 – MK 48.00 per SMS
Airtel – 15626 – MK 48.00 per SMS
Mozambique
Vodacom – 99026 – MT 20.00 per SMS
Mcel – 99026 – MT 20.00 per SMS
Namibia
Leo – 15626 – N$ 3 per SMS
MTC – 15626 – N$ 3 per SMS
Telecom – 15626 – N$ 3 per SMS
Nigeria
MTN – 34350 – N75 per SMS
Airtel – 34350 – N75 per SMS
Glo – 34350 – N75 per SMS
Etisalat – 34350 – N75 per SMS
Starcomm – 34350 – N75 per SMS
South Africa
Vodacom – 33729 – R1.50 per SMS
MTN – 33729 – R1.50 per SMS
Cell C – 33729 – R1.50 per SMS
Tanzania
Vodacom – 15726 – Tsh 600 per SMS
Tigo – 15726 – Tsh 600 per SMS
Zantel – 15726 – Tsh 600 per SMS
SASATEL – 15726 – Tsh 600 per SMS
Uganda
UTL – 6626 – Ugx 1000 per SMS
Warid – 6626 – Ugx 1000 per SMS
Zambia
MTN – 15626 – ZK 2000 per SMS
Zamtel – 15626 – ZK 2000 per SMS
Zimbabwe
Econet – 33334 – USD 0.50 per SMS
NetOne – 15626 – USD 0.50 per SMS
Voting begins immediately after the nomination show on Monday nights and closes at 06:00 CAT on the following Sunday morning.
Find out who has received the least number of votes and will be evicted by tuning in to DStv Channel 198 on Sunday nights for the live eviction show at 19:00 CAT.
___________________________________________________________________________________________
Sponsored Content