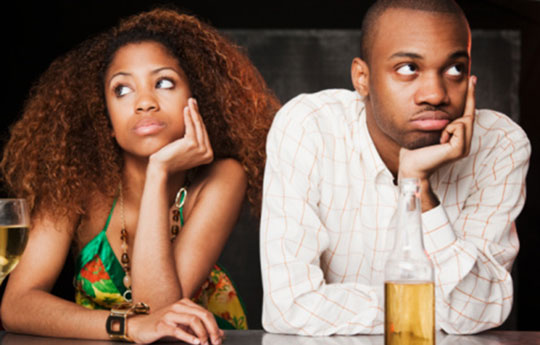 With all the "serious" topics creating buzz on BellaNaija this week, I have decided to bring my own.
This is a very serious matter that needs to be discussed!
Bad Dates…
There I said it.
There are few things worse than a bad date.
After building up anticipation, getting your hair and nails "did"/going for a shape-up, driving across town to pick her up/driving to meet him at the spot and then you settle down for the date and it is just BAD.
I spoke to a few close friends and they shared these cringe-worthy experiences. These are all true stories. We'll love to hear yours. As always, names have been changed.
Amelia – In a Cup
I attended university in one of those isolated states in the US. You know what that means – slim pickings for potential boyfriends – especially for a Nigerian girl who wanted to date a Nigerian boy. So, when a friend asked if she could give this guy in another state my number, I said YES.
She gave me his name and I checked out his facebook page, "Hmmm Not Bad", I thought.
We chatted a few times on the phone and then it became more frequent. In no time, he was my boyfriend! As a young undergrad, I was so excited. I'm sure my friends were so irritated with me because I could barely complete a sentence without mentioning – my BOYFRIEND.
So after months of phone dating, he invited me to visit him in his state.
I was so happy! I was finally meeting – my BOYFRIEND.
I arrived at the airport and he was late, I had to wait for over an hour before he came to pick me up. Finally he arrived and gave me a hug and a full-on KISS on the lips and grabbed my butt. Yes I know he was my BOYFRIEND but I felt that was just a bit too aggressive. The car ride was filled with awkward silence but I brushed it off. We went to his apartment and dropped off my things. He wanted to stay in but I wanted to see a movie. Here is when the "date" went from bad to worse.
We settled in to watch the movie, sometime during the screening, he told me he needed to ease himself, so I moved my legs so he could make his way to the restroom. Instead of moving, he took the empty soda cup (you know those jumbo cups you only find in American cinemas), maneuvered his jeans, took his schlong out and peed in the cup. I nearly died!
I was so speechless. He just laughed. Maybe it was the shock but I actually stayed until the end of the movie. When we got to his house, he went to take a shower and I quietly gathered my still-packed luggage and left. I called a friend in the city and stayed with her until I went back to my school. I never picked up his calls or returned his messages after that.
Dotun – Wrong Girl
I had gone to the club with my friends and it was one of our usual wild nights. In the blur of things, I got a couple of numbers/BB Pins. There was a particular girl that stood out. She was a stunner and we had danced then whispered in each other's ears for a couple of minutes.
We had swapped BB pins so then next day, I sent her a message. We chatted and I set up a date. Note that her photo on BB was a cute baby photo. After work, I rushed home and changed into a fresh shirt, shaved my beard and was ready. I picked a restaurant to impress and was ready!
Because she worked close by, she was to meet me at the restaurant. A few minutes after I sat at our table, she called to say she had arrived. I was excited and stood up to give her the customary Lagos pecks and hug and guess what – it was the WRONG girl! I did not recognize this girl and she definitely was not my weekend stunner. At that point, my mojo was off its course. I didnt even know how to react. I know it is shallow but I hate surprises. The girl seemed nice enough but she wasn't who I was expecting. She seemed older than me and there were just too many things off. I couldn't even concentrate. We had a few drinks but when we were about to order dinner, I told her my boss had sent me a text to rush over to the office to complete an urgent report. Paid for the drinks, left and deleted her off BB. After that date, I definitely cut down on drinking on my nights out.
Anna & John – Guilty!
We will have to narrate this one as there are two parties involved.
Anna and John had been together for a few months. All was going well or so they thought. One night, John invited a Tina (a pretty young freshman) for dinner. He and Tina were enjoying their meal when he looked across the room and saw Anna cozily enjoying dinner with an unknown gentleman. Based on what John told us, he didn't even realize then he got up and strode to Anna's table. She was clearly shocked! She stammered through her sentence and introduced her date as her business partner. From the blank look the guy gave when she said "business partner", it was obvious that they were on a date. Let's just say that both dates were ruined and their relationship – well, your guess is correct.
Meriah – Oops
Ahmed and I had been talking for a while. We had been on a few dates and I felt we were heading towards becoming an official couple. He invited me over to his flat and promised to cook me dinner. I was impressed! The night went really well – tasty dinner, romantic music playing in the background and all that. We then settled down to watch a movie, he sat close to me, all cuddled up, making silly jokes and running his fingers tenderly down my arm. He made this really silly joke and I was shrieking with laughter – then I heard a loud sound! No way! That couldn't have been me. I FARTED! I hope he didn't hear but then the smell followed and I really couldn't wish it away. I almost passed out from the embarrassment. He didn't say anything. He just took my hand and let me to the balcony. We spent the rest of the night talking and we are still together. So my worst date was still one of my best!
Ever been on a bad date? tell us about your experiences!
Photo Credit: The12th Planet