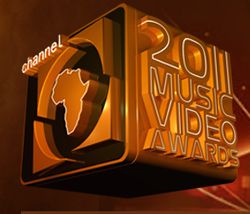 The nominees list for the 2011 Channel O Music Video Awards have just been announced. Want you guess who is on the list? No need, you can find out if your favourite African music stars were nominated by scrolling down.
Nigeria was well represented as always! 2Face Idibia, D'banj, Banky W, Waje, Wizkid, Samklef, Tiwa Savage and many others grabbed noms.
You may vote by SMS, by Web – www.channelo.tv, by WAP and the MXit service.
MOST GIFTED MALE VIDEO
1. D'Banj ft. Snoop Dogg- Mr Endowed (Remix)
2. Professor ft. Speedy – Lento
3. Navio – Keep Moving
4. Cabo Snoop – Windeck
5. Zakes Bantwini – Wasting My Time
MOST GIFTED FEMALE VIDEO
1. Waje ft. Muna – So Inspired
2. Lizha James – Gotta Move On
3. STL – Lookie Lookie
4. Lira – Phakade
5. Tiwa Savage – Kele Kele Love
MOST GIFTED NEWCOMER VIDEO
1. Wizkid – Holla At Your Boy
2. Keiko – How We Do
3. AKA – Victory Lap
4. Ice Prince/Brymo – Oleku
5. Zone Fam – Shaka Zulu On Em
6. Kwesta – Take That
MOST GIFTED DUO, GROUP OR FEATURING VIDEO
1. HHP, Teargas & Liquideep – Born For This
2. Samklef ft. Wizkid, D'Prince & Ice Prince – Molowo Noni
3. Slikour ft. Various Artists – Dubala (Remix)
4. Ay ft. Ms Triniti – Good Look
5. Jozi – Electric Avenue
6. Paul G ft. Akon – Bang It
MOST GIFTED DANCE VIDEO
1. Oskido presents Black Motion/ Jah Rich – Banane Mavoko
2. STL – Lookie Lookie
3. DJ Cleo – Bhampa Side To Side
4. Darey – Ba Ni Ki Di
5. Black Coffee ft. Hugh Masekela – We Are One
6. Lizha James – Gotta Move On
MOST GIFTED RAGGA DANCEHALL VIDEO
1. Samini – Dadiekye
2. Wyre/ Cecile – She Say Dat
3. Black Dillinger – Volcano Erupt
4. Nazizi – Take The People Away
MOST GIFTED AFRO POP
1. Theo – Ukhona
2. J-Martins ft. Fally Ipupa – Jukpa (Remix)
3. Shaa – Crazy
4. Jaziel Brothers – Woza
5. Flavour – Nwa Baby (Remix)
MOST GIFTED KWAITO VIDEO
1. Brickz ft. Various Artists – Uzo'Gowala
2. The Dogg – This Is My Time
3. Howza – Hustler
4. Professor ft. Speedy – Lento
MOST GIFTED R&B VIDEO
1. Jamali- Incurable
2. G2 ft. Trez Agah – Anti Chula
3. Loyiso ft. Khuli Chana – World Of Mine
4. Banky W. ft. M.I. – Feeling It
5. Leanne – Deal With It
MOST GIFTED HIP HOP VIDEO
1. Jesse Jagz ft. M.I. & Ice Prince – Nobody Test Me
2. ProVerb ft. Lungelo – The Beginning
3. Navio – Keep Moving
4. Collo – Chini Ya Maji
5. AKA – Victory Lap
MOST GIFTED AFRICAN SOUTHERN VIDEO
1. Liquideep – Settle For Less
2. Cabo Snoop – Windeck
3. Khuli Chana – No More Hunger
4. C.R.I.S.I.S – The Fire Inside
5. L-Tido ft. K.O – We Rolling
MOST GIFTED AFRICAN WEST VIDEO
1. Naeto C – 10 Over 10
2. Flavour – Nwa Baby (Remix)
3. D-Black ft. Dr. Cryme – Get On The Dance Floor
4. Asa – Why Can't We
5. 2Face – Only Me
MOST GIFTED AFRICAN EAST VIDEO
1. P- Unit/ Mimmo – Kare (Acoustic version)
2. Jaguar – Kigeugeu
3. Ay ft. Ms Triniti – Good Luck
4. Radio and Weseal, Keko – How We Do It (Remix)
5. Cpwaa ft. Various Artists – Action
MOST GIFTED VIDEO OF THE YEAR
1. Khuli Chana- No More Hunger
2. Samklef ft. Wizkid, D'Prince & Ice Prince – Molowo Noni
3. Zakes Bantwini- Wasting My Time
4. STL – Lookie Lookie
5. D'Banj ft. Snoop Dogg – Mr. Endowed (Remix)
6. AKA – Victory Lap
7. 2Face – Only You
8. Liquideep – Settle For Less
9. Navio – Keep Moving
10. Lira – Phakade