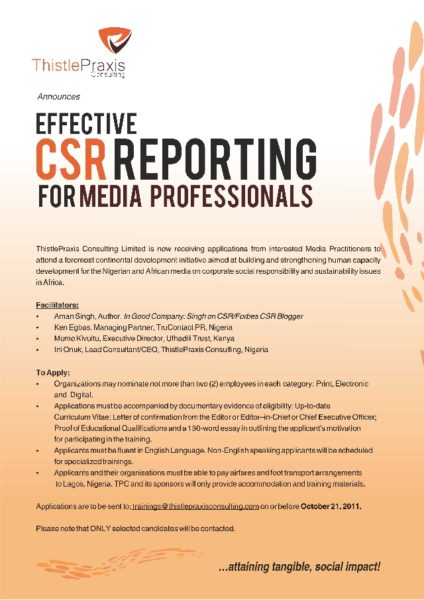 ThistlePraxis Consulting Limited is now receiving applications for the "Effective CSR Reporting For Media Professionals" , a foremost continental development initiative aimed at building and strengthening human capacity development for the African media on corporate social responsibility and sustainability reporting in Africa.
ThistlePraxis Consulting Limited has committed to identify and foster this series of training with other willing partners and corporate funders as well as other regional bodies to explore possible batches of trainings for African journalists for a period of three days across various regions of the continent
The purpose of training is to:
1- Provide background information for accurate and effective media reporting of CSR activities, policies and strategies of business operating within the African continent. This enables the media professionals to gain exposure to different dimensions and aspects of the practice that are beyond the scope of their communities or countries.
2-To enrich and educate the local experiences of reporting on CSR and other business issues through impactful trainings and pratical case studies in the field drawn from local and international organizations in Africa.
3- To make available to Africa in the  long term, well rounded and seasoned media professionals with a better and clearer understanding of corporate social responsibility and sustainability as well as the motivation and ability to be advocates of the continent and watchdogs for corporate institutions while contributing meaningfully to the growth and profession within Africa
The training is residential and participants are expected to commit three working days to attending after successful selection through a rigorous process. In addition they are expected to work in close contact with ThistlePraxis Consulting Limited for six weeks after the training in order to have their work and articles reviewed for content and technical appliance. This will take place in Lagos, Nigeria between November 16 – 18 2011
Facilitators include Aman Singh Forbes CSR Blogger & CEO Singh Solutions USA, Ken Egbas Managing Partner TruContact PR, Nigeria, Ini Onuk Lead Consultant/CEO ThistlePraxis Consulting Limited, Mumo Kivuitu Executive director Ufhaldili Trust Kenya
To Apply
-Organizations may nominate more than two employees in each category: Print, Electronic & Digital.
-Applications must be accompanied by documentary evidence of eligibility
-Up to date Curriculum Vitae & recent passport photograph
-Letter of confirmation from the Editor/ Editor-In -Chief/Chief Executive Officer
-Proof Of Educational qualifications
-A 150 Word Essay outlining the applicant's motivation for participating in the training
-Applicants must be fluent in English Language. Non English speaking applicants will be scheduled for specialized trainings.
-Applicants & their organizations must be able to provide air fares and foot transport arrangements to Lagos, Nigeria.TPC & its sponsors will only provide accommodation & training materials
-Send application package by email to trainings@thistlepraxisconsulting.com
-Deadline for submission 12 Midnight CAT,  Monday 31st October  2011
Please note that only selected candidates will be contacted.
Contact ThistlePraxis Consulting Limited: For more info & general enquiries Log on to www.thistlepraxisconsulting.com | Call 08136611906 | 08023977421
__________________________________________________________________________________________________
Sponsored Content