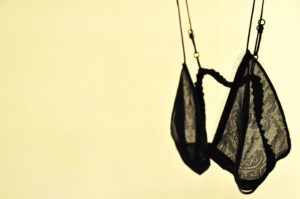 You never lock your wardrobe door, hell, you don't even close the damn thing. One of the hinges is coming loose so there is now a method to closing the door- lift gently, swing slowly from right to left, wait for the click, release- but this is not why you won't close it. You want to see that which hangs from the yellow plastic hanger in the corner when you lie on the bed; that which has hung limply there since February 18, 2008. You never forget the date you hung it there; you remember it, mark it more religiously than your birthday or the day that wretch of a husband did you the favour of dying in his own vomit- the rumours don't bother you- that his many drinks were poisoned by the women from the Madam Kosoko's brothel to teach men who like to f&ck and run a lesson. Though you would never say it, you thought it was a brilliant thing those women did, for you did not know how much more you could take- the sermons from your mother and his mother on how a good Christian Nigerian women never brings shame by leaving. But this day in February is more important- it is real date of your emancipation.
You look at it when you lie and think of the first one you remember actually buying. You shake your head when you recall how you still got the size wrong after all those lectures by the tall girl with massive breasts in your JSS3 class. The girl who had come from South Africa in JSS 2. The girl whose breasts knew the hands of every bad boy in school. It intrigued you as she told you the steps which you still so clearly remember in an accent which she you now know from having many South African friends was Xhosa:
 "Breathe in and hold your breath as you run the tape measure round just underneath your boobs. For even numbers add four, for odd numbers, add five. Save that number. Call it 2. That's your boob size. But for your cup size run the tape measure round the fullest part of your boobs…"
You smile today because you are free from this appurtenance which for you is the symbol of everything oppressive. February 18, 2008. The day the Indian doctor who smelt of garlic and a million other spices cut your breasts to save your life. No man will ever grapple you again to feed his fleshly desires like your husband did mostly when he was drunk and like Obiora who you let touch you only to know what it felt like to cheat on that dog of a husband. You stopped with Obiora after the first few times because you felt no freedom in cheating. Only attachment to another disgusting thing. So you told him never to see you again.
This nightly ritual of staring at the last bra you ever wore is what soothes you at night. The horror of having no breasts is nothing compared to the joy of being free. No more bras for every occasion just so your breasts can look right for some man's licentious mind. No more front closure bras for tank tops, push-up bras to show cleavage, strapless bras, padded bras. No more of that rubbish.
You look at the symbol of your oppression, elastic straps, half satin, half lace cups, hard plastic about the edges, three hooks, milk colour. You are sad but you feel victorious. That bra will never leave that wardrobe but you are free.
_________________________________________________________________________________________________________
The month of October is dedicated to raising awareness on Breast Cancer. For more information on breast cancer, diagnosis and treatment please visit the following websites.
www.breastcancer.org 
www.brecan.org