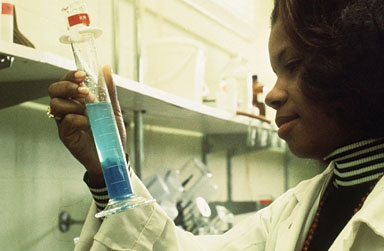 I'm a nice girl… and I like all forms of goodness. I like to be happy and I do all I can to make people happy. As the saying goes, "treat them like you want to treated". As a firm believer of this saying, many times, I find that I go the extra mile to do things right and to keep people happy. Naturally, one would think that goodness is a great quality to have and that the people striving to be good should be admired and perhaps reciprocated for their goodness.  Past relationships have however shown that the reverse is the case.
 Obviously, I liked the guys that I dated so it was easy for me to be good to them. While in these relationships, I thought it was a great opportunity for me to flaunt my supposed great qualities. I'd do everything 'right' expecting that naturally, "he'll be satisfied". Well, he wasn't!
As I found myself single again, I spent time to evaluate my past relationships. My mindset began to change as I concluded that being good to men did not pay. Usually, when I encounter disappointment(s), I would count my losses and move on – like I have a choice not to? However, this time, as I got back on my feet, I decided to take it out on the next set of guys that made any attempt to walk into my life. I was determined to "wage war" against the men who showed interest in me henceforth – this was to be my own experiment. I thought, "Since being Miss Goody Two Shoes hadn't worked so well in my favour, maybe the opposite will".
This was simple. As they showed up one after the other, as I was so stuck on the experiment, I didn't even take the time to evaluate "whether or not he was my type / maybe he was different from the others / maybe I could love him or even like him just a bit." I showed no emotion or appreciation for any of them. I never returned phone calls and evaded calls when I didn't feel like talking; I was rude or out of line at every given opportunity; I compared them to others while pointing out that they weren't good enough; I was conceited and arrogant; I pointed out all of their short comings while claiming that I was just being honest; I was unsupportive by showing zero interest in the things that excited them; I was insensitive to their needs – whatever the needs turned out to be. I lied to them; I stood them up. Strangely, a good number kept coming back for more doses of my "hot B.S." which I doled out at will. I wonder why they did. Could this mean that men prefer bad women just like women seem to prefer bad guys? Who can ever claim to understand men? Even men cannot honestly say that they do.
For instance, while on the experiment, a male colleague approached me and asked if he could introduce me to a certain friend of his. He thought that we would make a good couple. Had he known that I was acting "Miss Crazy" at the time, he would have reconsidered. Anyway, he asked for permission to give my number to this young man and I said OK. That evening, Mr. Hopeful called and he seemed nice. In no time, my phone was full of text messages from him as he constantly felt the need to check if I was still breathing! Anyway, I indulged him a couple of times as he called. I acted all nice just as I was used to be even though I never returned his calls. Shortly after, I stopped picking up any of his calls. I didn't return his messages, I turned down every invitation for an opportunity to meet with him, and I refused to offer an explanation to my colleague. I just walked away from it all leaving him wondering what had gone wrong.  He could have turned to be Mr. Right but I couldn't be asked.
Another Mr. Hopeful had spent every one of his kobo calling me, touching base, visiting me each time he was opportuned, telling me how he is sooo into me while I listened without hinting that I wasn't the least bit interested. I could have fooled even me with the way I carried on with him, laughing at his jokes, returning his calls – even getting upset with him when he hadn't call in time. Then comes Valentines Day, Mr. Hopeful asked the courier man to bring me a package all the way from Lagos! As I signed for it, it hit me that the situation had gone far enough so I called him and broke off our "almost-love affair"! I simply told him that he had misread the signs, that we didn't really have anything in common and that he was better off without me in his life!
Anyway, after several months of being a complete B*T*C* with countless victims, I realised that I felt even worse than I had before I decided to embark on this experiment. I had caused some good (and bad men) to take to their heels since they didn't dare to stick around to figure out what to do with me! At this point, I found myself in a dilemma. What was I to do? Being myself didn't seem to have worked, and being horrid wasn't working either. Since putting up an act isn't one of my strong points, it seemed easier to resume being myself again and I must say that it's really great to be back… even I missed Éjire! 
Back to being myself, I resumed relating to people civilly and with consideration – just the way I want to be treated. Was my experiment successful or even nearly conclusive? Yes it was. I found that being mean really sucks; plus, it's a lot of hard work – I wonder how mean people manage to pull it off. More importantly, I came to realise the need to wait patiently for my 'own' who will come to fall dangerously in love with me and appreciate all the goodness I give.