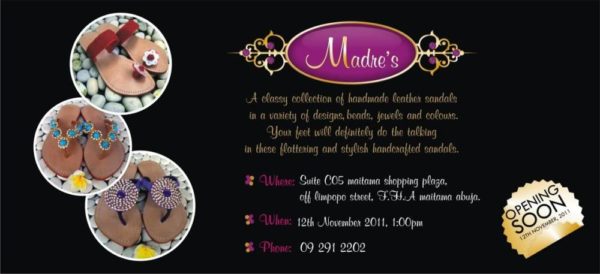 Move over Christian Louboutin, another footwear brand – Madre's is in town and is here to stay.
Believe it or not the holidays are fast approaching and you need those beautiful accessories like an awesome footwear to shine like a star through out the season.
Come Saturday 12th November 2011, Madre's, a new brand of luxurious footwear is launching the opening of its flagship store in Abuja.

Madre's footwear are a combination of unique colors, creativity & detail which will make it a favorite for all stylish women in Nigeria and beyond its shores.
This exquisite footwear design house – Madre's was founded by Jumoke Abayomi who emerged in Abuja's fashion scene in May 2005 with her luxurious collection of exclusive bags, shoes, accessories and perfumes and is extending her brand with the new line of slippers and sandals.
Madre's comprises of a classy collection of handmade leather sandals in a variety of designs, beads, jewels and colors and they also offer the best of customized jewelled handmade slippers & sandals with the most superior quality at affordable prices.
Come and shop at Madre's on the 12th of November and let your feet do the talking through out the holiday season.
See you all  there!
Date: Saturday 12th November 2011
Time: 1 PM
Venue: Suite CO5 Maitama Shopping Plaza off Limpopo Street, F.H.A, Maitama, Abuja
Contact: For more info and general enquiries Call 092912202
__________________________________________________________________________________________________
Sponsored Content