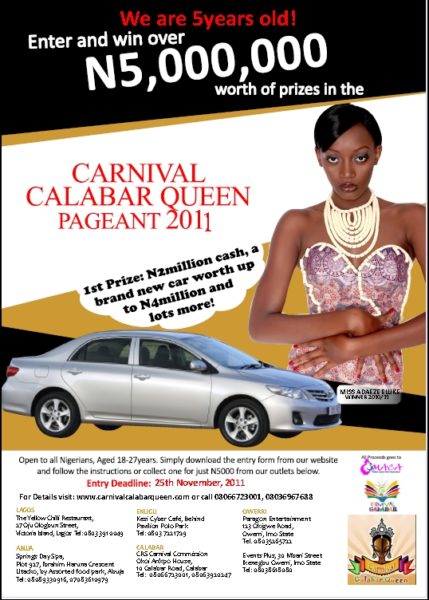 There's no denying that striking good looks are some of the elements that define a Beauty Queen. The word "beauty" is in there for a reason but pageants have ceased to be all about a damsel's vital statistics and the architecture of her countenance.
Carnival Calabar Queen takes the front line in making a difference. This pageantry was initiated by the wife of the Governor of Cross River State Her Excellency Obioma Liyel Imoke. It exists to give a voice to her and  MACA's (Mothers Against Child Abandonment)  response to the worrisome spate of child abandonment in the state.
It was found that the act of abandoning babies was most commonly perpetrated by teenagers and there was a need to find a persona these youngsters could easily listen to.
To complement MACA's copious efforts, she would traverse secondary schools in the state, preaching the virtue of abstaining from sex and educating students on how to avoid unnecessary pressures.
About the Pageantry
Since inception in 2007, the pageant has embarked on a yearly search for a young woman with outstanding intelligence, a model of selflessness, one who would stand strong in the face of a challenge.
Having sailed through auditions held in various parts of the country, the most worthy applicants go into a camp where they observe stringent rules and are subjected to rigorous exercises like aerobics, choreography and costume making. This precedes the grand finale.
This search has led to the discovery of four amazing ladies;
Profile
Name: Chinenye Uwanaka
Title Year: CCQ 2007/2008
Chinenye Uwanaka was involved in social work even before the pageant began. Her family ran and still runs an NGO which caters for some of the less privileged in the FCT where they reside.
___________________________________________________________________________________________________

Profile
Name: Queeneth Orok
Title Year: CCQ 2008/2009
Queeneth Orok was raised by a young single mother. Queeneth is acquainted with the helplessness of pregnant teens. She had been a finalist in several pageants but didn't give up her dream of becoming queen till she emerged the Second Carnival Calabar Queen.
_______________________________________________________________________________________________________
Profile
Name: Mayen Ekpo
Title year: CCQ 2009/2010
Mayen Ekpo prepared for the contest as though it were a professional examination. When asked by renowned broadcaster, Adesuwa Onyenokwe where monoliths could be found other than Ikom, she aptly responded 'Stonehenge-Wiltshire, England'.
____________________________________________________________________________________________________
Profile
Name: Adaeze Eluke
Title Year: CCQ 2010/2011
With an unassuming self confidence, Adaeze Eluke has gracefully navigated the competitive world of modeling, earned several noteworthy engagements and skillfully combined her career with her studies. She exudes such warmth, it endears her to all.
Despite having achieved tremendous success in eradicating child abandonment in Cross River State, the quest is not about to end. This year MACA is optimistic that they will find one as worthy as the ones before.
Prizes
The first prize winner will go home with

A Cash Prize of N 2 Million
A Brand new Saloon Car worth N 4 Million and many more goodies
The second & third prize winners are not left out as they would be going home with N 500,000 and N250,000 respectively.
To Participate
To be a part of the 5th Edition of the Carnival Calabar Queen;
You must be a Nigerian Citizen
A Female between the ages of 18 and 27
Please note that applicants resident outside Calabar should be aware that winning this contest also entails that you will become the tourism ambassador of the state for a period of one year and as such should be ready to be out of studies for that period of time.
This competition is not open secondary school students.
Ideal Carnival Calabar Queen
The Carnival Calabar Queen is a Nigerian girl between the ages of 18 and 27, who embodies beauty, intellect and charity. She's a spokesperson for Mothers Against Child Abandonment (MACA), an initiative of Her Excellency, Obioma Liyel-Imoke, wife of Cross-River State Governor. She's also a tourism ambassador for Cross-River State, the nation's paradise.
Registration
To Register for Carnival Calabar 2011
Simply go to the following Carnival Calabar Queen Outlets with N 5000 to pick your form.
Outlets
Lagos Outlet
The Yellow Chilli Restaurant, 27 Oju Ologbun Close off, Bishop Oluwole St, Victoria Island, Lagos.
Call 08033910049 | 017232666
Abuja Outlet
Springs Day Spa, Plot 927, Zone B05, Ibrahim Haruna Crescent, by Assorted Food Park, Utacko, Abuja
Call 08089330916 | 07083610979
Enugu Oulet
Kesi Cyber Cafe behind Pavillion Polo Park, Enugu
Call 08037221729
Calabar Outlet
The Cross River State Carnival Commission, 4th floor, Okoi Arikpo House, 10 Calabar Road, Calabar, Cross River
Call 08066723001 | 08063920247
Owerri Outlet
Paragon Entertainment, 123 Okigwe Road, Owerri, Imo
Call 08035265722
Events Plus, Mbari Street, Ikenegbu, Owerri, Imo
Call 08038618080

Auditions will be held in Lagos, Abuja and Calabar.
Deadline: Friday 25th November 2011
Contact: For more info & general enquiries
Log on to www.carnivalcalabarqueen.com
E-mail [email protected]
Call 08066723001 | 08036967688
_____________________________________________________________________________________________________
Advertorial-Sponsored Content