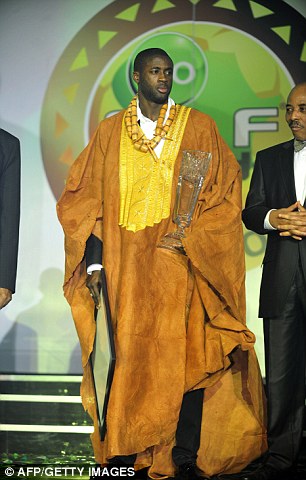 Congrats are in order!
28 Year Old Ivory Coast International and Manchester City Football Club midfielder Yaya Touré received the 2011 African Footballer of the Year award at Glo CAF Awards Gala on Thursday December 22nd 2011 at the Banquet Hall of the State House in Accra, Ghana.
He expressed his joy as he graciously received his award – "This award is not important for me alone. It's for my country and for my club…This is a big step in my career, I'm very thrilled. To be the winner is fantastic."
According to the official press release from the awarding body CAF, "The honour caps a wonderful year for the midfield maestro who has been in scintillating form for club and country. Toure is winning the topmost individual honour in African football for the first time and he joins compatriot Didier Drogba as the only Ivorians to have laid claim to the award since its inception in 1992."
Other winners include Ivorian striker Souleymane Coulibaly who won the Most Promising Talent of the Year
award and Tunisia midfielder Oussama Darragi who won the African Footballer of the Year "Based in Africa" award.
Nigeria was also on the award recipients list as Super Falcons captain Perpetua Nkwocha won the Women's Footballer of the Year award for an unprecedented fourth time. The 35-year old Nigerian had previously won the award in 2004, 2005 and 2010. Retired Nigeria international Austin "Jay Jay" Okocha received a special recognition award.
2011 Glo-CAF Awards – List of Winners
Footballer of the Year – Yaya Toure, Cote d'Ivoire and Manchester City
Africa-based Footballer of the Year – Oussama Darragi, Tunisia and Esperance
National team of the Year – Botswana
Women's national team of the Year – Cameroon
Club of the Year – Esperance, Tunisia
Coach of the Year – Harouna Doula, Niger
Most promising talent of the Year – Souleymane Coulibaly, Cote d'Ivoire and Tottenham
Women's footballer of the Year – Perpetua Nkwocha, Nigeria
Referee of the Year – Noumandiez Doue, Cote d'Ivoire
Special recognition awards – Mustapha Hadji, Morocco | Austin "Jay Jay" Okocha, Nigeria
Photo Credit: AP | CAF