Shuga: Love, Sex, Money is a TV series and multimedia campaign designed to promote messages about safe sex and tolerance to African youth with the aim of changing their attitudes to risky sexual behaviours.
The song "Shuga" is a genre-defying Afro-Hip Hop-R&B-Soul-Pop hybrid has been commissioned by MTV Networks Africa in association with The MTV Staying Alive Foundation, PEPFAR (The U.S. President's Emergency Fund for AIDS Relief), The Partnership for an HIV-Free Generation (HFG) and the Government of Kenya.
Here is the Shuga title track featuring L-Tido, Banky W, Wizkid and Bon'Eye.  The track was produced by Banky W. and Sunny 'MasterKraft' Nweke. The music video for Shuga, directed by Clarence Peters, will debut on MTV Base (DStv Channel 322) at the end of February 2012. You can listen to the track here and to download it you must go to www.shuga.tv
Shuga 2 is now showing on MTV Base (DStv channel 322) at 20:30 WAT/ 21:30 CAT/ 22:30 WAT.
Listen to "Shuga" by Banky W, WizKid, L-Tido and Bon'Eye
[audio:https://www.bellanaija.com/wp-content/uploads/2012/02/Shuga.mp3]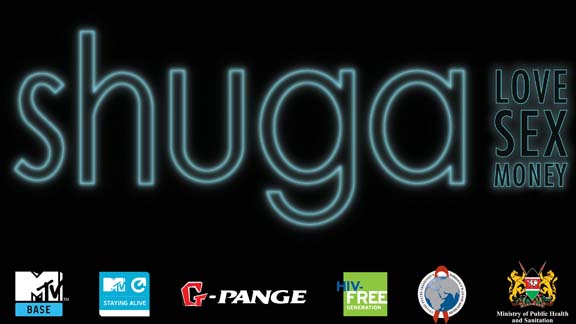 All you need to know about Shuga: Love, Sex, Money
Shuga: Love, Sex, Money airs weekly in Africa from 14 February 2012 on MTV Base (DStv channel 322) at 20:30 WAT/ 21:30 CAT/ 22:30 WAT. There will be six episodes followed by a discussion episode where the issues raised by the series are examined in more depth. The official premiere for the series takes place in Nairobi, Kenya on 10 February 2012.

Shuga: Love, Sex, Money – Official Trailer from mtv staying alive on Vimeo.
Cast
The cast of the TV series includes:
Banky W & Wizkid (making cameo appearances)
Kenyan singer Avril (playing singer Miss B'have)
Nancy Karanja (Baby) – an innocent 16 year old whose life is devastated by an encounter with her uncle
Nick Mutuma (Leo) – the loveable good guy from Series I is torn between two women and has to make some important decisions about his relationship with Dala
Brenda Wairimu (Dala) – the life and soul of the party but she drinks too much when she parties
Sharon Olago (Violet ) – HIV+ character struggling to resolve issues with her father
Shirleen Wangari Kiura (Kipepeo) – A beautiful village girl with an amazing voice, Kipepeo arrives in Nairobi to find fame, but she nearly fails when she uses her body and looks to make ends meet.
Wilfred Maina Olwenya (Uncle Joe)– the uncle Baby turns to with tragic results
David Omwange (Skola) – HIV+ character who's rebuilding his life and living positively with HIV
Ikubese Emmanuel (Femi) – diplomat's son Femi is a Nigerian student in his twenties who definitely has a way with women…
Edward Nyanaro (Rayban) – Flamboyant and stylish, Rayban is gay but keeps a low profile in public because of fear of homophobia
Other cast members include Valerie Kimani (Sindi), Anthony Mwange  (Kennedy), Christopher Otieno  (Slim) , Wairugi Mutero (Njoki), Nick Ndeda (Angelo), Banky W (himself), Wizkid (himself).
For more information please log onto www.shuga.tv. To share your thoughts on Shuga: Love, Sex, Money, add #Shuga, #ShugaLove, #ShugaSex and #ShugaMoney to your tweets.