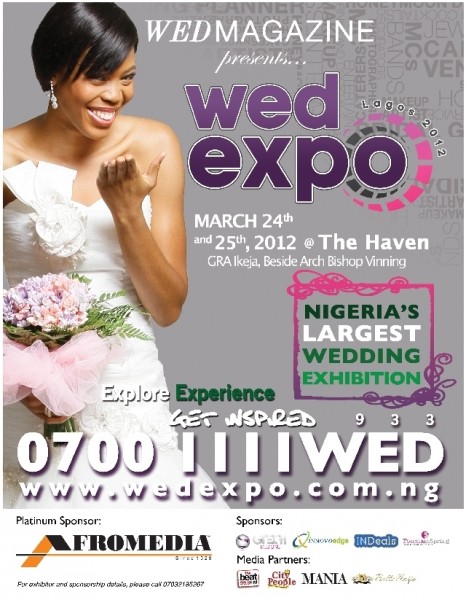 Are you single, in a relationship, or about to get married? If yes, then you should mark your calendar as Lagos is set to experience Nigeria's Largest Wedding Exhibition, WED Expo 2012. This event promises to be a different experience with wedding vendors from all over the country and the diaspora exhibiting their products and services. Currently there are 119 exhibitors registered to showcase the best of the best.
The Expo will also host the first WED Couture Bridal Show which will have works by Frank Osodi, Yemi Osunkoya  of Kosibah, Ade Bakare and Mai Atafo. These 4 top bridal couture designers will be showcasing their 2012 collection and setting the tone for wedding gown trends in 2012. Hosts of the show will be Koffi and Joy Isi Bewaji. Music will be provided by DJ Humility.
WED Expo has some fantastic partners. Premium sponsors are Afromedia and INDeals.
Other partners are:
Swift Networks – Official Internet Partner
Liberty Digital Media – Official Video Visual Partner
Stagemakerz – Official Runway Partner
Studio 24 – Official Photographers
Spartan Security – Official Security Partner
GTech – Official Web Partner
Fountain Springs – Exhibition Booth Partner
SMS343.com – Official SMS Partner
Big Sam Media – Official PR Partner
This promises to be an event you cannot miss. There will be lots of prices to be won. Early arrival is advised for a chance to win.
Exhibitors
Kosibah Couture   |   Cakes By Tosan   |   Mai Atafo   |   Frank Osodi   |   Ade Bakare   |   Concepteur De Fruitee   |   Newton & David   |   Sitpretty Makeovers   |   Eru-Iyawo   |   Planification   |   Studio 24   |   Xqwizit Events   |   Torge Events   |   Larry Peniel   |   Classy Touch Events   |   Enthrall Events   |   Distinct Crown Events   |   Tap Studios   |   Kingserve Drinks   |   Cakes By Andy   |   Clarke   |   Khuraira Cosmetics   |   Finesse Event   |   Gaterie   |   Akara Ogheneworo Photography   |   Busybee Events   |   Lizbob Accesories   |   Caleb Videography   |   Sweet Kiwi   |   Rennies Asooke   |   Couture Cards   |   360 Eventee   |   Event Backups   |   Mala Foods   |   Photography By Abi   |   Bree's Aura   |   9-Cer Tiddies   |   The Event Crew   |   Tochini Beads   |   I Luv Deserts   |   Saffon And Cinamon   |   Nwandos Signature   |   Dapgalleria Photography   |   Makabis And Benet   |   Gong Photography   |   Swalek Bridals   |   Damell Photography   |   Blueberry Cakes   |   Foodfricana   |   BTG Events   |   Bands of Bliss   |   Gleamz Makeovers   |   Lizzy Bridals   |   Victoria Robert   |   Yes I Do Bridals   |   Gift Shack   |   Kalhari Ltd   |   B'Signature   |   Molbaks Alaso Oke   |   Bliss Photography   |   Baybloom   |   Duduguy Photography   |   House Of Marie   |   Gifty Dauchts Beauty   |   Megascreen   |   Jacynthe Cards   |   Green Ice Events   |   Bimbeads Concept   |   Insignia   |   Litehouse Photography   |   Greenshot Photography   |   Soaperlicious   |   Sweet Shoppe   |   The Elect Asooke   |   Soiree Stationary   |   Enthylyst Bridal   |   Franchy Bridals   |   Bands Of Bliss   |   Odus Marcello   |   Tsoule Events   |   Beautycook Studio   |   Scented Memories   |   Taryor Gabriels Clothing   |   Black Royal Pictures   |   Nakenohs Ventures   |   Scentsual   |   Accessories Unlimited   |   Glory Land Foods   |   Transit Bakers Options Ltd   |   Adio Olusolape   |   Emberbold Limited Shoning   |   Kalaine Datta   |   Adeyanju Adegboye   |   Tee-A (Comedian)   |   Adeplumptre   |   Prima Rouge Limited   |   Koffi (Comedian)   |   Trendys   |   Tent Republic   |   Balmoral   |   BM-Pro   |   Furtulla   |   Zapphire Events   |   INDeals   |   Black and Gold Events   |   Qontraband   |   Your Look   |   Shuga Band   |  DJ   |   Groom Place @ The Wadrobe
Registration
Admission to this event is free for all, simply Log on to www.wedexpo.com.ng to register
Date: Saturday March 24th – Sunday March 25th 2012
Time: Doors open at 10AM
Venue: The Haven Off Oba Akinjobin (Police College Rd), Beside Arch Bishop Vining Memorial Church, GRA Ikeja, Lagos
Contact: For more info and general enquiries
Call 07032185267
Log on to their Website
__________________________________________________________________________________________
BellaNaija.com is an official media sponsor of WED Expo Lagos 2012