Most Nigerians residing in Lagos always dream of owning a home on the Lekki-Ajah axis of the city, anyone that manages to get a home there would have been thought "to have arrived." Most Nigerian celebrities and wealthy individuals,  make it a point of duty to own a home there. But two very young Nigerians are now proud landlords of a three bedroom homes courtesy of Maltina – a premium malt drink from the stable of Nigerian Breweries Plc.
How did they do it? Find out exclusively here on BN
The Beginning
On Thursday 22nd March 2012, Nigerian Breweries Plc held a press briefing in Lagos where they told Nigerians that Maltina, a brand that is noted for "Sharing Happiness" will be giving out five brand new three bedroom homes, with all room ensuite, to its consumers through a Maltina "Sharing Happiness Promo." It sounded too good to be true with many sceptics wondering how this can be true.
At that press briefing, Yusuf Ageni (Corporate Affairs Adviser, Nigerian Breweries Plc) said "The huge success of the 2011 re-launch of Maltina with a new packaging upgrade, new communication and revised positioning had a positive impact on the brand's volume, market share and overall equity which also rubbed off on the consumers who also shared in the good fortune, smiling home with fantastic prizes". He further said that "The success of 2011 and in response to the yearnings of our consumers, the Maltina brand has concluded plans to reward consumers this year with a national consumer promotion, a promotion which size and scale has never been done before in the history of non-alcoholic malt drinks in Nigeria."
Modalities for Being a Landlord
Outlining the mechanics of the promo which runs from Friday 2nd April 2012 to Friday 25th May 2012, the corporate affairs adviser said it "Will be crown cork based, there will be two categories of winning crown corks – Instant Winning crown corks  and Alphabet Code crown corks. For the instant winning crown corks, whatever is seen under the crown cork is what the consumer gets instantly! The prizes are shown under the crown corks and prizes can be redeemed at any of our 1,200 redemption centres located across Nigeria. The instant prizes include N1 million, N100, 000 cash which will come in form of a Maltina branded ATM card and other brand memorabilia which include wrist watches, millions of free drinks and others"
The second category he outlined is the Alphabet Code combination crown corks which is for the grand prize of a Luxury Home. It would consist of the following letters, S – M – I – L- E. According Yusuf Ageni, "In order to win the grand prize, a consumer is expected to collect a combination of crown corks that spell the word S-M-I-L-E. Maltina will be giving out a total of 5 houses. Under the letter 'M' crown corks, there will be special differentiated alphanumeric codes. These codes qualify consumers for weekly raffle draws. The 5 houses will be given out in three weekly raffle draws as follows: 1st Raffle- 2 houses, 2nd Raffle- 2 houses, 3rd Raffle- 1 house."
He reiterated that holders of the raffle draw crown corks can enter the raffle draws by either sending their code, name, sex, age and address (address should include state) to 30380 or going to any of the 1,200 redemption centers to register their names and contact details. Holders of the S-M-I-LE crown corks will be expected to keep them as the ultimate proof of ownership. The SMS will work with all major telecoms operators.

The First Raffle Draw Winners
On Sunday 15th April 2012, the first raffle draw was held in Lagos to pick the first winners. Anchored by the gorgeous Kemi Adetiba, the show lived up to its billing as it was shown on National Television. Kemi picked the first winner who happened to be Adeyinka Adeola – an 18 year old Mbiama, Rivers State based secondary school student. Kemi later invited Daniel Obi – a respected brand Journalist from BusinessDay Newspaper to pick the second winner who turned out to be Moses Edewor – a 22 year old secondary school leaver from Yenagoa, Bayelsa State.

How They Were Contacted
Kemi Adetiba first called Adeyinka to inform him that he is now a landlord in Lagos. The Mbiama based Ibadan indigene could not hide his feelings when he was contacted on phone to the hearing of millions of Nigerians. Kemi said "Adeyinka, my name is Kemi Adetiba and I am calling on behalf of Maltina, I want to inform you that you are the first winner of the Maltina home in Lagos."
The elated young man said, "The voice of the lady was so sweet that I almost wanted her to continue talking. What she said after she introduced herself left me speechless. She asked if I entered for a Maltina promo and I answered in the affirmative. She then said "You have just won a brand new three bedroom home in the Maltina sharing happiness promo, Congratulations." 
Adeyinka said he thought it might be a huge joke, but it was no joke as things started happening fast. "I was told to proceed to the nearest Nigerian Breweries Plc office for authentication and for travel plans to be presented my new home in Lagos."
The 18 year old who is still writing his West African Examination Council's exams at Government Secondary School, Okarki said he saw the poster of the Maltina "Sharing Happiness Promo" on a billboard on his way to write one of his science practical's exam. "I just spoke inwardly to myself that I will start gathering crown corks and participate in the promo. The next day on my way to write another paper alongside three of my friends, I bought them a bottle of Maltina each and collected the crown corks."
It was now time to contact the next winner which Kemi did, even though Daniel Obi picked the winner. Moses said "On Sunday 15th April 2012, I got a call from a lady who identified herself as Kemi Adetiba. After ascertaining that I was the one on the line, she asked if I entered for the Maltina promo and I said yes. She then broke the good news to me and said I have won a house. After that the line started cracking and I couldn't hear her well, I started shivering and praying that the line should be clear. The line later cleared and I almost collapsed when I finally realised that I have won a house!"
Moses said he ran outside and started screaming as if he was insane, his sister and cousins started running after him to hold him down. When they eventually did it was a celebration galore at their uncompleted and modest two room house which they shared with other families. From then Moses Edewor said things moved so fast that there was no doubt that "our level has changed." Moses who graduated from Mein Grammar School Ogobiri, Bayelsa State and just wrote the Joint Admissions and Matriculation Board (JAMB) examination is optimistic of gaining admission to a tertiary institution in the country after scoring 247. He intends to study Medicine.
How the Homes Were Presented
Adeyinka Adeola and his parents and Moses Edewor and his sister and her husband were later flown to Lagos and lodged in a hotel, all expenses paid by Nigerian Breweries plc where they were officially presented with their respective homes on April 22, 2012.
Presenting the keys of the brand new homes to the lucky winners Adeyinka Adeola and Moses Edewor, Walter Drenth (Marketing Director, Nigerian Breweries Plc) said "Maltina has made a bold statement that its consumers are special hence the need to provide a brand new home where they can continue to share happy moments as family. He enjoined the new occupants to make good use of the house as it is theirs for eternity, even saying  "You can even pass it on to your children as inheritance when you start having children."
A visibly excited Adeyinka Adeola who could not hide his joy thanked the brand for the honour of providing his family a place they can truly call their own. His mother who was almost in tears could not contain her joy as well, she said "We live in a one room apartment and now God has used Maltina to provide a three bedroom home for us in Lagos, is there a word I can use to say 'thank you' to you?
On the other hand, Moses said "We were treated like celebrities and the toast of the moment. My sister, her husband and I were then chauffer driven to the airport and we boarded a flight for the first time in our lives to Lagos. We were lodged and fed in a hotel for three days. We were simply told to enjoy ourselves. I asked my sister that I hope we are not dreaming."
Photos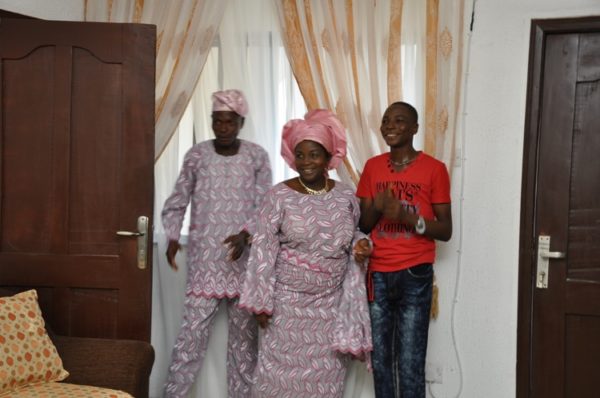 Were they Dreaming?
They were definitely not dreaming, Ngozi Nkwoji (Senior Brand Manager, Maltina)  said the brand is all about "Sharing Happiness" and family bonding. "The Maltina story has always been the story of sharing, friendship, trust, togetherness and faithfulness. It is all about bringing people together in an atmosphere of friendship. And what better way of bringing people together than by providing them with a big three bedrooms home where they can live as one family."
Ngozi Nkwoji said the reason for the promo stem from the domino effect of the huge success of the 2011 re-launch of Maltina with a new packaging upgrade, new communication and revised positioning which had a positive impact on the brand's volume, market share and overall equity which also rubbed off on the consumers who shared in the good fortune, smiling home with fantastic prizes after the post event launch. According to her, the success of that year and the yearnings of consumers, was what prompted the promo.
Are there Still more Homes to Be Won?
Proving clearly that you and I could still be Landlords, Ngozi Nkwoji said three more homes are still up for grabs, so also are millions of Naira in cash and other prizes. she enjoined Nigerians to keep drinking Maltina and keep on winning. The Maltina brand is noted for exploring creative avenues to consistently engage and reward its consumers. One of these creative consumer engagement platforms is the popular and highly rated Maltina Dance All (MDA) TV reality show – a platform for sharing happiness, promoting family values and bonding.
Since it hit the Nigerian market in 1976, Maltina has consistently satisfied its consumers with high quality natural malt drink, fortified with essential vitamins and minerals. It is the first and only malt drink officially endorsed by the Nutrition Society Nigeria. This provides Nigerians the vitality and superior nourishment necessary for their daily activities – including those special fun moments shared with friends and loved ones.
_______________________________________________________________________________________
Advertorial – Sponsored Content