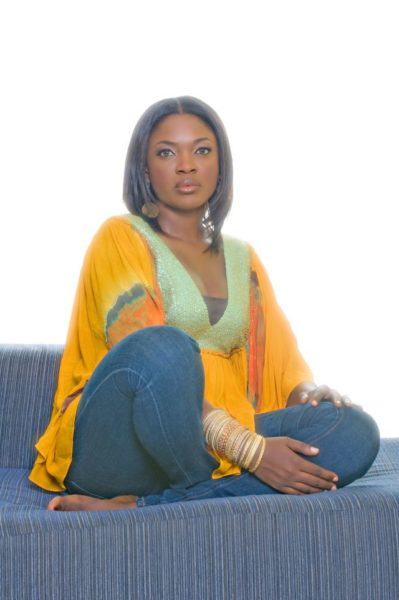 Omoni Oboli is perhaps one of the most unassuming, yet talented actresses in Nollywood today. A 'home girl' she calls herself, she has successfully been able to balance her duties in her twelve-year marriage as a wife and mother to three sons with her acting career, and from all indications, she is succeeding at all fronts. In the over 20 movies which she has featured in, she has delivered great acting skills and brings poise, class and smooth delivery to her various roles. Her performance in recent movies, Anchor Baby and The Figurine for which she has won several awards has again has established her as an actress of repute.
She has won some local and international awards including Best Actress for Anchor Baby at Harlem International Film Festival 2011 in New York; Best Actress for Anchor Baby at the Los Angeles Movie Awards 2010; Best Actress for The Figurine at the Best of Nollywood Awards 2011; Sunlight Clean & Fresh Actress of the Year at Best of Nollywood Awards; Best Actress at City People Awards of Excellence in 2010.
She speaks with Adeola Adeyemo about her journey into acting, her passions, family and more in this exclusive interview.
Before meeting Omoni, I had read more than a few times about her tight bond with her husband; that she goes to events mostly in his company and have seen pictures of them together at such events. In some interviews, she mentioned that she liked going out with him because he was her best friend, but I didn't understand the extent of it until she showed up at the venue for her interview in company of you know who – her husband. "I have done several interviews with him around" she said, when I joked that he would distract her. The love and fondness between them was evident as she sometimes tapped him or asked "Nnamdi, what movie was that again?" On her part, she was a good listener, great company, and responded with intelligent answers all the way.
I like your name, Omoni Oboli. I like the way it rhymes. Is Oboli your husband's name because I know some actresses like to keep their maiden names?
Oboli is my husband's name.
So what is your maiden name?
Ukey.
Starting Off
Tell me about your journey into acting? How did you start off as an actress?
When I was in my first year in University of Benin, one of my friends came to Lagos and met some movie producers. I have always loved acting; been part of school plays and church plays, so I was interested because it was something I really liked to do. So I came with them to Lagos and I got two minor roles and two lead roles in some movies. By the time I was in my second year in the University, it became too much to juggle both of them.
When was this?
Between 1996 and 1997. I did three major movies around that time and then I left. I had to just let it go.
How long did you take a break off acting?
For over a decade. I was out of the industry and I came back later on.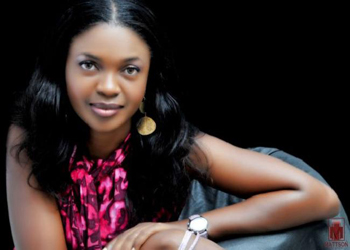 What did you do within that period?
I finished school, I got married, relocated to the UK, had my kids and returned back to Nigeria.
So if you weren't acting, what were you doing professionally in the UK?
I was mostly a stay-at-home mum. That was the period when I was having my kids so I was mostly just a home maker.
A ten-year break is quite a long period. Didn't you feel like you would somehow forget how to act?
Actors are born, that is what I believe. You don't forget who you are. If it's inside you, it's not gonna go anywhere. You just need to do something and then it comes out again.
How easy or difficult was it to return back to Nollywood after your ten-year break?
It definitely wasn't easy. If I sit down here and tell you it was easy then I would be lying. You don't leave something for ten years and expect to just pick up where you left off. By the time I came back, most people didn't even remember who I was. So many people had come and gone. A lot of the producers I'd worked with before then were not doing as many movies any more. I met Lancelot Imasuen because I had done a movie with him before. He was like "Where have you been?  Your mates that started with you are big stars now. Why did you have to go?" But anyway, he introduced me to Emem Isong and I did a couple of movies with her. That was the beginning of everything.
How many movies have you featured in since you returned and can you mention some of them?
A little more than 20. Some of them are Sweet Tomorrow, Bent Arrows, Behind The Smile, Guilty Pleasures, Anchor Baby and The Figurine.
What endears you to a role? What do you look out for before accepting a movie role?
I look at the story first of all, the story has to be captivating. And then I look at the style of writing. It has to be intelligent. The role has to be memorable.
You've featured in just a few movies like Guilty Pleasures, Anchor Baby and The Figurine recently. Is that correct?
Yes, but there is another movie I did in Ukraine, it's not been released yet. It's called Feathered Dreams. It's a pretty big movie; they are gonna release this year hopefully.
Why so few? Is it that you didn't have so much offers within this period?
It's not for lack of offers, trust me. So many offers come my way. Every month, at least two or three scripts come but I want to do what I want to do. I don't want to be forced into doing movies just because I want to work or just because I want to be out there. I have to like the script.
Let's talk about your roles in some recent movies. In Anchor Baby, you got pregnant all over again. How was it like for you?
It was OK for me. It was just relieving something I had done before so it wasn't too much of a hassle.
And in The Figurine, you played the love interest of Ramsey Nouah and Kunle Afolayan. Tell me about your role…
My role in The Figurine was very interesting. The character is called Mona. Mona started as a very loving, innocent girl, and then after everything that happened to them, she became a little deranged, a little delusional and kind of broken in a way. It was very interesting playing sort of two different characters in one movie.
Motherhood & Passions
I understand you acted with one of your sons in that movie. What is his name?
Tobe
Are you training him to be an actor?
Well, I'm not training him to be an actor, he wants to be an actor but he is still young.
How old is he?
He is 10 now. If eventually he decides that he wants to be an actor, then fine. But I'm not pushing. It's what he wants to do. It doesn't have anything to do with me really.
How was it like, being on set with him; acting and at the same time being a mother?
It was challenging, because I had to look out for him as well. It wasn't just being an actress on set, I had to be a mother and make sure he doesn't mix too much with the adults and listen in to their conversations, stuff like that.
How old are your other kids?
The youngest is 7 and the one after him is 8 now. Usually, there is always a two year gap but because of the months of their birth, it sometimes seems like one. But in a couple of months now, they are going to be 7, 9 and 11. Their names are Chizi, Gozi and Tobe.
What does acting mean to you?
It is part of life. I can't shake it; it is part of who I am. It's what I love to do the most in terms of career and work. But we all get to do other things along the way, but that is what I love the most.
Speaking about other things, I heard you write scripts as well…
I've written a couple of scripts. There is a movie called 'Fatal Imagination' produced by Emem Isong; I wrote that script. And then some scripts I've worked on with Emem as well.  I didn't totally write the whole thing but I was part of the script writers in some of her movies.
How did you come about being a script writer? Did you study this in school or did you just stumble upon it?
Again, it's the passion. And with all things we have passion for, when we develop it, it can become a career or a source of income. But I didn't go to any school to learn how to write scripts. Even though when I went to New York Film Academy in 2010, I went to study Digital Film Making, but we had courses in Script Writing, Editing and almost every aspect of film making.
That's great. I didn't know that. So you intend to be a movie director?
Yes.
Have you started any projects recently?
I am about to.
What really did you study at the University.
Foreign Languages; I majored in French.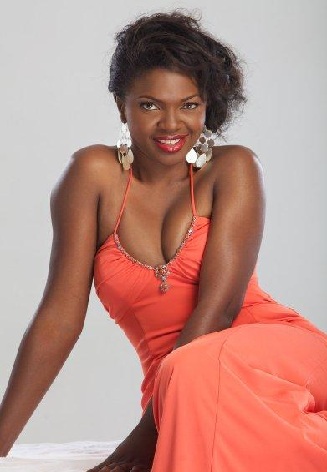 Do you still remember how to speak French?
Yes I do.
As someone with an eye for quality Film Making, how would you rate the production of movies like Anchor Baby and The Figurine?
They were very good productions, very well done movies that is why I was involved in them. I try to be involved in productions that are of a certain standard, that stand out from the rest. I don't want to do something that is just like every other thing. Even if I do one movie in a year, I want everyone to talk about the movie. The producers and directors paid attention to detail.
I don't know Jack about acting, so I usually admire the way actors portray certain emotions even when it's all staged. So tell me, what is more difficult, crying when you have no reason to cry or smooching with someone you have absolutely no feelings for?
To be honest, I don't have any problems with playing my role the way the director wants me to play. I don't have any problems with interpreting my role.
What else do you do apart from acting, being a mum and a wife?
I run an NGO, The Omoni Oboli Foundation. It's an NGO that was set up to cater for underprivileged women and children. We are actually having a program this weekend. It's my birthday this Sunday 22nd of April, so we are having a day of fun, food and laughter for some street kids.
That's great. I wish you a Happy Birthday in advance. How old are you going to be, and please don't tell me it's personal like other celebrities do?
I'm going to be 34. There is nothing to hide about it. I am proud of who I am and what I've managed to achieve by the grace of God.
The Career Mum & Wife
Does your marriage and obligation to your husband affect the kind of roles you choose in any way?
No it doesn't. And I'm not open to any role at the same time. I pick the roles that call out to me. My marriage doesn't affect the roles that I pick, but I don't pick just any role. I think my faith plays a role as well.
How do you combine the responsibilities of being a wife, mum and your career as an actress?
It's just the same way the woman selling tomatoes in the market combines that with being a mum and a wife. As women, we are built to multi-task; so the fact that you're an actress doesn't mean that you are going to allow your marriage or your kids to suffer. You still have to do what every mum should do. You have to find time to actually be with them and spend quality time with them. I'm an actress but I still find time to be with my children, to bake with them, to cook with them, play with them and find time to be with my husband and be a proper wife to him and not a celebrity wife.
Speaking about celebrity wives, their marriages and relationships are usually under the spotlight with people guessing whether they are going to last or not. How have you been able to keep your marriage?
God is part of my marriage so it's not just Nnamdi and I, it's Nnamdi, I and Christ, so with three of us in a marriage, we find a way to make it work.
How long have you been married?
12 years
If you're 34 now and have been married for 12 years, then you'd have gotten married at 22. Didn't you feel too young at that time to take the big step?
No. Actually when I did my court marriage, I was just 21. It was in January. By the time I did my white wedding in October, I was already 22. I got married early because I found someone I fell in love with and besides I was already through with school at that time.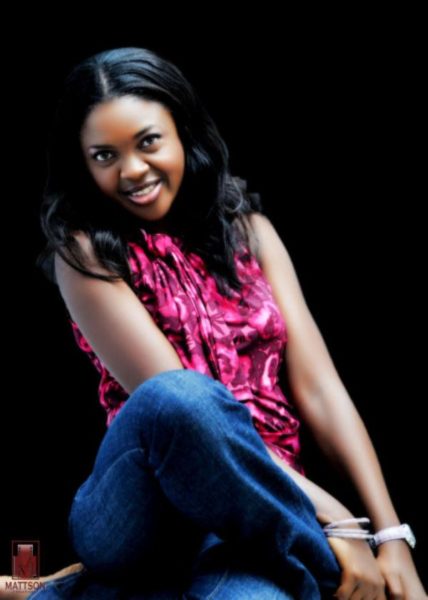 So tell me, how did he propose to you?
It was nothing fancy. We were just having a conversation and he was saying "When we get married we'd do this, we'd do that" and I asked "What do you mean? Are you proposing?" And then he said "Yes. Will you marry me?
You have been sighted at several events in his company. Is he your manager or what?
He is my manager but he is also my friend and that is why we go out together because really when you're are going out, you'd want your friend to be with you.
It must be quite a task managing three young, energetic boys. Do they sometimes wear you out?
My kids are pretty well behaved to be honest. My husband is a very good disciplinarian so he's managed to straighten them out. My house is not a mad house. They are very boisterous but not destructive.
Are you planning on having more kids?
No, thank you.
You're not even going to try for a daughter?
We are done.
Tell me something funny one of your kids have done recently that still makes you laugh…
They do funny things every day. We were in Dubai for 10 days last Christmas and when we came back, one of them had forgotten almost everything about Nigeria. And he wasn't pretending. It wasn't like he was trying to form but he would say something like "I don't remember how to eat this kind of food" and I'm like "Chizi, it was just 10 days!"
Who is omoni Oboli outside all the glitz and glamour of the movies and the media?
I am just a home girl. I am pretty much like the girl next door. I have a big heart. To be honest, my personality outside is the same as my personality inside. I don't put on any airs or whatever, I am just who I am. I don't even have the energy to try to be anything else.
Would you call yourself a very fashionable person?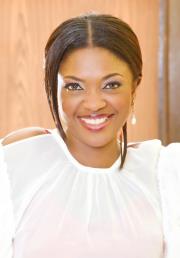 It depends on what you mean by fashionable. I wear what I am comfortable in, I wear what makes me happy. Someone might think it's not fashionable but if I'm comfortable, if it makes me happy and if I look good in my eyes, then it's fine.
What are your most interesting fashion pieces?
My bags. I like bags.
How did you spend the last Valentine's day?
My house is full of love, everyday is Valentine's day. I know that is a cliché but it's the truth. Really, we don't wait for any special day but that does not mean that you don't show extra love and attention on those days. On Valentine's day, a lot of times I like to stay in because I don't want to be part of the madness out there. It's always crazy, there'd be so much traffic. We either have cake and wine ordered in. He likes my cooking and I don't get to cook everyday so on those special days, I'd prepare something really nice and we'd have dinner with the kids.
Anchor Baby Trailer