What a refreshing Magazine cover to look at. One of Nigeria's leading lifestyle magazine – TW has got us all in awe as the ever gracious and pretty former beauty queen turned entrepreneur – Ibidun Ighodalo is every touch of perfection on the cover of their April "Beyond Beauty" Issue.
The lovely Ibidun who is happily married to Pastor Ituah Ighodalo (Senior Pastor of Trinity House Church) reveals exclusively to TW never before heard details about her role as a beauty queen, her marriage and how faith helps her keep everything in balance.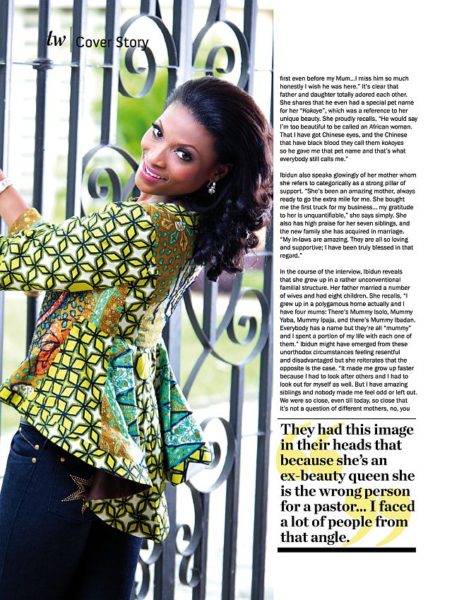 Nigerian-German music act Ade Bantu also features in the magazine as the Celebrity of the Month. He talks to TW about how music for him is more than just the fame, bling and cars. He also gives an insight into how he tries to give back through various community projects in Ajegunle and Port Harcourt.
This month's Special Report pages features 4 amazing Nigerian women who have faced and overcome the conventional notions of beauty. They discuss how they have battled personal challenges and have come to embrace their imperfections which makes them more stronger, resilient and truly beautiful everyday.
Just like the issue is tagged Beyond Beauty, Check out some of the photos of their beauty feature.
This issue has hit news stands, ask your vendor for a copy.