After spending sleepless nights studying, almost over-dosing on ramen noodles and practically making the library desk my bed for 5 years…I had finally graduated from college. All my Nigerian lantern burning skills and mosquito dodging talents had gotten me through American college with ease. My reward after much rejection by various companies <see that article> was a full time job as a design engineer. I was excited about the prospects of being an engineer that actually did engineering. As an engineer [especially a designer for that matter] one of the things you had to participate in was what we called design review meetings. It was were designs were thrashed and insulted analyzed and critiqued to ensure that all aspects of the design had been fully considered. So it was no surprise that less than 24 hours after I had resumed work I was forced thrust into a review meeting.
The conference room had a large table littered with white pieces of A4 paper and had the largest sheet of paper I had ever seen in my life lying smack dab in the middle of the table. There were engineers from all echelons of the company huddled around the table murmuring to themselves. I walked up to the table to see what all the buzz was about, but all I could see on the paper was a labyrinth of lines and numbers that made no sense to me. To be honest it looked like a Pablo Picasso painting, but without out the color and sprinkled with a dose of confusion. But the other engineers understood it, not only did they understand it…they were excited by it and spoke over each other to get their thoughts across. From the outside it looked very chaotic and unruly…however, after listening to the loud chatter for a few more minutes I began to understand that the ink lines represented an actual component and the numbers were scaled dimensions. With my new found knowledge and as the newest engineer in the room, I wanted to impress. So I did what every young wannabe engineer would do…speak!
Now I would like to tell you that I remember exactly what I wanted to say or what it was that spurred me to want to speak, but to be honest I cannot remember. All I know is that my right arm jolted into the air, with my index finger inching to the peak of my arm as my middle, thumb, pinkie and ring fingers simultaneously gravitated to the center of my palm. I had just executed the Nigerian primary school raise-your-arm before you speak pose to perfection! If my primary school teacher could see me she would have given me an A for execution and A+ for effort.
At this point what should have happened was that everyone would stop talking and then the meeting leader would look at me and grant me permission to talk. But instead nobody looked at me and if they did it was the why-is-he-raising-his-hands side glance look. I even resorted to the time tested finger wagging…but nothing. Even the air molecules floating around the room were confused by my right arm which was now obstructing their normally free pathway.
The last time my arm had confused air molecules in that way was on the faded basketball court of Lagos Country Club and it was accompanied by a loud swoosh as my opponent landed yet another jumper over my flailing hands. In 1999, basketball was my new hobby, it was a welcome break from lawn tennis which my dad had tried to force us to play throughout primary school. But after years of non-Federer like action he slowly began to realize that none of his children had the Serena or Nadal DNA in them. So we stayed away from the clay courts and instead killed time on the basketball courts. It was fun as we dribbled and shot our tan spalding ball into the old and rusty grey rim. However, our most fun moments was when people argued the basketball rules…in my first few days I would listen and believe anything I was told, until I realized that people were making up rules daily depending on how it benefited them and normally the loudest and most aggressive players got their rules enforced. It was one of those few games that required a law degree for you to succeed. We would often get to the courts around 2 pm in the afternoon and would not leave till they pried our cold dead fingers off the rim 11 pm at night. Needless to say it was very difficult to get us to stop playing, the only times we stopped was when the rain came or when an important soccer match was going on. But all that changed on one particular but non-spectacular day.
We were out on the court doing what we always do best, dribbling, shooting, missing and sometimes hitting. The game was as intense as usual and the loudest most dramatic players were winning all the calls as usual. As was customary on every Saturday afternoon at Lagos Country Club there was a big party celebration going on. Maybe it was a wedding ceremony, graduation or contract celebration…I really don't know. All I know was that the smell of rice laced with the aroma of fried chicken lingered in the air and blended effortlessly with the loud music blaring from the speakers. Occasionally a waiter or two would walk by the basketball court balancing several bottles of beer on an aluminum tray as they danced around the cracks on the side-walks surrounding the court. Their movement was rather uneventful and after sometime they just blended into the background…until…
A shot was heaved into the air and grazed the rim or a player lost the ball or the ground tilted suddenly, either way our ball began rolling towards the cracked sidewalks. Before I go any further, let me just say that every male Nigerian believes that their destiny no matter their age is become a soccer player. Our waiter was no exception because as soon as the ball came near him he performed a side flick to lob the ball back onto the court, but what ended up happening instead was a side fall to the ground. On any other day he would have dusted himself up and continued on, but there was one slight problem…he was carrying several bottles of drinks on his tray. Crash…was the next sound we heard as pieces of bottles flew precariously in a thousand and one directions, leaving trails of broken glass and broken football dreams on the ground. But before the bottles could even complete their breaking cycle, we heard a loud thundering voice yelling "no more basketball, the court is closed" It was an older gentleman running towards the court waving his hands as if to punctuate the severity of his tone. We did not argue, we had been taught at home, in church and in school that when an older gentleman is screaming and yelling an order you must obey. So we all did, horridly picking up our basketball paraphernalia and making a dash off the court. But then it happened…
"Who are you…you have no right to tell us to stop playing!" yelled Eki one of the basketball players.
It was like one of those slow motion films…I could feel myself saying nooooooooo and running to catch the words before it hit the ear drums of the crazed old gentleman invading our court, but with the speed of sound tagged at over 340 metres per second I had no chance. The older man heard the words and immediately turned around yelling the words that every Nigerian says just as he is about to unleash his ultimate anger "do you know who I am!"
But Eki was even more defiant "no but are you in charge of the basketball court? Plus you have no right to tell us to stop playing."
I had never seen anything like this before, a young teenager trying to reason logically with an older person that was angry! I ran to restrain Eki, I thought he was crazy. Ironically his argument was sound. A random adult from a party had no jurisdiction or right to tell us to stop playing basketball. In fact his whole argument was baseless. The reason the waiter fell was because of his over-zealousness and besides telling us to stop playing basketball was uncalled for. But the older gentleman remained adamant and the only phrase he kept yelling was "do you know who I am." Sadly, he never told us who he was (to this day I think he was not a member of the club). By this time the commotion and yelling had attracted a large crowd on and off the court. With that type of attention we were [albeit unfairly] forced to stop playing basketball for the day. I left the court confused.
It was the same confusion that plagued me in the conference room of my first design meeting as I waved my hand in the air seeking permission to speak amongst the older engineers. Confused because they did not respond, confused because everyone addressed themselves by their first name, confused because everyone spoke loudly and rudely, confused. Who could blame me, for years I had been taught to respect my elders, to raise up my hands before speaking and to seek permission before going to the toilet. I was thought that any time my elders spoke, no matter if it did not make any logical sense, I was to keep quiet nod and say yes sir. That was my educational/cultural upbringing. But now stuck in a foreign land several thousand miles away my hand raising permission seeking culture was killing my career even before it had started. I would walk around the office greeting anybody slightly older than me with the words yes sir and yes ma, leaving a trail of bewildered confusion in my wake.
Respect is an important word in many African countries especially in Nigeria. You dare not question an older person and you better not ever dream of calling him out by his first name. But the problem is that there is such a thing as too much respect…a point where respect diffuses logic. You have parents telling their kids to do University courses that they hate, but the kids never speak up because they have to respect authority. You have company executives making poor decisions in boardroom and subordinates sit in silence too timid to speak up even when they have a power solution deep down inside of them. If we want to change this we have teach our children that parents and authority can be wrong sometimes, to show them that is okay to challenge elders and question illogical rules and to even let them address us by our first names and not just Daddy or Mummy or Sir/Ma. Only when we breakdown the respect barriers can we fully enjoy the benefits of having everyone present at the same table discussing ideas without any fear or intimidation, ultimately creating a culture where logic is respected more than authority.
_________________________________________________________________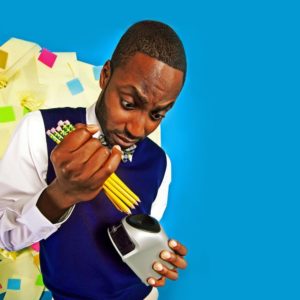 Ofili is an award winning  motivational speaker, author, success coach and  entrepreneur who blogs about life, success and entrepreneurial excellence. Follow him on BB pin:3300ED8F, twitter , facebook or subscribe to his blog for more success TIPS! Regarding speaking engagements, he can be reached at contact. He is also the author of the popular How Stupidity Saved My Life and is set to release his latest book How Laziness Saved My Life at the end of April. To find out how to get the books visit ofilispeaks.com