It's only the second day of April and we already have our first BN Our Wedding Story of the month! Omoye Ikhine and Niyi Ajiboye tied the knot in Lagos and their wedding story is cute yet inspiring! From their first meeting to their joyous union.
Their advice for intending married couples, "definitely ensure that you have committed your wedding to God, pre-marriage counselling reveals a lot to the intending couples that they may not have previously thought about. Also, start planning early. It really does help!"
Omoye and Niyi tell BN that the highlight of their wedding day was saying "I Do" and finally becoming man & wife – ONE – forever!
Enjoy.

It Began at a Wedding – How Omoye & Niyi Met
by Omoye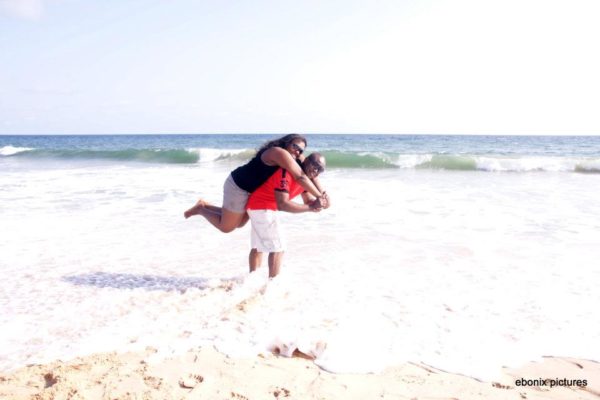 I met Niyi on the 3rd of April 2010, at a friend's wedding. The wedding was sort of winding down, and had gotten to the dance, dance, dance part. A close friend & I attended the event together and we decided that before leaving we should "show face" on the dance floor, so the bride would know we came for the wedding.
Little did I know what God had in store for me.
Now, to be fair, before Niyi even spoke to me or approached – I had sighted him on the dance floor (don't get it wrong o, not in that way, lol). It's just he was dancing so much, it was hard not to notice him, especially since he was on the groom's train.
For some reason best known to him, he approached me and started dancing (he basically "chanced" my friend who I attended the wedding with). For those who know me well, I can't listen to music without moving my body or at least singing along but on this fateful day, Niyi managed to reduce my dance moves to what can only liken to church side-to-side mode. While showing off his 'dance-skills' he started chatting and asked for my telephone number. I told him I would decide whether or not to give it to him before I left the wedding.
When my friend Uche was ready to leave, she signaled and I told Niyi that I had to leave. He walked me out and asked if he could drop me at home. I replied that I had driven to the venue and lived close to the venue anyway. He asked for my number again and I decided to give it to him. For those that know VGC well, the reception is horrid but Niyi called me later that evening and despite the fact that the phone connection kept cutting off every 2 minutes, he kept calling back…
We spoke that way for about an hour and by the time I went to bed that night I was hooked. It may sound corny, but I truly believe that I knew that night that I wanted him to be a part of my life.
by Niyi
I met Omoye at a friend's wedding on the 3rd April 2010. I was having so much fun and dancing away. Somehow I managed to find my way to the spot where she was dancing (she has already told the rest of the story as we can see). I remember my friend Emmanuel, (the groom's brother) asking me later on where the girl I was dancing with is. He teased me the way guys do and we just laughed about it.
We talked for a while later that night, well maybe at length. Now I am not very good with dates, but this date I remember very well because the next morning which happened to be Easter Sunday, my only sister passed away. It was a devastating period for me.
Omoye visited me a few days later. I didn't go to church for a while and I remember she invited me to her church sometime later. Somehow, we began a friendship and understandably I was not really interested in a lot of things then, so I can't particularly say at what point I fell for her, but I did…
We began hanging together a lot and that was it. She's a wonderful person and I wish my sister was around to have met her.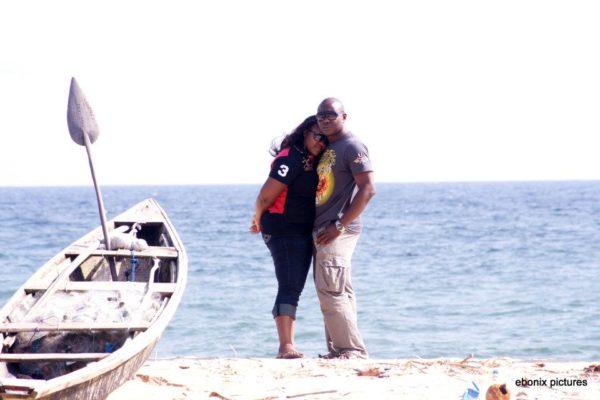 The Proposal – YES!
by Omoye
I was scheduled to be at a wedding in Kaduna the weekend of July 9th 2011 and I decided to go through Abuja. Landed quite late on friday and Niyi came to pick me up with his friend and we decided we wanted to eat.
Honestly, I have never driven to so many places in one night to find food. Everywhere we went, Niyi kept saying wasn't right, or was too noisy – so my mind went into overdrive 🙂 Maybe "he's trying to waste time while they set up this romantic dinner for a proposal I thought to myself, so I played along (I'm looking back on it now, I'm kicking myself and laughing so hard). Finally, we settled at the Abuja Transcorp Hilton – this was about midnight. By the time the food was served amd we finished eating, it was about 2am on the 9th of July 2011. His friend excused himself briefly and went to check on something.
All this while my mood had dropped drastically. Niyi kept asking me what was wrong but obviously, I couldn't say to him what I was thinking, "I had psych myself up that you were going to propose but you didn't, so now I'm a bit low" (LOL) so I just kept saying "nothing".
Once his friend had left, my baby turned to me and asked "Where do you see yourself in 2 years?". In my mind, I was thinking "which kain jamb question?" Lol. And isn't it normally 5years people ask. Lmao". When I started responding, the first thing that came to my mouth was "I see myself married…" Before I could say another word, he just interjected with "…You and this marriage thing sef, shei you know I'm not the marrying type".
Girls can you believe that?!
I was looking at him with this shocked look on my face thinking "he must be kidding me". Then he asked me "what if I ask you to marry me, what will u say?" I told him to stop asking me hypothetical questions and that when he was ready and serious he would hear my answer.
Then he said "ok, will you marry me?" I laughed and said, "Oh you think I'm not smart, you are trying to trick me into answering your initial question"
Next thing I saw him fiddling with his pocket, while saying at the same time "I had so much to say, but now I don't know where to start but I've had this for a while now & I wasn't even sure I'd do it tonight but….. (He brought out the ring, opened the box and drum roll please…)
WILL YOU MARRY ME?
I started blushing. I smiled and said YES, he slipped the ring on my finger. I was so ecstatic. He kept asking, do u like it (the ring)…he was so cute. He got me the most beautiful ring, I couldn't have asked for anything better!
by Niyi
I was at work sometime this year and I just thought it's time to get married – I am with the right person,
the feeling is mutual so what am I waiting for?
I had known for a while what my intentions were anyways, I had just not decided when to seal it.
Yes, the proposal. I proposed the way I know how to. I remember passing through the security scanner at Hilton I had to remove the ring from my pocket and show security that I didn't want her to see it so they just had to allow me pass with the beeping of the scanner.
I asked Omoye to marry me and I must say that I felt happy and fulfilled when she said YES.
_____________________________________________________________________________________________
It all started on the dancefloor! – a first dance at a wedding and two years later, Omoye Ikhine and Niyi Ajiboye shared the most special first dance at their own wedding!
On the 4th of February 2012, Omoye and Niyi exchanged their heartfelt vows at the Winners' Chapel church in Ikeja, Lagos. The couple made the commitment to share their lives together as one. The gorgeous bride looked elegant in her alecon lace dress embellished with intricate beadwork and perfectly complemented by her sleek updo and ribbon-edge veil while the groom, Niyi looked handsome in his 3-piece suit. After the church ceremony, Omoye and Niyi's nuptial celebration continued at the their wedding reception. The blue and silver theme accented with touches of yellow created a lovely effect and set the stage for this fun love-filled day!
BN wishes Omoye and Niyi the absolute best in love, life and marriage. We pray each day is abundantly blessed with grace and divive favour!
Photography: Ebonix Digital Creations – www.ebonixdigitalcreations.com
Wedding Details
Dates:
Traditional Wedding – 2nd February 2012
White Wedding – 4th February 2012
Venues:
Traditional Wedding – PenHall, Victoria Garden City, Lagos
White Wedding Ceremony – Winners' Chapel, Ikeja
White Wedding Reception – The Grandeur Event Cente, Oregun Road, Ikeja, Lagos
Vendors
Wedding Dress: Morilee Bridal
Hair & Makeup: BeautyCook Studios – Facebook Link
Decor & Coordination: Victoria Roberts Solutions
Cake: Lorraine-T Confectionery
Catering: S&P Catering Services | Remy's Professional Caterers
Flowers: Victoria Roberts Solution
Small Chops: Larry Spice Ventures
Cocktails: Elle's Icebox
Dessert: Ooh La La