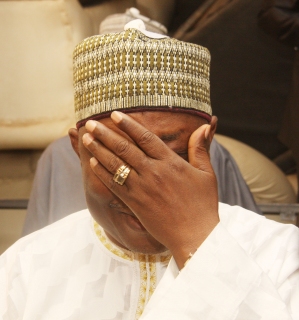 Over the past few weeks, disturbing news of alleged corruption amongst managers of pension funds in the country has filled our headlines. From the Nigerian Police to other public agencies, administrators of pension funds have been under scrutiny for mismanagement and embezzlement of funds meant for retired public officers.
One that is most disturbing is the alleged scam by Dr.  Sani Teidi Shuaibu, a former Director, Pension Administration in the Office of the Head of the Civil Service of the Federation who is now standing trial in Nigeria over a N4.56 billion Pension scam.
Dr. Shuaibu who masterminded the scam carried it out along with four other persons – former Deputy Director, Pensions Finance and Account at the Office of the Head of Service, who was a signatory to pension accounts; Mrs Phina Ukamaka Chidi, an ex-Assistant Director in-charge of variation; Mr Mohammed Katun Ahmed, the cash officer of pensions accounts; Mr Garba Abdullahi Tahir and the Head Final Accounts at the OHCSF, Mr. Emmanuel Aderemi Olanipekun.
It's really sad to see how public officers holding such high positions looted the funds meant for thousands of other public officers who have dedicated several years of their lives in service to their country.
Posing as "ghost pensioners" and using multiple bank accounts operated by each of the accused persons, they used 25 companies to defraud the Federal Government between 2008 and 2010.
Some of the companies allegedly used to perpetuate the fraud were named as Zumba Resources, Lopee Ventures, Gozinda Enterprises, Bashinta Nigeria Ltd, Obista Enterprises, Shallo Well Ventures, Redwing Energy Limited, Figure International Agency, Newgate Projects Limited, among others.
It (EFCC) alleged that the accused persons conspired by false pretence and with intent to defraud, obtained from the pensions department, Office of the Head of Service of the Federation of Nigeria, various sums of money at varying periods, and transferred same to several bank accounts opened with fictitious names.
It stressed that though the names on the said bank accounts were fake, the various accounts were opened with the passport photographs of the accused persons.
Each of them were said to have operated more than 10 bank accounts, with some of them having more than four separate accounts in one bank.
According to a 25-count criminal charge preferred against the accused persons, their offence is contrary to section 8(a) of the Advance Fee Fraud and Fraud Related Offences Act, 2006 and punishable under section 1(3) of the same Act.
We often hear of news where pensioners travel long distances, wait long hours, stand in long queues to collect meager allowances; most of which they don't eventually get. This revelation by the EFCC proves that there was never a case of insufficient funds by the government to pay these people, but greediness of a 'few' who chose to enrich themselves at the expense of thousands of pensioners and their families.
These people stole from defenseless, and mostly elderly people of the society who have spent their youth serving this nation. This is no ordinary corruption. They must be made to face the punishment for their actions.
What would you call a situation where five people loot N12 billion in 3 years? Greed? Selfishness? Wickedness? Corruption? Honestly, words fail me.
Photos of the accused at a recent court appearance:
News Source: Vanguard News
Photo Credit: Sahara Reporters