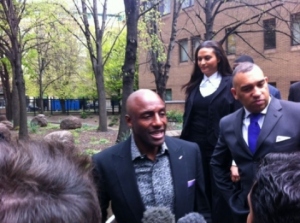 John Fashanu, veteran sportsman and footballer sang his praises of James Ibori at the Southwark Crown Court 9 in London on Tuesday 17th April, 2012 in an attempt to get a lenient sentence for the former governor.
Claiming that he had known Ibori for 20 years, he testified saying the former governor achieved a lot in sports, and was instrumental to the end of militancy in the state. He told the court that Ibori built nine mini-sports stadia and three Olympic-sized stadia in Delta state and also built the first shooting range in Nigeria.
The video below shows where he was questioned by some reporters outside the court. He said he had a relationship with Ibori through sports.
He said, "As a person, I found James Ibori as a very humble person, a very giving person, somebody who has revolutionized sports in Delta state and helped so many youths." But he also added that if Ibori was guilty, he should pay for his crime. "Anybody who does anything should pay back. Nobody is denying that."
Notice the text on the video that called him a 'Notoriously corrupt British Born (Nigerian) Footballer'.

This second video compiled by the BBC shows how James Ibori started out as a thief in London in 1991 where he worked as a cashier in a hardware store.
"James Ibori robbed the Nigerian state funds of untold fortunes, but he started out as a cashier here in West London, working as a cashier in a hardware store. He was sacked for allowing his wife take 2oo pounds worth of DIY material without paying. The following year, James Ibori was arrested again, this time for using a stolen credit card."
"By the end of the decade, James Ibori had managed to become one of the richest and most important rulers in all Africa."
It also has excerpts of an interview with former EFCC chairman, Nuhu Ribadu who claimed that Ibori tried to bribe him with $15million in cash. Ribadu expressed his disappointment at how Ibori faced 150 charges which were all dismissed by a court in Delta state.