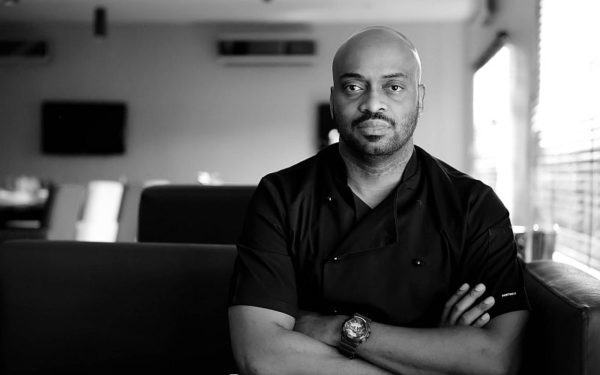 Twelve years ago, Edoro Abebe (CEO Vanilla Restaurant & Lounge Abuja) would never have guessed that he would end up in the kitchen and love it too! He speaks to Nuella Iyoha in this interview on his journey from loving good food to making it a business.
I remember the first time I ate at Vanilla Restaurant four years ago. It was a scorching, typical day in Abuja and my friend Nanwor Wuyep and I were desperate for something new. Residents of "The Buj" (as we fondly call it) are not kindly disposed to the mundane, we seek out the latest thing – restaurants, salons, clubs—like Londoners look for sun.
We had heard of Vanilla from one of Nanwor's older brother's friends, and as he was a very dashing, young man, we figured "wherever he was hanging at, we wanted to hang there!" I will never forget my first impression of the restaurant, the interior was cool. If you live in Abuja you know how important this is. Ambience was great and the food – pasta with prawns in cream sauce – was dreamy. Four years later, Vanilla is still as synonymous to Abuja as Transcorp Hilton is. As I polish off my Apple crumble pie at the restaurant's new Maitama location, I make a mental note to corner Mr Abebe for a recipe. And while our chat didn't yield any secret ingredients, it did make for an insightful interview.
This we want to know, can you cook?
Yes of course!
When did you start cooking?
I remember I used to help my mom make pancakes when I was little, I must have been about 9 years old. Those times are my earliest food-related memories.
When did you begin your culinary career?
My venture into the world of cuisine as a career started four years ago with the conceptualization of Vanilla. I didn't go to culinary school, everything I know is self-taught.
No culinary school?
No! I worked in IT for about 8 years, after my B.Sc in Computer Science and an MBA from the University of Wales, Cardiff, I worked at IBM for three years. Mysis Computers for another two years before moving back to Nigeria. One day I just woke up and decided I would open a restaurant. I liked eating and I was tired of going to restaurants in Abuja and paying good money for food I didn't love. So when the opportunity presented itself for me to open a restaurant, I told myself "Why not!" and grabbed it.
What reaction did you get from friends and family?
My friends were actually very supportive. Maybe they figured they could always drop in and score free food (Laughs). And my family was great about it too. In fact the start-up funding was from my own savings and the family chipped in too.
How did you obtain funding to set up the new location?
Majority of the funding was by the Bank of Industry.
Did you have a structured business plan when you started the restaurant?
I did, but the realities of the business quickly made it obsolete. But it is always a good thing to have a business plan when starting a new project, as it helps to keep you focused on your objectives.
When was the restaurant opened and why the name?
We opened in February 2008. The name 'Vanilla' just reminded me of food.
What was the main idea behind Vanilla?
I wanted basically, a place where I could make food I could eat, that's it. Sometimes you go to some restaurants in Abuja or Lagos or anywhere and their menus are very similar, same basic fare, no imagination! I wanted my own distinct menu filled with tried and tested recipes I knew tasted great.
How did you know you were ready to be a restaurateur?
I was never ready for this. The old location for Vanilla, I got a good deal on. So I decided to take the leap and go ahead to start a restaurant. It was more of a "let me just try it and see". In fact, three months before we launched, the restaurant wasn't ready. It was just a leap of faith, it could have gone either way. But it worked. And four years later here we are.
What was your greatest challenge in opening the restaurant?
Recruitment. Your staff can make or break your business – how well they carry out their responsibilities, how they treat customers. It is very important to get people that have a good enough level of passion for your vision and want to see your business succeed.
Who are some of your business mentors and what have you learned from them?
I don't have any mentors per se. I learn something new every day; from my family, my uncles, my parents' friends, even my own friends I do business with. I take as much as I can from everybody.
Would you call your restaurant's concept chef-driven?
I definitely would. Most restaurants in this city aren't chef-owned. It's rare to even find that in Nigeria. The restaurant is usually owned by a businessman and he/she hires a chef who does the cooking. It's more of a business thing.
Vanilla is chef-driven, that's our unique point. It's owner-driven and fortunately the owner is a chef. The owner is in the kitchen. The owner knows exactly what he wants; the quality and standard I'm going to demand from my kitchen is higher than someone who doesn't know his way around the kitchen would.
How much of the food preparation process are you a part of?
When we started, I was about 90 percent involved in the kitchen, now, not that much. The recipes in the Vanilla menu are all mine. So what I do now is just teach my chefs the processes and I supervise.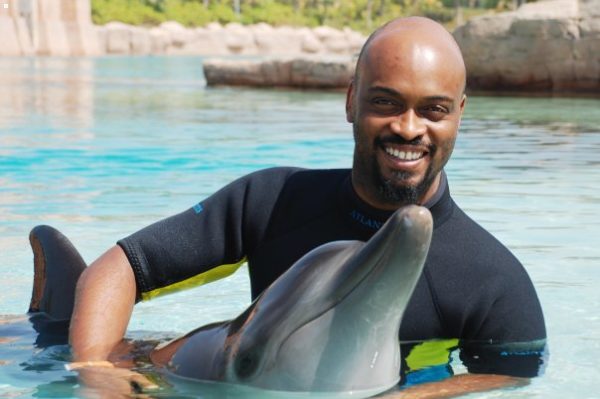 From Ofada Rice to Jamaican Jerk Chicken to Oreo Mudslide cocktails, your menu is very diverse. How would you describe Vanilla's offerings? How did you decide on the menu, what food to include or not?
The food at Vanilla, we describe as local food with a world accent. I looked at the market, what do Nigerians want or like to eat and what do I want to eat? The menu is constantly evolving, we had some things we took off the menu after two months because it never got ordered. So it's dynamic.
What to you is "Good Food"?
Good food is food that tastes right. Its well seasoned, well cooked, just the way it should be. You can give me fried eggs and it can either be nasty or absolutely fantastic. As long as it's cooked properly, it's good food to me.
What makes a good customer?
A good customer is someone who would tell me exactly what the experience was like when he/she finishes eating. When customers have only good things to say, I like it, of course. But I don't mind when a dissatisfied customer calls me to make a complaint, it helps us improve if we get honest feedback.
What makes a good chef?
A good chef is someone who can recognize his kitchen, he doesn't really need to cook, as long as he can organise his team. Someone who can have three or six dishes efficiently going at any one point, that makes a good chef.
How do you inspire and retain your employees?
In Nigeria of course it's financial rewards. As long as they do what they are meant to do, you owe them loyalty, and guarantee them a job for as long as the business is open. They do their work, business stays open.
What is your tip for running a successful restaurant?
Be involved. You cannot own a restaurant and give it to a manager or chef to run for you. I've had Vanilla for four years and I've had my head chef for about three of those years. And no matter how much I trust in his capabilities, I still don't feel a hundred percent comfortable leaving him alone in that kitchen for 48hrs (Laughs). Sometimes of course it's necessary, but I'm always on the phone with him, asking what's going on. So to own a restaurant, you have to be involved.
What is your most valuable experience so far?
Every day is an experience. Biggest lesson learned – definitely how to run a business. When you want to start any venture, people will give you all sorts of advice. But when you are in the thick of it, all that flies out the window and ultimately you learn on the job.
You left IT to be a restaurateur full-time, how has the transition been so far for you?
The transition has not been too difficult, cooking is writing software – what you put in is what you get out (in terms of quality) and running a restaurant is all about planning and covering all the necessary corners. So I think I adapted nicely.
What's a regular day for you like?
A regular day—what's that? (Grimaces) Honestly, I've not had a regular day since we moved to the new location.
Who does the cooking at home then – Chef or Mrs. Chef?
(Laughs) My wife does.
How do you balance the rigor of owning (and being very involved) with the running of Vanilla with your family life?
I try to be home every evening and I always keep sundays free for family.
Do you watch MasterChef?
I don't! I'm more into Gordon Ramsey's Kitchen Nightmares, I learn from the show how not to run a restaurant. I don't believe in cooking competitions.
Oh well, you're going to wish you did because I have an instant challenge for you!
(Laughs)
So your mystery ingredients are Plantain, suya…Suya? Yes! Corn— Corn on the cob or sweet corn? Any of them— and a coconut. So what's on the menu?
Wow. I'll make plantain cakes, mash the plantain, grate the coconut in, make a batter and deep fry it. I'll make a fresh greens salad with the corn – like a Caesar salad but with shredded suya instead of chicken. Ugh. (laughs) Couldn't you have given me better ingredients?
Nope!
Finally, what's your advice for other entrepreneurs attempting to grow their businesses?
Always bank all income from the business. Never pay in cash pay in cheques instead, that way your bank has a good idea of the cash flow of your business and how healthy it is. And more importantly, understand that no one can take care of your business as well as you do.
Inside Vanilla Restaurant & Lounge
A taste of Vanilla
A Day at Vanilla! Photos from Vanilla's Fourth Anniversary Event
Photo Credit: Atta 'Cannon' Switch
__________________________________________________________________________________________
BellaNaija.com in conjunction with Vanilla Restaurant & Lounge, are giving a lucky BN reader an opportunity to win a lunch for two at the restaurant. To savour Vanilla's Culinary experience, answer this question – How many years has Vanilla been in business?
Answers should be submitted in the comment section below. This competition is open to Abuja residents only.
Vanilla Restaurant & Lounge
Location –  28 Pope John Paul II Street, Off Gana Street, Maitama, Abuja
Telephone Number – 08104545070 | 07057351719
BB Pin 283C77B7
E-mail info@vanilla-abuja.com
Follow them on Twitter @vanilla_abuja
Official Website – www.Vanilla-Abuja.com