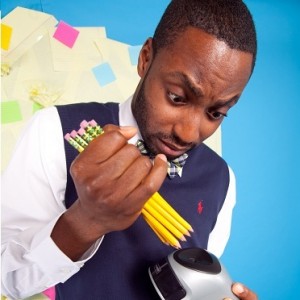 Two years ago,  author, speaker and BN contributor Okechukwu Ofili shared his stupidity with the world in the hilariously successful "How Stupidity Saved My Life". Everything seemed to be going well for the engineer turned blogger turned speaker, but all that changed when he visited the doctor's office for a routine check-up and was diagnosed with a life threatening disease. He later found out that his diagnosis was a result of over working himself at his job. After seeing other people getting burnt out from work, he decided to write his second book to show that contrary to popular belief, laziness can actually save your life! The result is the witty "HOW LAZINESS SAVED MY LIFE: A collection of radical business ideas for tired, overworked and frustrated people looking for an easier way to get stuff done"
How Laziness Saved My Life is a hilarious attack at the way corporations and businesses push themselves and their employees to the brink of stress. With chapters such as "Three Things I Learned From Getting Kicked In The Head","Why We Need Fewer Meetings and Managers" and "What Washing Underwear Taught My About Customer Service". Ofili is able to poke fun at the work institution as we know it but at the same time he offers simple solutions for managers and entrepreneurs to help get the most out of themselves and their employees without killing anyone in the process. If you have ever been stressed at work or felt like strangling your manager then you need to get this book. But don't take my word for it, after all I am just the author writing in third person…see what others are saying about it:
Grabs you from the first page and never lets you go…until you are done or NEPA takes light.
Okechukwu Ofili
The book is so intelligently written and wickedly funny, it is as if I wrote it myself.
Okechukwu Ofili
HOW LAZINESS SAVED MY LIFE is a must read for Managers and Business Leaders! Get a copy for your boss and one for your bosses cat…it's that good!
Okechukwu Ofili

The book is currently available on Amazon at http://amzn.to/getlazy and at major Nigeria bookstores including Silverbird Lagos, Silverbird Abuja, Silverbird Port-Harcourt, The Hub Media Lagos, Laterna Lagos and Terraculture Lagos.

BONUS STUFF: To celebrate the release of his second book. Ofili will be giving away a Blackberry 9930, an Amazon Kindle Fire and other awesome prices (no kidding). All you have to do is take a simple picture. See the poster below for more information:
________________________________________________________________________________________________________
Ofili

 is an award winning ninja motivational speaker, author, success coach and mind reader entrepreneur who blogs about life, success and entrepreneurial excellence. Follow him on BBpin:3300ED8F, 

twitter

 , 

facebook

 or 

subscribe to his blog

 for more success TIPS!" His latest book is titled HOW LAZINESS SAVED MY LIFE, to find out how it saved his life click 

amzn.to/getlazy