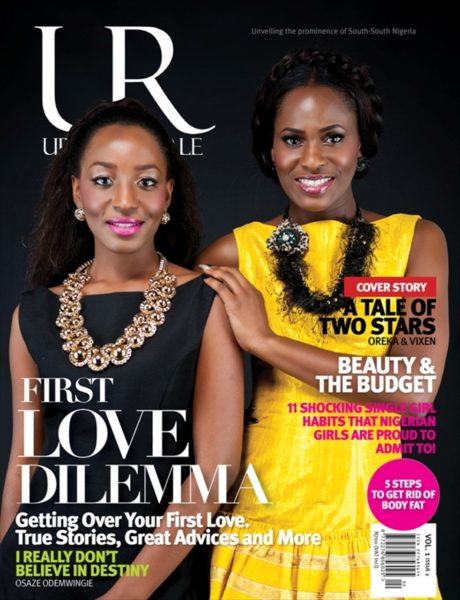 For its second edition, bi-monthly publication – Urban Royale Magazine which focuses on the 6 South-South Nigerian states (Edo, Delta, Cross-River, Rivers, Bayelsa & Akwa-Ibom), showcases two delectable Nigerian TV stars – Oreka Godis and Yvonne Vixen Ekwere like never before in its new issue.
The magazine surely knows how to keep its readers loving every new issue more and more after featuring top Nollywood actress – Stella Damasus on its first edition.
From life to love to success and the future, these ladies tell it all.
It seems just like yesterday when Beat FM Morning Rush radio presenter – Oreka Godis left the Lagos based radio station. Few months after her shocking exit, the Clinical Science degree holder has still managed to be in the public eye. She tells the mag that she is quite the dreamer, one who likes to explore her mind and build on her imaginations " I am somebody who articulates things in a way that is slightly different from how people are used to hearing certain things. I say this and I borrow this from a TV show; I am victim of my own imagination". She also talks about her roots and how she has lived in almost all Nigerian states including Benin, Oyo, Zaria, Lagos, Ogun and Kogi.
STV's Entertainment Weekly TV presenter – Yvonne Ekwere  dishes out never before heard details about herself in this tell-all interview. When asked what makes her stand out, the 25 year old said "The fact that I am multi-talented, definitely. People know there is something else to me but they don't know what it is. I am a singer, rapper, a TV presenter, an actress… I used to write poetry, though I don't know if I could still do that. You could also say I am a model".
The screen diva also speaks about growing up, her family, work, coping with the fame and the future. When it came to the topic called love, Yvonne who is currently in a relationship said her ideal man is someone spiritual " I am a spiritual person as well. I am not a church going, tongue-speaking person but I have a spiritual side. So, he has to have that connection to God somehow"
Newly wedded West Bromwich Albion striker – Osaze Odemwingie, also makes the pages of the magazine. The soviet born Nigerian International footballer speaks to Urban Royale about his life, setbacks in the past and his strings of successes. When asked to talk about himself, the ever smiley Super Eagles said "Uhm.. I would say that I am stubborn, headstrong….an easy flow but not simplistic" I guess fair play and team play has always been my style! I am always humble, friendly and straight but I can be stubborn when not understood and taken for a ride". He also called Kanu Nwankwo his hero after Nigeria won the Olympic Games in Atlanta, Georgia.
Rivers state born former Miss Nigeria UK – Dabota Lawson reveals exclusively to Nuella Iyoha, her budget beauty secrets. The 25 year old said due to her acne prone sensitive skin, she simple uses face wipes to help her remove water proof mascara and eyeliners without irritating her skin. Her budget beauty secrets also include baby wipes and oil, johnson's baby powder, lip gloss, Mary Kay liquid foundation and lots more.
Port Harcourt born model, actor and recording artiste – Alex Ekubo is Urban Royale's 2nd edition Style Star. The mag gives us detailed analysis of his education. He went to Federal Government College, Kaduna for his secondary education and gained a diploma in Mass Communication from Calabar Polytechnic and went on to improve himself by studying Law at the University of Calabar. Speaking on his style, the model whose mother – Jane Ekubo is a fashion designer based in Lagos and designed Kanu Nwankwo wife's (Amarachi) traditional wedding dress said "Growing up, I've always been conscious of how I looked and was raised to know that your appearance in public and how people perceive you means a lot, so I always try to keep it together"
Also in the pages of the magazine is UR's review of the just concluded Arise Magazine Fashion Week in Lagos with red carpet photos and spotlight on Top Nigerian designer – Mai Atafo, a spread celebrating the Igue Festival and a guide to the city of Asaba, Delta State.

Making the Cover
From start to finish, the mag shows us how the two TV stars got ready for their shoot.


Credits
Clothes: April by Kunbi
Accessories: Diva House of Accessories
Make-Up: Zaron
Photography: Litehouse Photography