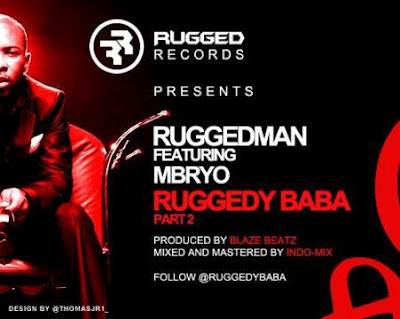 Honestly speaking, this is a side of Ruggedman I've not seen, rather heard, before and I like it.
I'm not completely sure what his die hard fans would think because contrary to your first opinion, Nigeria's most controversial rapper was simply just making a dance track with "Ruggedy Baba Part 2", although he was still full of braggadocio in his lyrics.
Mbryo was also on the cut and added that necessary Afro-Pop/Afro-Dance/Dance Hall touch to the Blaze Beatz produced track. Anyway, it's a club track in the same vein as the Dance craze sweeping the music industry and is sure to make you move your feet. What do you think? Enjoy!
Play Ruggedman Feat. Mbryo – Ruggedy Baba Part 2
[audio: https://www.bellanaija.com/wp-content/uploads/2012/05/Ruggedman_ft_Mbryo_-_Ruggedy_Baba_Part21.mp3]
Download
Also, I bumped into this on the internet, it appears Ruggedman and Terry G are collaborating on something soon. I wonder what they've got in store for us. From the video, you can tell that Terry G has something infectious he gets into everybody that comes close to him.
Check on it.