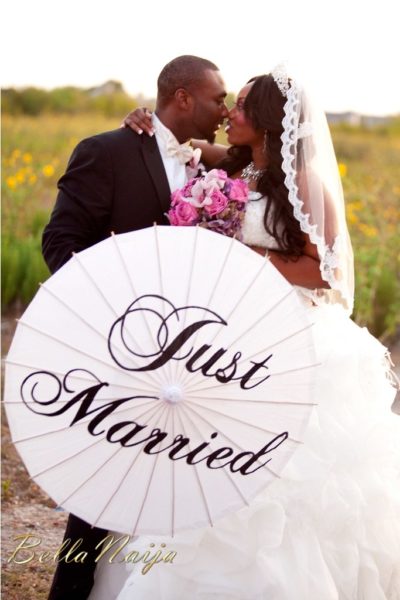 The BellaNaija Weddings team has something really special planned for you this week!
All through the week, we will be celebrating BN at 6 (It's our sixth anniversary this month, but you should know that!).
We have delved into our BN Weddings vault and scooped out 6 fabulous proposal stories. From simple romantic proposals to dramatic productions, you'll love it. We have featured 2 fabulous proposals (and weddings) so far, now check out this one!
Registered nurse Tasha Okpoko and Electrical Engineer Olayinka Oladipo tied the knot in August 2011. Just like Yinka's romantic proposal, their wedding was grand and colourful.
Enjoy.
Before She Said Yes…Tasha & Yinka's Love Story  – The Encounter
by Yinka
One month after I moved from Houston to Colorado to start a new job, my friend Sam decided to visit Houston for the first time for 4th of July, 2010, so I volunteered to be in Houston that weekend too, to show him and his girlfriend around.
They wanted to go to an African club, so I took them to Cloud 9. On getting to the club that night, we ran into another one of Sam's friends Tasha. Tasha was looking so stunning that night that just I could not get my eyes off her. I tried to get her to dance, but she refused, claiming that her shoes were too high for her to dance in.
Personally, I think she was just fronting.
After several failed attempts, I was finally able to get her to come to the dance floor. I guess she couldn't resist the swag lol.
Funny thing was that she looked so familiar to me that night, but I couldn't recollect where I knew her from.
Before She Said Yes…Our First Date
by Yinka
I woke up the next day and the first person I thought about was Tasha; since we had such a good time in cloud 9 the previous night, I invited her to have lunch with me just shortly before my flight back to Colorado. The more we talked, the more we found out that we had a lot in common; we both migrated to the United States the same year, the same month. We both lived five minutes away from each other for years. I finally realized why she looked so familiar to me.
I had seen her once in Borders bookstore.
I described exactly what she was wearing the day I saw her there (purple clinical scrubs and white shoes). She was astonished since that was the first and only time she had been to Borders book store. The other funny thing was that we were friends on facebook prior to us meeting in person and neither of us realized it until later on .
I guess God was trying to tell us something.
We started dating a month after we met and everything just fell in place. We would talk on the phone for hours. We enjoyed each other's company so much that even the distance between us could not keep us apart.
Popping the Big Question! 
by Yinka
Everything just felt so right between us that it seemed like our relationship was preordained. Even though we lived in different states, we were always together. Its either I'm in Houston to see her or she is here in Colorado with me.
After dating for some time, I was convinced that Tasha is the woman I want to spend the rest of my life with.
So one weekend in October of 2010, I flew her out here to Colorado. For all she knew, it was
just supposed to be another regular weekend; I had everything planned out. We went to a park in Colorado called the Garden of the Gods. We walked around the park taking pictures, laughing and just having a blast. In the midst of it all, I got on my knee and Tasha had this confused looked on her face. lol. She thought that I was posing for a picture.
I asked her to marry me and she screamed YES.
She made me the happiest man on earth that day.
He Proposed!
by Tasha
3 months later, a week after I returned from visiting him in Colorado, he flew down to Houston. He took me to meet his mother and told me he wanted to fly me to Colorado the next weekend. On October 2nd, I arrived in Colorado excited to see him again three weekends in a row. The next day we decided to go to a place called "The Garden of the gods". We walked around, took pictures and enjoyed the scenery. As we came up on a big rock, Yinka insisted on us climbing it, so he gave a guy the camera and asked him to take pictures of us at the top.
As we took the pictures, Yinka said to me "Babe let's try this pose" so he got down on one knee. So I
asked "okay…should I sit on your lap?" Next thing he brings out a box from his pocket and opens it
…And said "Tasha will you Marry me?"… Of Course I screamed YES!
****
Love is beautiful! Just goes to show you that you can meet the love of your life even in the most unexpected places. We absolutely love how Yinka proposed to Tasha…so so romantic!
****
Photography ~ Still Life Media | Rhphotoarts | Majestic Photos 
Wedding Video

Photography ~ Wedding Photographers: Still Life Media Engagement – Website Link | Pre-Wedding/Engagement Photographers: Rhphotoarts – Website Link / Majestic Photos
Vendor List
Bride's Wedding Dress: Allure Couture – Spring 2012
Groom's Tuxedo: Bespoke
Event Planner: Bride, Groom & their families
Wedding Venues:
Traditional Wedding – Arab American Cultural Center
Wedding Ceremony – The Word In Action Church
Wedding Reception – Phoenix Banquet Hall
Wedding Cake: M.E.B Couture Cakes
Traditional Wedding Cake: Laura Ekume
Wedding Decor: Donatello Designs (Christiana Osinulu)
Light and Sound: T.S Productions
Flower/Bouquet: Inventive Events
Makeup for Traditional and White Wedding: Tokini Bilaye Benibo (Lyzadora)
Headties: Loveable Designs
Musicians: Kings Rhythms Band
Reception DJ: DJ Tunes
Fruit Display: Glorious Feasts
Hors d'oeuvres: Chef Besi
_____________________________________________________________________________________________
Want your wedding on BN? Email weddings (at) bellanaija.com