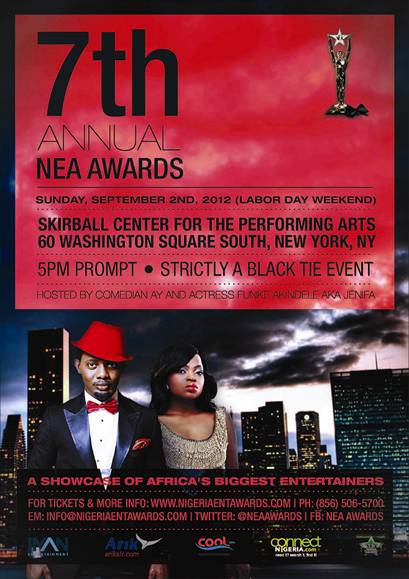 Jenifa star Funke Akindele-Oloyede and top Nigerian comedian AY have been announced as hosts of the 7th edition of the annual Nigerian Entertainment Awards (NEA) billed to take place at the Skirball Performing Arts Center in the Big Apple (New York City) on Sunday 2nd September 2012 by 5 PM.
This edition will mark the second time that Funke Akindele will be hosting. Last year, the creative organizers of NEA, teamed her up with the hilarious Julius D'Genius Agwu and the duo brought the best of humor. Speaking on returning as host for the second time, she said "I'm happy to be hosting the NEA Awards for the second time running. Initially wasn't sure what to expect last year, but I had a great time and a wonderful experience, meeting with the fans, the great performances and the opportunity to be a part of a great event like the NEAs. The organizers put in a lot of work, and I'm happy to support them and to return as host this year."
Her co-host AY also spoke to NEA on what his US fans should expect from him, hosting the event and more.
How do you feel about being selected about a host for NEA's 7th edition?
AY: I am quite excited to have been chosen as one of the host for NEA and I am even more excited to be hosting the award alongside Funke Akindele who is a creative partner in the entertainment industry. It's been a long time coming for the AY brand and I see it as an opportunity to relate closely with lovers of the brand who have been yearning for me to come to the US.
What should your US fans expect from you as host?
AY: I personally can't ask fans to expect the best. But they should come into the event with different expectations, which I believe would give birth to the unexpected. At the end of the night I am sure an instant review of our collective performance would be most satisfactory.
What do you think about NEA and how far it has come in 7 years?
AY: NEA is one award that has printed its name on the sand of time. It's not easy to organize an award of such magnitude within Nigeria, not to talk of doing it on any international platform. I see it becoming a major link for our Nigerian Talents cutting their teeth in the international market.
What would you like to tell people who still haven't bought tickets to the show?
AY: The best I can say is that the number 7 is a unique number for NEA as it represents its 7th year. So the combination of AY, Funke Akindele and the different talented human resources coming together in New York to celebrate our entertainment export materials will be an international carnival experience. What else can I say? But to ask fans to go out there and grab their tickets before we sell out.
Watch the promo Video

Highlights from last year's edition

The Full 7th Annual NEA Event Line-Up
Music On the Catwalk Fashion Show: The show will see the world of fashion and music come together in one night. The show put together to celebrate African fashion designers and their different collections of work, will be hosted by on-air -personality Freeze and will take place on Friday 31st August 2012 at the Dimenna Center for Classical Music.
Nollywood Film Festival: This film festival presented by IrokoTV partners, will provide fans and supporters of the Nigerian movie industry the opportunity to meet and greet their favorite African actors, actresses, producers and directors, while discussing with industry exceutives ro move the industry forward. It will take place on Saturday 1st September 2012 by 12 Noon.
Crack Ya Ribs – New York Edition: Nigerian humorist Julius Agwu as well as a stellar line-up of supporting comedians are set and ready to make you have the time of your life at the Crack Ya Ribs Show taking place on Saturday 1st September 2012 by 7PM at the Symphony Space Sharp Theater, New York City
The 7th Annual NEA Award Show: On Sunday 2nd September 2012, the award show will take place at the Skirball Performing Arts Center, New York City, USA. Red Carpet will kick off at 5 PM.
Contact: For more info and general enquiries, e-mail [email protected] | [email protected] | follow them on Twitter@NEA Awards | like their Facebook page | log on to their website www.NigeriaEntAwards.com
__________________________________________________________________________________________________________
BellaNaija.com is an officail media partner of the 7th Nigerian Entertainment Awards