On Saturday 16th June 2012, luxury jewelry brand Tebazile held its anticipated poolside runway event tagged Runway Tebazile at Lagos Luxury fashion retailing store Temple Muse in Victoria Island.
The event saw in attendance some of biggest names in the Nigerian fashion and entertainment industry like Folake Folarin Coker (Creative Director of Tiffany Amber), Mania Magazine editor Dimeji Alara, award winning make-up artist Lola Maja-Okojevoh, Nollywood actress Kate Henshaw and Dolapo Oni (Studio 53 Extra co-host) as well as fans of the brand. Hollywood actress Thandie Newton was also spotted at the brand's pop-up shop event.
According to Tebazile's rep, the event was a reflection of the essence behind the luxury jewelry brand as well as a nod to its evolution in recent times. The runway show kicked off with a stellar performance by Ghanaian songstress Efya, after which both male and female models strut the runway in exquisite eclectic pieces of the brand.
Missed the event? Not to worry, here are all the photos.
Photos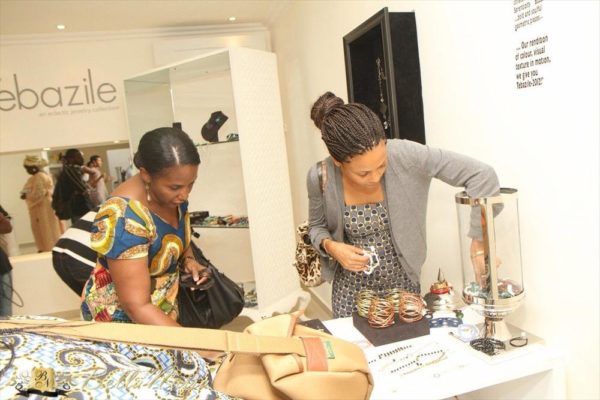 BN was on the scene at the event and we asked Tebazile's creative director Elizabeth some few questions.
Why was Runway Tebazile held?
I felt it was time the collection needed to be exhibited in a visually entertaining and inspiring way. "Runway Tebazile" was the perfect platform to showcase our progress and honor.
What was the feedback from the Event?
The feedback has been humbling, simply fulfilling! All the reviews have been so positive and very encouraging. The combination of the great remarks regarding both the venue and ambience of the show, as well as the new pieces (which are a nod to current 2012 trend), always makes everything worthwhile.
What can lovers of the Jewelry brand look forward to?
Each time there is a fashion or trunk show, it is inspired by a direction the brand has taken, a new perspective and feel the jewelry will have. Lovers of the brand can expect more inspired and exciting colours/textures, in the near future. There will no doubt be more shows and collections that, I hope, will be just as exciting as "Runway Tebazile".
To buy any Tebazile Jewelry, visit Temple Muse, No 21, Amodu Tijani  Victoria Island, Lagos.
Photo Credits: Kola Oshalusi & Vsomedia Group
______________________________________________________________________________________________________________
Sponsored Content