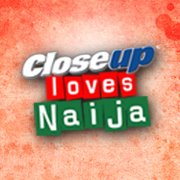 Close Up definitely loves Naija and Nigerians!
For its never ending love for the giant of Africa, the company that brought us Close Up – Unilever Nigeria Plc,  is still giving out movie tickets through their Facebook page as well as numerous recharge cards from selected radio stations.
Just recently, Unilever Nigeria Plc set a record, when the company invited individuals from different sectors of economy to host 52 National flags at the same time, something they have never done before.
So if you want to get the latest info on the Close Up tip of the day, love stories, question and answer on the Close Up loves Naija song and so much more, simply log on their Facebook Page – www.Facebook.com/CloseUpNG for all the info and the chance to win movie tickets and airtime daily.
_______________________________________________________________________________________________________________
Sponsored Content