Good Afternoon all, Happy Thursday!
It's time for Events This Weekend – the slot where Africa's pace setter for all things entertainment, fashion, lifestyle, music and more –BellaNaija.com, keeps you updated with all the most buzzed about events and outings to be seen with your loved ones.
Well, what can I say, Abuja and Lagos are rocking once again this weekend. In the city that never sleeps, Chef Fregz Special and LPM are taking place this Sunday at the GET Arena, there's also the GEC Summer Camp, Gospel Night Live, Martwayne Entrepreneurship Course and so much more. In the nation's capital – Abuja, ladies get ready to shop for hair extensions and shoes at heavily discounted prices at the Khairmaz Hair and Fashionista! On Deck events respectively.
London, UK also seems to be buzzing with excitement as the World Premiere of a Cup of T and Season Finale of Venus Vs. Mars will take place in style as well as the star studded New World Nigeria Showcase show with Tiwa Savage, 2Face Idibia, Naeto C, Asa, Keziah Jones, Ice Prince, M.I., Waje, Wande Coal and King Sunny Ade, taking place at Nigeria House, Theatre Royal in Stratford.
A fully packed week with fun and excitement!  Have fun, stay safe and keep showing LOVE. See you all next week. Ciao!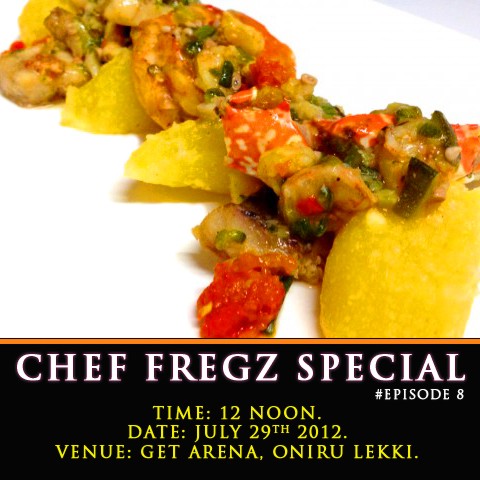 Chef Fregz Special – Episode 8
It's going to be one yummy Sunday, Chef Fregz Special is back! The Menu for the day includes Prada Eba and Lamborghini Okro, Kukere! I dey Chop Chef Fregz – an open face long sandwich with layers of lettuce, tomato slices of beef, Too Much Senrenre – juicy Chicken Kebabs grilled and basted with a coriander sauce with a fresh salsa served with turmeric rice finished with a earthy Moroccan style tomato sauce, crepe topped with banana flambe with chocolate sauce and cream and a meringue sandwich of strawberries, cream topped with strawberry sauce.
Date: Sunday 29th July 2012
Time: 12 Noon – 8 PM
Venue: GET Arena, Oniru, Lekki, Lagos
Contact: For more info and general enquiries, follow him on Twitter @Chef_Fregz | like their Facebook Page  | Check Out his blog
__________________________________________________________________________________________________________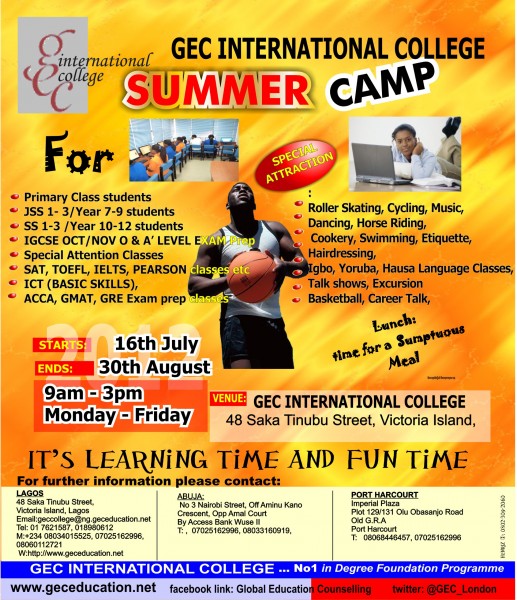 GEC International College Summer Camp 
Treat your kids this season to an exciting time of fun and learning at the GEC International College Summer Camp. All students from primary to tertiary institutions will be taught numerous educational subjects as well as take part in the following activities roller skating, cycling, hair dressing, cooking, basketball and so many more. The summer camp kicked off last week Monday, but be sure to get in touch for details on how to join.
Date: Thursday 26th July 2012 – Monday 30th August 2012
Time: 9 AM – 3 PM Daily
Venue: 48 Saka Tinubu Street, Victoria Island, Lagos
Contact: For more information and general enquiries, call 08034015525 for Lagos | 08033160919 for Abuja | 08068446457 for Port Harcourt | e-mail [email protected] | follow them on Twitter @GEC_London | log on to their website
______________________________________________________________________________________________________________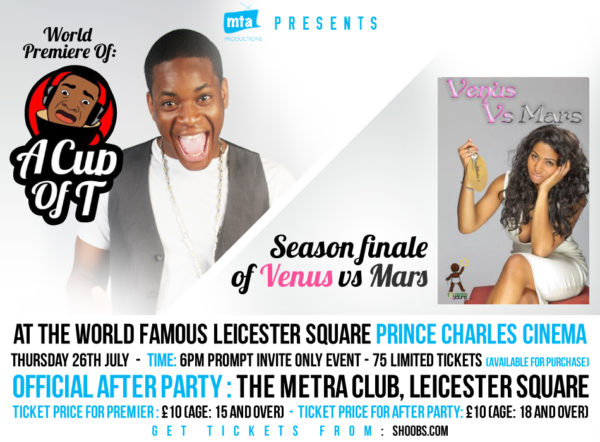 World Premiere of A Cup of T & Season Finale of Venus Vs. Mars
Today, MtA productions will hold the world premiere of A Cup of T and the season one finale of Venus Vs. Mars at the Leicester Square, Prince Charles Cinema, UK. The event will be well attended by numerous stars and special guests. Prior to the screening there will be a Q & A session with Tolu Ogunmefun of A Cup Of  Tand Baby Isako of Venus Vs. Mars. Immediately after the premiere, there would be an after party at the Metra Club.
Date: Thursday 26th July 2012
Time: 6 PM
Venue: Leicester Square, Prince Charles Cinema, 7 Leicester Place , London WC2H 7BY, United Kingdom
Ticket: Premiere £10 | After Party £10 | To buy tickets, click here
________________________________________________________________________________________________________________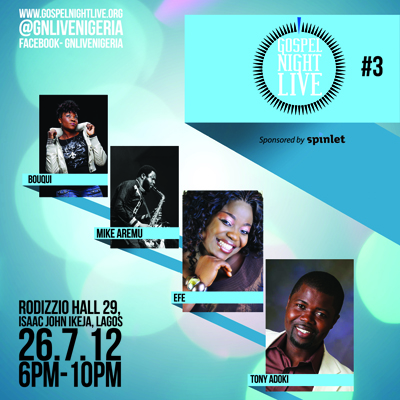 Gospel Night Live with Bouqui, Mike Aremu, Efe & Tony Adoki
The 3rd edition of Gospel Night Live will take place today at Rodizzo Hall, Ikeja, Lagos. The event is aimed at adding values to gospel artists and help them increase their market value in the music industry. Scheduled to attend as well as perform are Bouqui, Mike Aremu, Efe and Tony Adoki. Admission is free for all.
Date: Thursday 26th July 2012
Time: 6 PM – 10 PM
Venue: Rodizzo Hall, 29 Isaac John Street, G.R.A, Ikeja, Lagos
________________________________________________________________________________________________________
DJ Vinnie presents DJs on RamPage
Experience Mater Tee, DJ Neptune, DJ Humility, DJ Spinball, DJ Snoop and DJ Xclusive live at the DJs on RamPage show taking place at Rodizzo Bar, Ikeja, Lagos. Admission is free for all!
Date: Thursday 26th July 2012
Time: 9 PM
Venue: Rodizzo Bar, 29 Isaac John Street, G.R.A, Ikeja, Lagos
_______________________________________________________________________________________________________________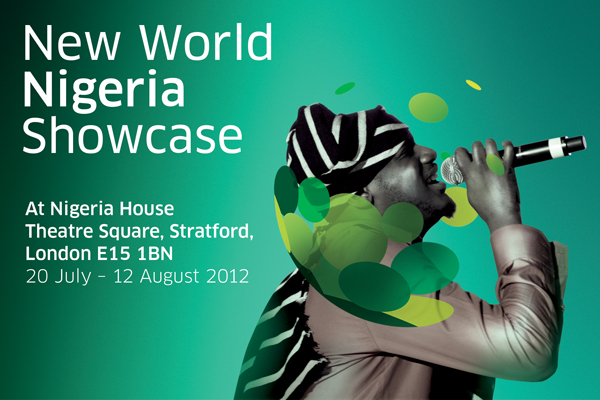 New World Nigeria Showcase
It is going down in London! Tiwa Savage, 2face Idibia, Naeto C, Asa and Keziah Jones are back performing in the UK for the 2nd event of the New World Nigeria Showcase. They'll be joined by Choc Boiz (Ice Prince, MI, Brymo & Jesse Jagz), Waje, Wande Coal, King Sunny Ade and more, for the Nigerian cultural extravaganza at Nigeria House, Theatre Royal in Stratford from Friday 20th July to Sunday 12th August 2012. The event will also showcase other Nigerian creative arts such as Nollywood films, arts and crafts, and fashion exhibitions over 4 weeks and there will also be a storytelling workshop for kids and a Nigerian traditional dress workshop. Wole Soyinka's play, The Lion and the Jewel will be staged from Monday 30th July 2012 – Tuesday 31st July 2012 while Fred Agbeyegbe's drama The King Must Dance Naked, will be shown on Saturday 4th August 2012. To get tickets and see the full programme visit: http://bit.ly/NImSdp
Date: Friday 20th July – Sunday 12th August 2012
Venue: Nigeria House, Theatre Royal Stratford East, Gerry Raffles Square, London, E15 1BN
Contact: For more info and general enquiries, like their Facebook Page | log on to their website
______________________________________________________________________________________________________________
The Maiden Edition of Fashion Vs Music
Music and Fashion collide this weekend as the maiden edition of  the event aimed at promoting new entrants in the Nigerian fashion and music industry – Fashion Vs Music, will take place this Saturday. These budding artistes Engager, Ekeng Bassey and Simi will perform live on the D-Day while O'milua Clothings, Jewelry House and Laj Clothing will stun all in their creative fashion outfits. To get in touch with the organizers of the show, send an e-mail to [email protected]
Date: Saturday 28th July 2012
Venue: Ember Creek, Awolowo Road, Ikoyi, Lagos
_____________________________________________________________________________________________________________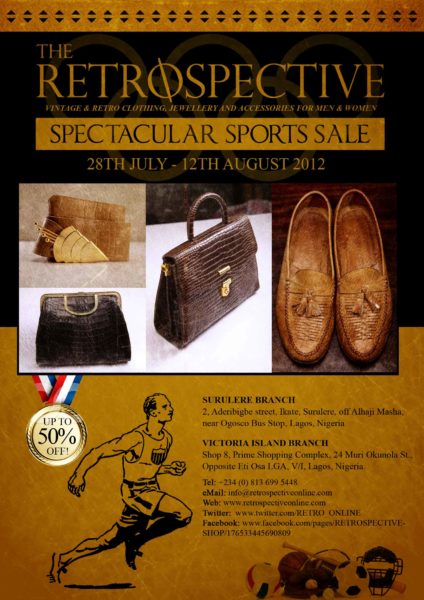 The Retrospective Spectacular Sports Sale
To celebrate the ongoing Olympics, Retrospective store is having its spectacular sports sale at their Surulere and Ikoyi stores. Shop for clothes, shoes, bags, purses and sports related outfits for discounted rates.
Date: Saturday 28th July 2012 – Sunday 12th August 2012
Time: 9 AM – 7 PM Daily
Venue: 2 Aderigbigbe Street, Ikate, Surulere, off Alhaji Masha, Near Ogosco Bus Stop, Lagos | Shop 8, Prime Shopping Complex, 24 Muri Okunola Street, Opposite Eti Osa, LGA, Victoria Island, Lagos
______________________________________________________________________________________________________________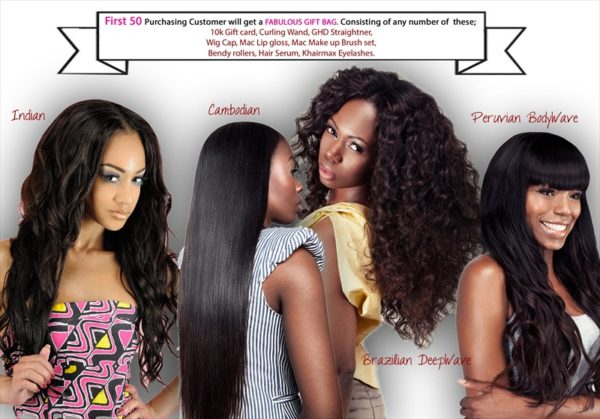 Shop for Khairmax Hair Extensions
Abuja ladies do not miss the chance of getting your hands on a huge selection of beauty top quality virgin hair starting from N 5,000. There would also be professional lashes, bendy rollers, curling wand and straighners and John Frieda's hair serum, made available for sale at the event. Admission is free for all.
Date: Saturday 28th July 2012
Time: 10AM – 7PM
Venue: Nanet Suite Plot 1042, Kur Mohammed Street (Near ThisDay Dome), Central Business District, Abuja
Contact: For more info and general enquiries, call 07085265332 | Add BB Pin 273D26BB | e-mail [email protected] | like their Facebook Page
______________________________________________________________________________________________________________
DW Series Episode 12 with Lagbaja, Lanre Olusola & Eghosa Imaseun
The 12th edition of Designer Workshop Series – a socio-interactive workshop series that bridges the gap between leading practitioners and students in the fields of art, design and culture, will take place this Saturday at UNILAG. Speaking at this event are renowned individuals from the world of literature, music and philososphy, they include Eghosa Imaseun, Lagbaja and Lanre Olusola respectively. Admission is free for all, simply send your name and contact information to [email protected] to reserve your seat.
Date: Saturday 28th July 2012
Time: 11:30 AM
Venue: PG Architecture Studio, University of Lagos, Yaba, Lagos
_______________________________________________________________________________________________________________
Fashionista On Deck! Heels 'n' Flats
Abuja ladies, get yourself ready to shop for shoes at the Fashionista On Deck! Heels 'n' Flats event. You will get the chance to shop for flats, stilletos and pumps at a 20% discounted rate.
Date: Saturday 28th July 2012
Time: 12 Noon – 6 PM
Venue: City Park, Ahmadu Bello, Wuse II, Abuja
_____________________________________________________________________________________________________________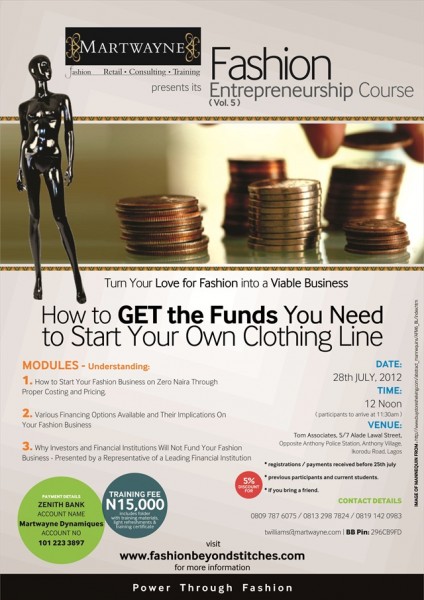 How to get Funds you need to Start your own Clothing Line
We all know it takes a whole lot of work to start a clothing line, from understanding the principles of the fashion industry to choosing the right colors and fabrics and even sourcing funds to get the business running which seems to be the most difficult but fashion training outfit Martwayne is giving all aspiring designers the opportunity to get all the necessary information to source funds for starting their clothing lines. This lecture will see top professionals teach you how to fund your fashion business with or without external funding as well as vital information on the implications of any of the funding options you might choose. A representative from a reputable financial institution will also be present to give a detailed explanation on what investors and financial institutions look out for when making investment/loan decisions. The course fee is N15,000 and includes a folder with training materials, light refreshments and a training certificate. For payment details, be sure to contact them.
Date: Saturday 28th July 2012
Time: 12 Noon – 5 PM
Venue: Tom Associates, 5/7 Alade Lawal Street, Anthony Village (Opposite Anthony Police Station), Ikorodu Road, Lagos
Contact: For more info and general enquiries, call 08097876075 | 08132987824 | 08191420983 | add BB Pin 296CB9FD | e-mail [email protected] | log on to their website 
________________________________________________________________________________________________________________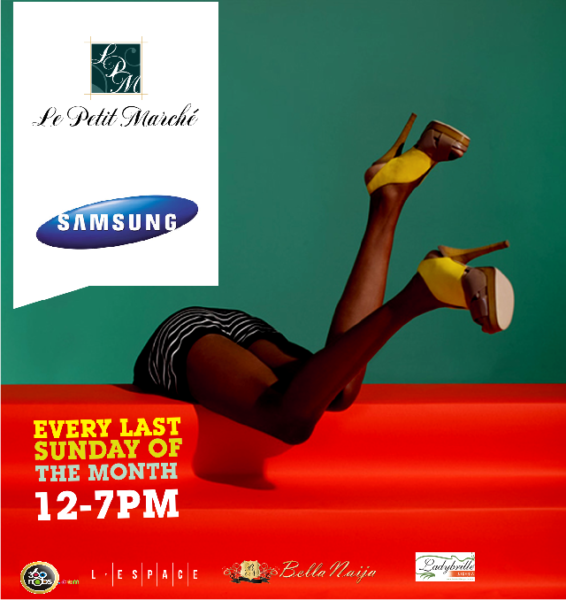 The July Edition of LPM
Yipee! It's time for another shopping extravaganza that only LPM can bring. The July edition of LPM promises to be bigger and better and will see attendees shop for clothes, shoes, bags, jewelry, sweets and more items for a good bargain. Some of the vendors that will showcase at this month's edition include Samsung Mobile, Akpos Okudu, Cam Cam Sweets, Mariam Moussa, Blique Femme, Vertueus, Bold N Dazzlyn, Exquisite Boutique, Niskay and Toseki Vintage. Admission is free for all!
Date: Sunday 29th July 2012
Time: 12 Noon – 7 PM
Venue: The GET Arena, Oniru, Lekki, Lagos
_____________________________________________________________________________________________________________
Paw Studio presents Wole Soyinka's Death and the King's Horseman
Come and experience Wole Soyinka's masterpiece come alive on stage this Sunday. Performing Arts Workshop and Studio presents a fantastic opportunity for you see the Death and the King's Horseman show at Terra Kulture, Victoria Island, Lagos. The show directed by Kenneth Uphopho, promises to thrill from beginning to end. Tickets cost N 3,500.
Date: Sunday 22nd July 2012
Time: 3 PM & 6 PM
Venue: Terra Kulture, Plot 1376 Tiamiyu Savage, Victoria Island, Lagos
______________________________________________________________________________________________________________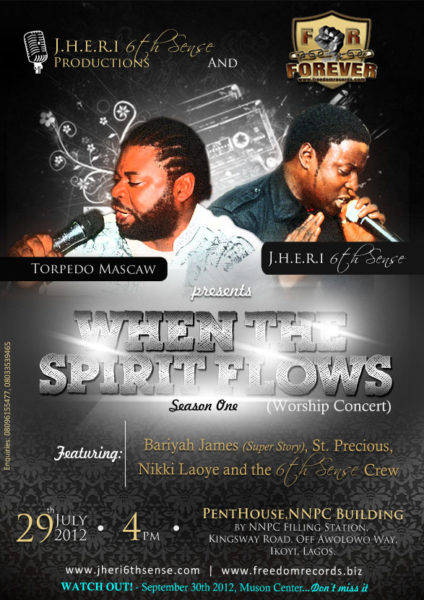 When the Spirit Flows – Season One
Freedom Hall – an open mic event, where you can express yourself in live music, poetry, spoken word, drama and dance, will be having a praise concert at Penthouse, Ikoyi, Lagos. Join Torpedo Mascaw, J.H.E.R.I 6th Sense, Bariyah James, St. Precious, Nikki Laoye and the 6th Sense Crew, for a fantastic praise night to show appreciation to God.
Date: Sunday 29th July 2012
Time: 4 PM
Venue: Penthouse, NNPC Building (By NNPC Filling Station), Kingsway Road, Off Awolowo Way, Ikoyi, Lagos
Contact: For more info and general enquiries, follow them on [email protected] | like their Facebook Page | log on to their website
_______________________________________________________________________________________________________________
GHills Entertainment presents The Stage
The first edition of The Stage – an event to showcase talents in music, comedy, poetry, visual art and fashion, will take place this Sunday at Koga Lounge. It promises to be very interesting from start to finish with numerous talented young individuals showcasing what they have to offer. Admission is free for all.
Date: Sunday 29th July 2012
Time: 5 PM
Venue: Koga Lounge, 2 Bolaji Street, Besides Mobile/Mr Biggs, Oregun, Ikeja, Lagos
Contact: For more info and general enquiries, call 07037711345 | 08055267244 | e-mail [email protected] | follow them on [email protected]
__________________________________________________________________________________________________________
BellaNaija.com is not responsible for the organization or further promotion of these events, neither do we have a stake in their sales or popularity. Inclusion in "Events This Weekend" is Free. Contact – adsales (at) bellanaija.com on or before Wednesday every week if you will like your event to be included. Note that BN reserves the right to choose which events are featured. "Pay to attend" parties attract a fee