A few months ago when I joined instagram I came across this name "Iyamilele" and clicked the follow button after I noticed all the amazing pictures of food she had up (plus she was cute too *wink*)
On  a more serious note, her creativity and her bold approach to food actually captured my attention and I just felt she was someone I would love to cook with. Later, I found out that Iyamilele's actually my friend's sister so I was 100% stoked! You can imagine my excitement when I found out she was gonna be home this summer. It was a perfect time for the chef's throw down.
For the throw down which became "Chopped Chef Fregz vs. Chef Iya" (Iya is what everyone calls her) by the end of the day. When we met up, we wrote down a bunch of ingredients, themes, countries, techniques, proteins, carbohydrates and one very random ingredient. From the list we made up, we put them in small papers and mixed it all up and picked randomly proposed to to a 2-course meal and one dessert. For dessert, we wrote ten things we liked in dessert and picked numbers across each others list.
Below was all we got.
Chef Fregz
1.Beef Fillet
2.Polenta
3.Prawns
4.Risotto Rice
5.Mexican
6.Salsa
7.Red Cabbage
8.Pinot Noir
9. Strawberries
10. Stir-Fry
11. American
12. Dried Fruit
Dessert
1. Banoffee Pie
2. Apple Crumble
3. Lemon
4. Biscuits
Chef Iya
1. Fish
2. Beans
3. Retro
4. Red Wine
5. Beef
6. Malaysia
7. Grill
8. Pineapple
9. Aubergine
10. Parsley
11. Fusion
12. Rice
Dessert
1.Vanilla Pod
2.Souffle
3.Cream
4.Ginger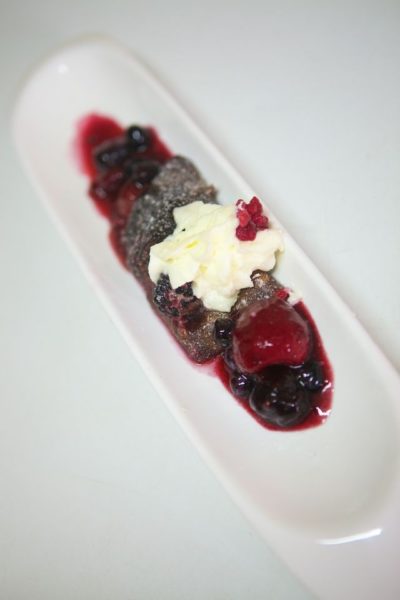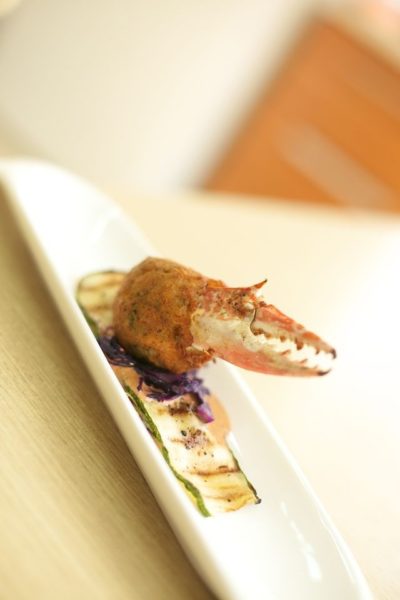 Chef Iya won the first round with her amazing Grilled Lemon-Parsley Fish with Couscous and Pineapple Aubergine Dip, I won the second round with my Crab Claw Arancini which was dubbed "scotch crab".
The dessert put us at a tie.
She came up with a Milk Chocolate Soufflette(a soufflé in a pan basically cooked like an omelette) with mixed Berries in a Strawberry Jam sauce with Whipped Cream. It was simple but terribly awesome! I had to go for seconds! Please don't judge me.
My interpretation of what i got for dessert is below;  a Banana Cream Tart with Apple and Some Home Made Ginger Nut Biscuit Ice cream.
At the end of the day, Iya took the win when our guests asked us to go into each others kitchen and come up with a new dish with whatever we found there.
She made a layered biscuit and pain d'epice dessert which was too much competition for the stuffed Omelette and a Beef Bean Salad I made.
It was a great time cooking with Iya and sincerely I was excited she "beat" me. It was fun, challenging and completely exhilirating. If you like to see more of her work follow her on instagram @iyamilele. She's a force to reckon with so you guys should watch out for her. And many thanks to my friend and photographer extraordinaire Demilade Banwo. Shout out to him for making our food look so amazing. You can find him @franksinatre on twitter and instagram and his blog @ www.photosbydemi.com/blog
So, the question for you guys is this…What recipe shall I put up? Just comment and say the recipe you want and I'll post next week? Is it going to be The fish or the Crab Arancini?
As always, have a flavour filled weekend.