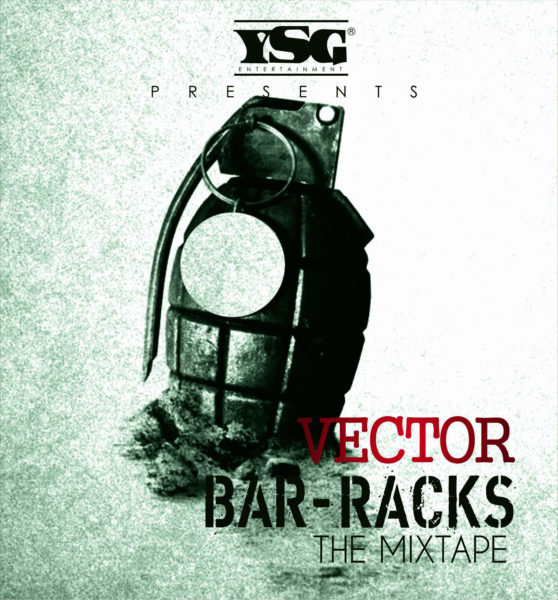 Vector is arguably one of the Nigerian Music industry's most consistent and hard-working rappers out there. Equipped with wit, humour and a flow and delivery avid with panache and pizzazz, Vector has won many fans with his charisma and his ability to be entertaining on almost any genre of music he puts his hands on.
Well, we've had a lot of fun with "Wasted" and gotten a little more serious on relationship issues with his single "Tuwo", now, Vector has finally dropped his highly anticipated "Bar-Racks" mixtape on his birthday, today, August 7th, 2012.
So, get to clicking "Download". Enjoy!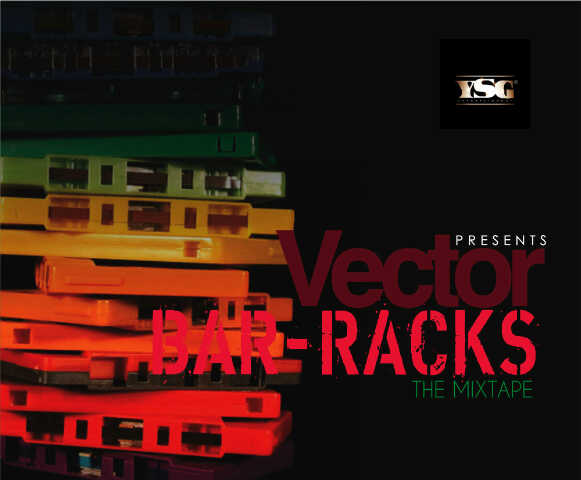 1. Intro (Prod. by Fubu Baba)
[audio: https://www.bellanaija.com/wp-content/uploads/2012/08/INTRO.mp3]
Download
2. Ko Oshi ("Strange Clouds" Instrumental)
[audio: https://www.bellanaija.com/wp-content/uploads/2012/08/KO-OSHI.mp3]
Download
3. Baba Alaago ("The Watcher" Instrumental)
[audio: https://www.bellanaija.com/wp-content/uploads/2012/08/BABA-ALAGO.mp3]
Download
4. Ashewo boy (Prod. by Shogon)
[audio: https://www.bellanaija.com/wp-content/uploads/2012/08/ASHEWO-BOY.mp3]
Download
5. Mercy Johnson ("Mercy" Instrumental)
[audio: https://www.bellanaija.com/wp-content/uploads/2012/08/MERCY-JOHNSON.mp3]
Download
6. Moving Ahead (Prod. by H-Code)
[audio: https://www.bellanaija.com/wp-content/uploads/2012/08/MOVING-AHEAD.mp3]
Download
7. 16 Bars (Prod. by Shogon)
[audio: https://www.bellanaija.com/wp-content/uploads/2012/08/16-BARS.mp3]
Download
8. Si Ro Ro ft Shalom ("Somebody That I Used To Know" Instrumental)
[audio: https://www.bellanaija.com/wp-content/uploads/2012/08/SI-RO-RO.mp3]
Download
9. Tickle Me ft Chuddy K (Prod. by DaPiano)
[audio: https://www.bellanaija.com/wp-content/uploads/2012/08/TICKLE-ME.mp3]
Download
10. Tuwo ("Motivation" & "Heart Attack" Instrumentals)
[audio: https://www.bellanaija.com/wp-content/uploads/2012/08/TUWO.mp3]
Download
11. Wasted (Prod. by Del B)
[audio: https://www.bellanaija.com/wp-content/uploads/2012/07/Wasted.mp3]
Download
12. Teacher Teacher (Prod. by Licious)
[audio: https://www.bellanaija.com/wp-content/uploads/2012/08/TEACHER.mp3]
Download
13. Stay Scheming freestyle ("Stay Scheming" Instrumental)
[audio: https://www.bellanaija.com/wp-content/uploads/2012/08/STAY-SCHEMING-FREESTLE.mp3]
Download
14. Aramonda (Prod. by Licious)
[audio: https://www.bellanaija.com/wp-content/uploads/2012/08/ARAMONDA.mp3]
Download
15. Church Skit
[audio: https://www.bellanaija.com/wp-content/uploads/2012/08/CHURCH-SKIT.mp3]
Download
16. 2nd Coming Freestyle (Prod. by Toro)
[audio: https://www.bellanaija.com/wp-content/uploads/2012/08/2nd-Coming-Freestyle.mp3]
Download