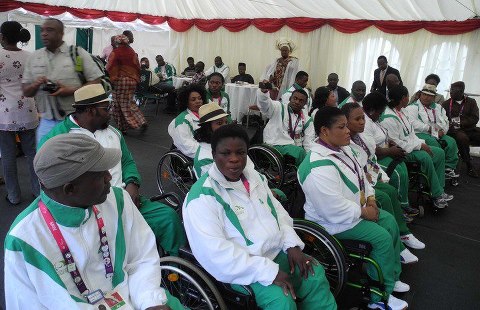 Team Nigeria has recorded its biggest success in the world Paralympic Games this year in London.
29 athletes featuring in four sports have brought glory to Nigeria after an impressive outing at the London 2012 Paralympic Games. The athletes dominated in powerlifting in which it won 12 of its medals – 6 gold, 5 silver and 1 bronze. Iyiazi Eucheria picked Team Nigeria's final medal, a bronze, in the Women's Shot Put yesterday.
Team Nigeria athletes also set four world records through Yakubu Adesokan, Esther Oyema, Joy Onaolapo and Folashade Oluwafemiayo.
On the final medals table, the People's Republic of China topped the list with 231 medals. Great Britain followed closely with 120 medals and Russia with 102 medals.
After 11 days of action, the closing ceremony of London 2012 Paralympic Games will hold tonight. The event tagged "Festival of Flames" would highlight the achievements of athletes as well as the handover from London to Rio de Janeiro for the 2016 Paralympic Games.
The ceremony will star Grammy and British award-winning band Coldplay and a cast of almost 2,000 in the Olympic Stadium. Surprise guests may include Rhianna and Jay-Z.
Well done Team Nigeria! Well done!
Photo Credit: NAN