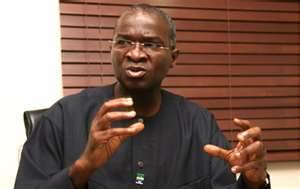 Governor Babatunde Fashola of Lagos state has been described by many as the most loved Governor in Nigeria. For those who subscribe to this, his recent act of politely rejecting the honour of a chieftaincy title has given them more reasons to love him.
The Governor, on Saturday politely rejected a chieftaincy title which was offered to him by a royal father, Oniru of Iru land, Lagos, Oba Abidun Idowu Oniru.
In his remarks, he said the task of governance required absolute focus and he would want the chieftaincy title to wait for now.
"Kabiyesi and his chiefs can continue to lead us, let them deal with all those traditional and chieftaincy issues. At the appropriate time, we will come and join them, but for now, leave us in our suits, booths, overalls and helmets, because this agbada is not good for clearing refuse and tarring the roads."
He, however, received the award of excellence conferred on him by the monarch who was celebrating his 75th birthday and 18th coronation anniversary.
***
The argument of many who support his rejection of the chieftancy title is that it would interfere with his role as a Governor and would probably result in favouritism and God Fatherism in politics.
What do you think about his remarks and his polite rejection of the title?
News Source: Punch