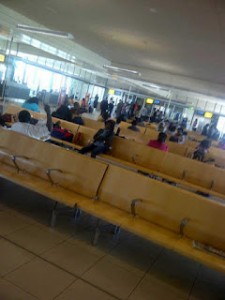 The troubled times facing Air Nigeria, Nigeria's second largest airline, culminated in a long flight delay and witholding of luggage which has left many people upset.
Media reports say that over 190 Air Nigeria passengers who arrived the Gatwick Airport, London for their flight which was supposed to leave at 8:30 on Friday morning for Nigeria were allegedly stranded at the airport for about eight hours.
The delay was reportedly due to the lack of fuel to fly the aircraft to Lagos. Passengers who wanted to board the plane were asked to contribute extra £40 each for the purchase of Aviation Fuel.
Channels TV reported that the plane eventually left Gatwick airport at 4:30 pm and arrived Nigeria at about 12:30 early this morning.
To further worsen the situation the passengers were asked come back for their luggage.
There are reports that the passengers are planning to sue the airline company and it's chairman, Jimoh Ibrahim for the delay and their yet-to-be released luggage.
Some days ago, it was reported that the Chairman of the airline, Jimoh Ibrahim fired a substantial number of its workforce. The Airline also announced in a statement released by its Chairman that it has suspended its operations for the next 12 months.
The statement further noted that the airline was bedeviled with "staff disloyalty" and an harsh operating environment and only about 50 "loyal" workers from various departments of the airline were retained. Almost half of the airline's fleet had been pulled out of service.
The airline also advised passengers to contact agents from whom they had purchased tickets for a refund.
From Monday September 10, 2012,  Air Nigeria will no longer fly for at least a year.