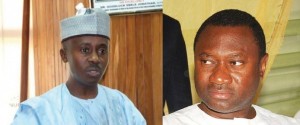 For some weeks now, news about the investigations into the alleged $620,000 bribery scandal involving Farouk Lawan, Chairman of the fuel subsidy probe panel in the House of Representatives and oil marketer, Femi Otedola has waned down.
However, a recent development has noted that the Inspector General of Police, Mohammed Abubakar,  has received the much talked about video tape of the alleged bribery transaction.
When Femi Otedola initially made news of the alleged bribery scandal public, he claimed he had a video to back it up. Mr Otedola said the video shows Mr Lawan collecting the $620,000 bribe from him.
Vanguard reports that the Inspector General of Police has now received the tape from the State Security Service, SSS, and commenced further investigation of the scandal. This is sequel to the directive by the Attorney-General of the Federation, Mohammed Adoke, that the report submitted by the Police Special Task Force probing the $620,000 subsidy bribe scandal, be re-investigated and grey areas cleared.
Vanguard also gathered that since the receipt of the video and commencement of investigation to clear grey areas, there had been immense pressure on the IGP by some members of the House of Representatives, prominent northern citizens and politicians.
Accusations that the bribery scam issue was allegedly a set up by the Presidency to rubbish the integrity of the House have also resurfaced.
Meanwhile, Mr. Lawan had continued to report to the police every two days and signs attendance register, though the police are in a fix as to whether to join Femi Otedola, the complainant as a suspect.
Isn't it interesting that the alleged bribe was collected in April, the matter came to public notice in June and the Inspector General of Police is just getting the video in October. And still, the video has not yet been made public. Can we still hope to get some progress from this case or are they just taking us for a ride? And why does Mr. Lawan have to report to the police every two days to sign the attendance register?
So many unanswered questions… wondering when we'd get the answers.