It hasn't been up to a year since the Beri Beri and Super Girl crooner, Dencia, made her flashy entrance into the Nigerian music scene, yet she has garnered quite an impressive media attention. Dencia started off in the entertainment world as a video vixen in the United States of America and has appeared in music videos of top artistes like Chris Brown, 50 Cents, Ludacris and more. In 2010, she decided to pursue her dreams of becoming a music star and started the journey to her first commercially released single, Beri Beri. But music is not the only thing Dencia is passionate about. Her love for fashion is easily noticeable and through her outfits, photo shoots and music videos, she has carved a niche for herself with her unique style. In this exclusive interview with Bellanaija's Adeola Adeyemo, Dencia opens up on her life, her career, her fashion and many more.
You have an interesting name, Dencia. Is it a stage name or your real name?
My full name is Reprudencia Sonkey, so Dencia is the six letters of my first name which I got from my grandma who's called Prudencia as I am the reproduction of her production (laughs)… Does that make sense?
Where are you actually from? I understand you grew up in Cameroon but there have been allegations  that you have no ties to Nigeria like you claim.
I was born and raised in Cameroon by my maternal grandparents who are Cameroonians so now can you figure out the other part which is my Dad? That is where the Nigeria comes in.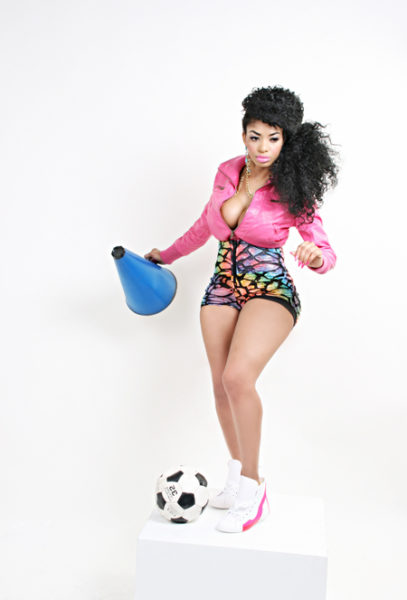 Growing Up, Family & Education
Tell me about your growing up and fondest childhood memories.
Growing up was super fun. I was technically considered the last child but in reality I was the first grandchild but I never knew about that until I was 16. My grandpa loved me so much. As a little girl, I was such a boss in Nursery school, I was the head girl and the process of getting there when I think about it was evil. The teacher gave canes out and the person who whipped hard enough to make someone cry was appointed and I did (covers face). I was barely 4 years old.
That is quite funny. So talking about school, what is your educational background?
I graduated from High School in Cameroon. I was studying Campusology – that's people who hang around campus not schooling – for a few months before moving to the US where I obtained an associate degree and a fashion degree from Fashion Institute of Design and Merchandising. I'm still taking classes at the University. I would definitely go for a PhD even if it's at 80yrs old. After all, women my grandma's age are in my class. School is important says my mum and grandma.
You speak so fondly of your family but I don't quite understand what you mean by not knowing you were the first grandchild.
I really don't like to talk about my family and stuff because it's a very emotional topic for me. It puts me in a space I don't like being. I'm sure I'll creatively talk about it in my music or through a movie. I've had an interesting life so far but I love my entire family to death and they love me too.
Aww, that's sweet. How close are you to your parents and your family back home in Cameroon?
My grandma is really my only parent and she lives in France and we are pretty close. She is my everything, she raised me. I call her Mum. My adopted mum lives in America who's my grandma's daughter and we are super close, I call her Motherme. My mum on the other is a long story but we are cool too. I have a complicated family triangle but she lives in France too and works for the UN so she travels a lot.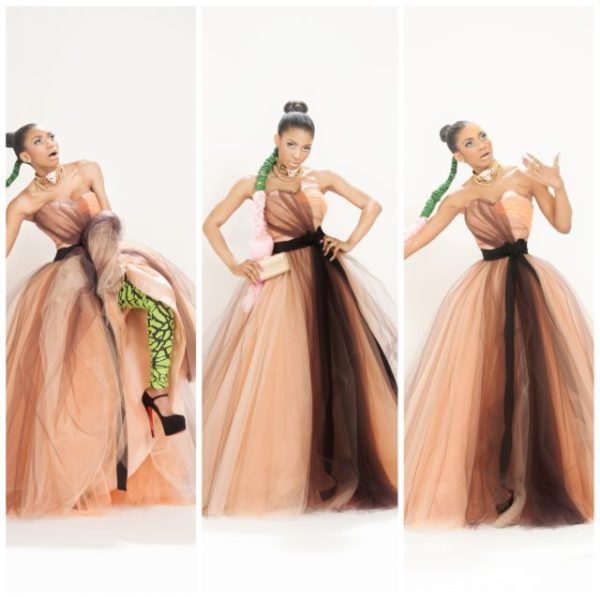 Breaking In
You brought something unique and different when you made your debut into the music industry. However, your style has been compared to that of Nicki Minaj and Lady Gaga. How does that make you feel?
I love Gaga as an artist, I love Nicki's hustle, but their swag is nothing I am jacking as people say. I can't blame them because they didn't know me before. I've always been a creative and crazy little designer chic in my teenage days. I started trends, wore things no one ever got, had crazy colored hair styles and all what not. I've always been this way. Nowadays, I design for these artists too, so you might even see them rocking something I made and say I jacked their swag when I created that piece but whatever the case I can't fight people or keep forcing them to understand what it is but one day, they'll know.
Why did you decide to promote your music mostly in Nigeria, working with Nigerian producers and management?
The reason I came to Nigeria first is because Nigeria has more outlets than most countries. I've been to Cameroon and other countries to promote too, but Nigeria is part if my roots and things from Nigeria easily go around Africa. Now if you look around, most countries don't have Mtv Base, Channel O, Trace offices and so on in their countries so to save money and time, I used my business strategy which was selling from the warehouse directly not selling from a distributor if that makes sense.
Secondly when I left Cameroon I wasn't into music meaning I barely knew any producers or anything which I still don't know until now. Nigeria was the first country I visited when I moved to America. I met a lot of people when I came for the Hip Hop Awards plus the youths of Cameroon in my days literally listen to mostly Nigerian produced music which happens in a lot of African countries. I looked up to top artists like Psquare, 2Face and so on and I was like I have to start from here. After all I'm a child from this soil too.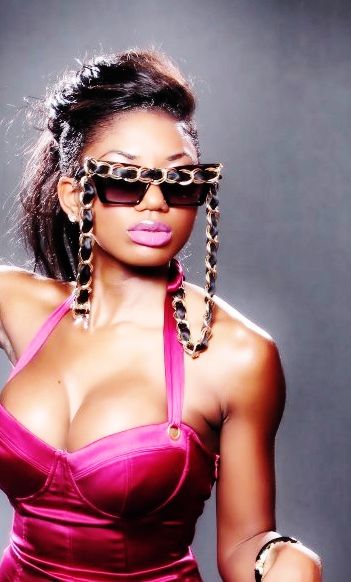 Speaking about management, who actually manages your career? You have been linked to Ayo Shonaiya and Toni Payne before.
Ayo is more like a mentor like someone I'll ask stuff from; someone I can talk to who's been around and is still around; someone I can vent to and know it's safe. He introduced me to Toni Payne PR Management.
How has your music been received in America where you currently reside?
Truth is I haven't done much promo out there in America except online, but so far so good I have pushed it as much as I can. Super Girl plays on Latin MTV and I am featured on Mtv America's website actually making me the first African Artist there. Then D'Banj joined me and that was a wow moment for me. So, slowly but surely I am crawling in to start walking.
Her Style
Let's talk about your unique style. What is fashion to you and how would you describe your style?
Fashion is part of me. I think fashion and arts make the world go round. My style is loud, bold, creative and unique because I recreate everything I wear. It's been this way since I was a little girl.
What are your most valued fashion pieces?
My handbags and shoes. I will say I am a collector when it comes to that but unfortunately I lost it all when I was in Nigeria last year. My home was robbed so I am starting all over again but I'll get there. I want to add jewelries too, like vintage stuff.
Talking about shoes, you mentioned in a video interview once that you buy two pairs of every shoe that you have. Why?
Yes I do. I actually buy 3 or 4 sometimes. When I like something, I stock it because someone might like it too or sometimes I have stylist friends who raid my closet for celebrities. Sometime last year I lost my favourite shorts to Keyshia Cole. She had a show and they needed stuff. It was a Sunday and oh the money was good!
The Buzz Around Dencia
So Dencia, even though you've had just a few singles released and are still fresh in the industry, you've had a fair share of media attention. For instance, I read in the news that you had a physical fight with your friend, Liz Garvy at an event in Lagos sometime last year? Is this true and what led to it?
The whole media wahala came from a bitter ex friend who went around trying to lie and defame my character after everything I did for her. God will pay her 7D. Then came other little things here and there that I didn't address or talk about because I am the type of person who stays focused, I don't let cheap talks distract me, my eyes are on the price. Also I was the new kid on the block, the media was doing what they do best so I really wasn't worried as I knew that came with what I signed up for.
You are one of the few African artistes who had their Twitter accounts verified recently. What do you think made you earn this?
Twitter verifies people they think deserve verification and have worked hard somehow to earn the recognition. I was amazed at people's reactions. 90% of them didn't know me and still don't know. They don't know what I've done in the industry back in America that gave me the pass but honestly it wasn't a big deal. I knew some how I'll get verified from the first day I joined Twitter. I actually hoped it was sooner.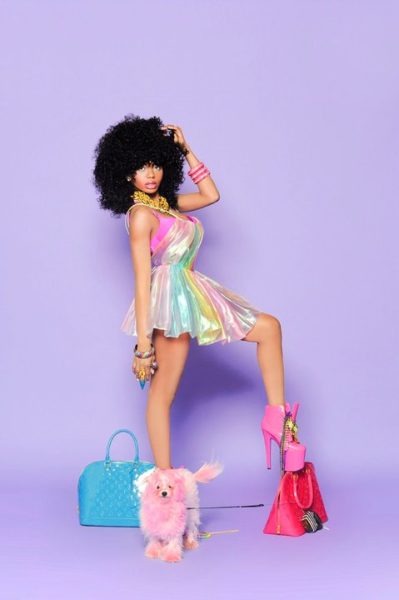 Also, I read somewhere that you created a Twitter account for your pet dog, Diva.
Diva has been on Twitter since 2010. It happened when she got missing and my celebrity friends were tweeting about finding her so I thought let me create a Twitter page for her and it's been there since then. The African media just noticed it but Twitter has dates, you know.
What does your dog, or should I say, you, tweet about?
There's a thing called Puppy Tweets. You attach to the Dogs collar and when she barks, it tweets her thoughts so Diva tweets cool stuff. Follow her @divathepinkdog.
I've seen some pictures of Diva and she looks very pampered. How much do you spend on her averagely in a month?
Diva is very loved and pampered by my family and friends not just me. I don't keep tab on what I spend on her. She's priceless although she had a price tag. I just make sure she's happy, healthy, loved and comfortable.
Take me back to your days as a video vixen. What attracted you to feature in music videos and which videos did you feature in?
Doing music videos came really easy for me. It all started in 2008 in Miami during Spring Bling when Soulja boy took me on stage and I was on there all through for three days. I got to meet a lot of rappers and singers and that Ray J picture that was on Linda Ikeji's blog claiming was taken last year was in 2008. I moved to LA in Fall 2008 and by that Summer I knew everyone and their mama in the industry. I actually did a few videos only. That wasn't what I wanted but the pay was good and the opportunity was cool too. I did 50 cents and Jeremih Down On Me, Chris Brown Yeah 3x, Quincy Jones' Soul Bossa Nostra featuring Ludacris among others, Baby Bash's Fantasy Girl, Hollywood Undead, Pharrell Williams and more. It was fun while it lasted.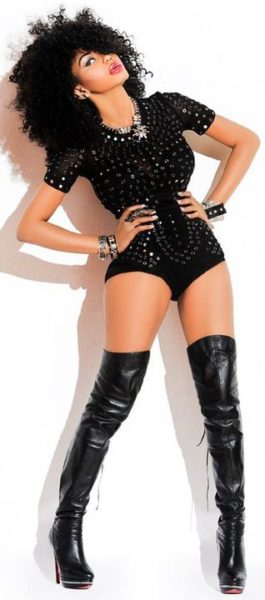 When did you start to nurse the idea of singing your own songs and shooting your own videos?
In December 2010 I had the need to turn to my passion. I went into the studio and recorded a track titled Rodeo Drive. I wanted to start in Africa but they said it wouldn't work, that it's too Americanized. So I started looking for producers in Africa with blood in my eyes after hearing another song I performed in LA during BET Awards weekend 2011 still was too Yankee. So I finally landed on Tee Y mix. He produced Beri Beri. I liked the beats. Before the song was recorded, I had already written the video treatment and bought fabrics for the videos outfits. I am just crazy like that. Then came Super Girl.
So you're quite involved in the planning and production of your music videos?
I actually do everything; co-direct, write treatment, get outfits made with Shawnte, like I literally put everything together. I have people who can do it but I think I can do it best. I've been around a lot of industry folks who let people handle stuff and they end up not liking the final product. I leave no stone unturned that's why I barely dance in my videos. The director always says I will crash if I do a lot of dancing but that will change for my new stuff. I will try to let people handle a lot more stuff and put in my all as I rehearse the dance steps.
There is news that you'd be releasing your first music collaboration with Sarkodie soon. Why did you decide to have your first collaboration with Sarkodie and what should we be expecting from that song?
I love Sarkodie and I am humbled he jumped on this. When I hit him up and he heard it, he didn't even know me and he was like I like, let's do this. The process getting through to him was a hustle I'd given up on until Yvonne Nelson made it happen. She's the best. Sarkodie has been very cool. I've never met him though, we'll meet on the video set. I have an amazing video planned.
Tell me the secret to your tiny waist. How did you achieve this?
I workout a lot. I do a lot of squats and work on my abs a lot, that's like my main exercise. I don't know but my waist just stays tiny and I love it. My waist and hands don't fan weight but the workouts do help a lot. My waist is 22 inches.
Let's talk romantic now. Who is the leading man in Dencia's life at the moment?
She wishes she had a leading man. Forget the cliché thing all females always say they're single. I am super single and I have been for so long I don't even know what romance is anymore. I hope I can still kiss. But trust me, you'll know when she finds love. I'm a sucker for love and I flaunt it.
Just before you leave Dencia, tell me a secret. Tell me something that a lot of people don't know about you?
Dencia is cool, down to earth and super funny. I am a talkative too. I sit and crack jokes all day with anyone. The Dencia you see on Twitter taking insults isn't as quiet as you think. I'm really the opposite of what most people think.
It was great chatting with Dencia and from Bellanaija.com, we wish her the very best! 
Dencia – Beri Beri

Dencia – Super Girl