Get Fit For Christmas with the BellaNaija/Bodyworks BFX Challenge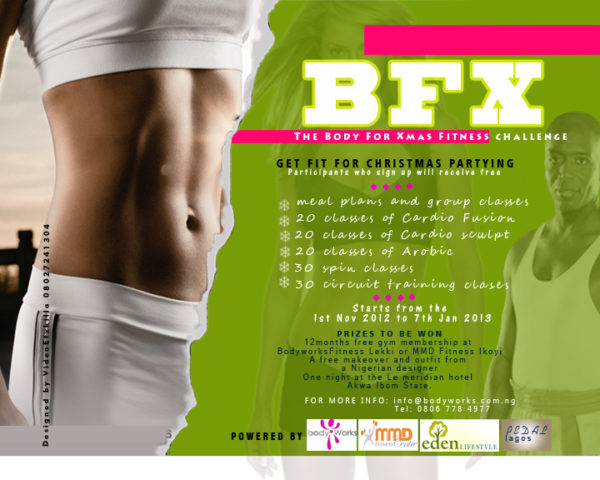 BellaNaijarians! Christmas is almost upon us. It's a time when all we do is party and we know there's a tendency to over-indulge. By January we find ourselves cursing the love handles and the extra weight that's preventing our shirt buttons from fitting.
Bodyworks Fitness Studio and  BellaNaija is giving 10 lucky people a chance to party hard, indulge as much as you can without guilt. You can step into the new year with no issues of weight, a banging body and a mental attitude that you can face ANYTHING!
10 Bella Naija participants who sign up for the BFX challenge will receive free meal plans and Free group classes which are spread over 60days. Only serious participants are welcome and once you register for the challenge you can't turn back. There are prizes for the person who loses the most weight during the challenge.
With the BFX Challenge you get the following:
Bodyworks Fitness
1. 20 classes of Cardio Fusion
2. 20 classes of Cardio sculpt
3. 20 classes of Aero Aerobics
• Cardio Fusion: is a power aerobics class, that will get your body and heart racing. It is a fusion of strength, tae-bo training & cardio. Fantastic for sculpting the body. All levels welcome
• Aero Aerobics: is a fusion of all moves imaginable! It's a fast paced class, tone up & burn an amazing amount of calories. Not for the faint hearted!
• Cardio Sculpt: our style of interval training, blood pumping, muscle strengthening all in all… great for beginners.
MMD Fitness
1. 30 spin classes
2. 30 circuit training class
• Spinning: a great vigorous non impact workout -burns calories and keeps your muscles in toned
• Circuit training: is a class aimed at burning calories, building muscle tone and strength.
Prizes
1st Prize
1. 12 months free gym membership at MMD Fitness Ikoyi / 3 months free gym membership Bodyworks Fitness Lekki.
2. A free makeover
3. A free outfit from a Nigerian designer
4. One night at the Le meridian hotel Akwa ibom.
2nd Prize
1. 6 months free gym membership at MMD Fitness Ikoyi / 2 months free at Bodyworks Fitness Lekki
2. A free makeover
3. 1 Spa treatment
3rd Prize
1. 3 months free gym membership at MMD Fitness Ikoyi/ 1 month free at Bodyworks Fitness Lekki
2. 1 Spa treatment
3. A free makeover
The BFX journey and winners will be featured on studio 53 extra but we will respect the privacy of participants that do not want to be featured.
This challenge is open to both men and women. However,  Bodyworks only accepts ladies but men are welcome at MMD. Participants can register at either of the locations (Lekki or Ikoyi) but will have to complete the challenge at their registered location.
Bodyworks Fitness Studio 3 Obafemi Anibaba street Lekki Phase 1 and MMD Fitness 2 McGregor street. Ikoyi. The BFX Challenge will run from the 1st November 2012 to the 7th of January 2013.
If you are interested in entering for this challenge and you believe that you will participate fully and seriously, please send an email to features(at)bellanaija(dot)com with the "BFX Bodyworks Challenge" as the subject of the email. State your full name, your address, a short bio and why you believe that you will be a good fit for the BellaNaija/Bodyworks Fitness Challenge.
Good luck guys!
_________________________________________________________________________________________________
Updated
The 10 participants for this challenge have been picked and the challenged commenced on the 1st of November. Keep checking BellaNaija.com for more information and special offers.