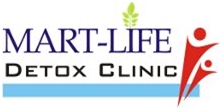 Mart-Life Detox Clinic is the new generation of modern mayr medicine combining both conventional and alternative medicine. Their programs provide each patient with individual diagnoses and analysis of his or her ailment using Applied Kinesiology and Asyra test.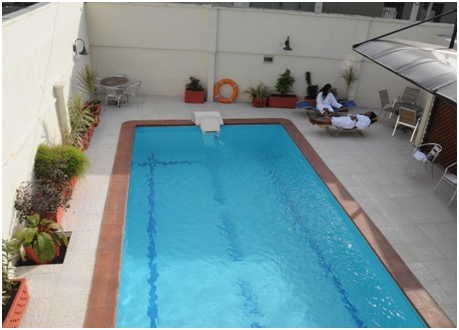 Applied Kinesiology: It is primarily a diagnostic method that tests individual muscles and their change in strength using specific stimuli and therapeutic measures to derive insights into functional relationships and potential disorders.
Asyria Testing: It is a bioenergetics system that accesses 40 major organs in the body for any defect and carries out a customized assessment of what remedies can be used to restore balance. After these individualized diagnoses each participant will be given his or her treatment plan which will consist of a battery of the following services – these two tests will also determine food allergies and intolerances.
1.1 Phase 2: Natural Body Detoxification
In order to get rid of these effects, the body needs to go through a cleansing process called Detoxification. Mart-Life Detox Clinic's programs provide a safe and healthy approach where the body can safely rid itself of all the toxins it has accumulated which is leading to mental and physical stress and sub optimal health and well being.
1. Abdominal Treatment: Daily abdominal treatment is a unique function of the Mart-Life treatment carried out by doctors using specialized modern techniques to increase bowel movement, increase blood flow to the digestive system, break down abdominal fat, improve respiration and restore the digestive system and return the abdominal organ to its anatomical position.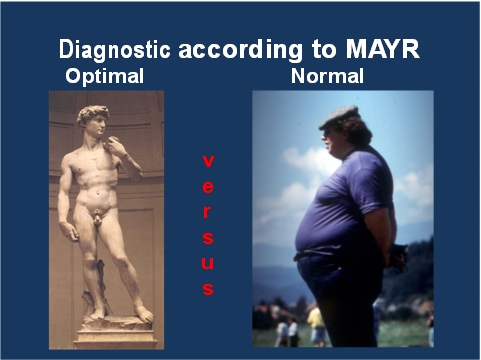 2. Colon Irrigation: It encompasses a number of alternative and modern medical therapies and machines to remove faeces, heavy metals and non-specific toxins from the colon and intestine.
3. Infra Red Cabin: This is an advanced form of treatment that uses infra red light which helps the body to release natural endorphins to soothe pains and aches in the body. It detoxifies by removing heavy metals like zinc, copper and lead out of the body. This process leads to relaxation by promoting circulation and accelerating the body's healing process.
4. Electrolysis Foot Bath: It is an innovative method of helping the body eliminate unhealthy acids, heavy metals, toxins and pollutants from the various organs like kidneys, liver, pancreas and gall bladder through the foot by electrolysis (Exchange of ions in the foot). This is effected by ionizing the water in the foot bath.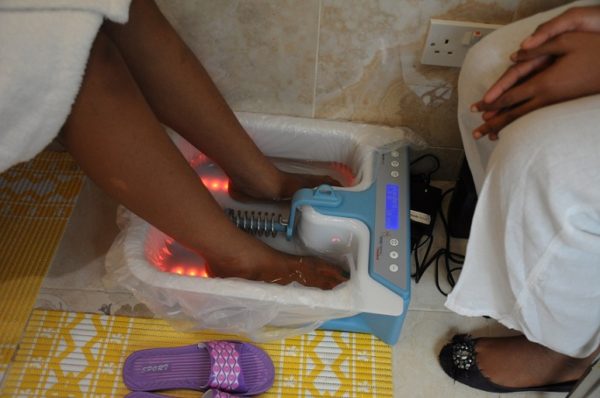 5. Nasal Detox: Nasal Detox is skilfully done to cleanse the sinuses and remove heavy metals from the airways and brain to improve respiration, used to treat allergies and chronic sinusitis'
6. Scenar Treatment: This is an electro stimulator neuroadaptive device (developed in USA) used for therapeutic treatments on the skin to regulate physiological processes in the body in order to relieve different pain-related pathologies to increase blood circulation to tissues.
1.2 Phase 3: Optimum Nutrition
Each client will be put on a customized nutritional plan depending on his/her needs and objectives of what they want to achieve from the program. Whether the client wants to lose weight or just to detox, a personalized meal plan will be drawn up to achieve the objectives in the time allotted which will give adequate amount of nutrients and vitamins to allow the body to rejuvenate which will include different herbal teas, vegetables and special stones to mineralize the water.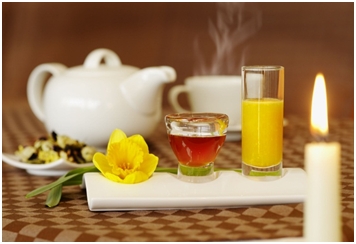 1.3 Phase 4: Relax and De-Stress Spa Therapy
Our team of physiotherapists will schedule various daily massages to perform different functions for various organs parts for each client lasting for 25 to 50 minutes. These massages include;
1. Cranial-sacral massage: This is a gentle therapy designed to increase circulation to the head and spine and help to alleviate mental stress, neck and back pains, migraines, scoliosis and many more, while leaving you with a renewed clarity of mind and ability to focus.
2. Deep Tissue Massage: Using specialized massage techniques to penetrate superficial, deep muscle layers and connective tissues to enhance body function, aid in the healing process, remove toxins and promote relaxation and general well being.
3. Lymphatic Massage: This is a technique used to unblock the lymphatic system by manually cleansing the lymphatic system in a clockwise fashion. It increases lymph flow, removes toxins from the body and increases immune functions. It is also used to relieve joint pains, arthritis, menstrual cramps depression and cellulite.
4. Reflexology This is a relaxing method of stimulating the body's self-healing properties by applying pressure to very sensitive parts of the foot which represent different organs in the body, using a highly specialized massage technique. It helps increase energy level, stimulate function of nerves, increase circulation, and relieve pains.
5. Exercise: This is among the most important building block of our health. It strengthens the muscles and cardiovascular system, removes toxins, reduces body fat, improves mental performance and improves overall well-being. Mart-Life Detox Clinic's gym is equipped with different exercise facilities which the participants will be encouraged to use. We will have daily scheduled classes of aerobics, Yoga and Pilates as well as sponsored walks around the serene neighbourhood as well as water exercise in the swimming pool.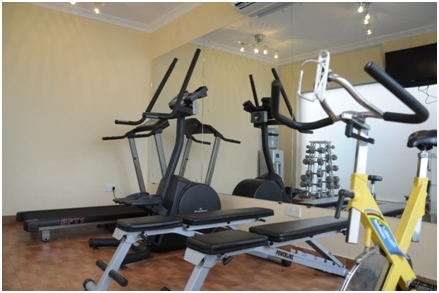 6. Sauna and Steam: All clients are encouraged to make good use of Mart-Life Detox Clinic's Sauna and Steam rooms for maximum detoxification. Use of these dry and moist heat baths can help them to relax and remove toxins by increasing blood flow to various organ systems.
1.4 Phase 5: Report and Action Plan
To ensure you not only undergo diagnosis and treatment to distress and rejuvenate, Mart-Life Detox Clinic will provide a final recommendation regimen report to ensure you are able to sustain this new lifestyle change and ensure a continuous improvement to provide improved productivity in the work place.
2 Our Terms and Conditions
Mart-Life Health and Well Being de-stress and rejuvenate programme for a 3 day weekend retreat or a 3-10 or more days programme as follows;
10 Days – Price: N 700,000 – N 740,000
5 Days – Price: N 500, 000 – N 540,000
3 Days – Price: N 300,000 – N 350,000
Please Note: Cost difference is room type and therapies and a 50% deposit will be required to secure booking.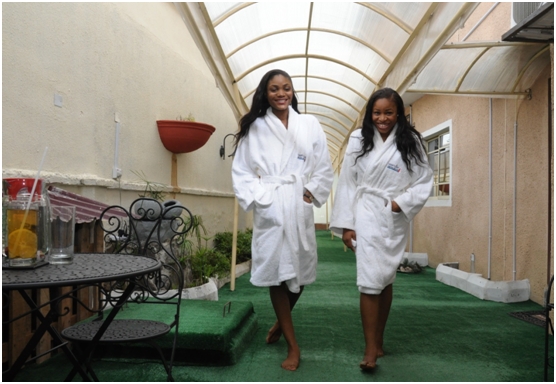 Key Activities of Mart-Life Detox
Welcome Lecture on Modern Mayr Medicine
Initial Consultation and Examination for each client
Comprehensive Asyra test for total body scan for defects and food allergies
Health and Body composition analysis
Daily Abdominal treatments to increase bowel movement and return the abdomen to its normal size
Daily 50 minutes Full Body Massage (includes deep body massage, head and neck massage, myofacial release and lymphatic stimulation) or 25mins Express massage (cranio-sacral massage and Reflexology)
Transcutaneous Electrical Nerve Stimulation/ Scenar treatment for joint pains and inflammation
Electrolysis foot bath to remove toxins and heavy metals from the kidney, liver, bile, pancreas
Nasal detox to remove toxins from the sinuses and airways
Infra-red cabin treatment, to increase body metabolism and remove toxins from the skin
Hydrotherapy, for relaxation of the muscles and nerves
Dietary evaluation according to F.X.Mayr
Healthy Detox diets; Breakfast, Lunch & Dinner
Mineral stone water to replenish lost minerals
Daily herbal infusions to help the detoxification process of the organs
Mineral and Trace element supplements
Final Consultation and Report
Full use of our facilities which include swimming pool, Gym, Sauna and Steam baths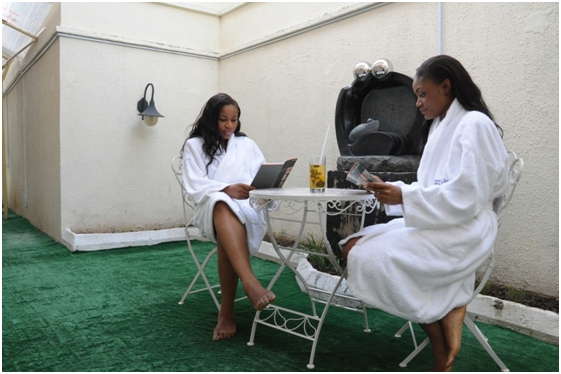 Contact: For more info and general enquiries;
_____________________________________________________________________________
Advertorial – Sponsored Content