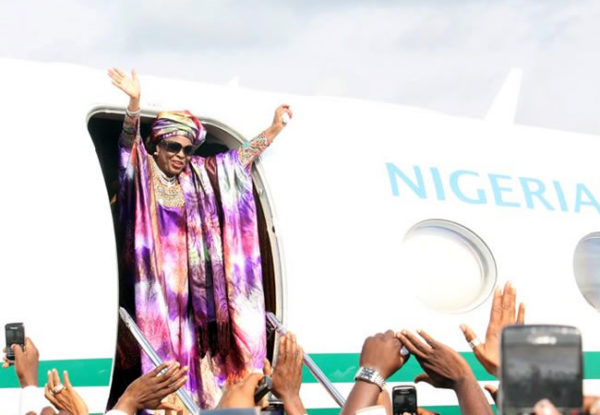 Nigeria's first lady, Patience Jonathan has finally arrived Nigeria after spending several weeks in a German hospital.
She arrived the Nnamdi Azikiwe International Airport, Abuja aboard the Presidential Jet at about 3.45pm this afternoon. She was welcomed by a rousing reception including some top government functionaries, wives of governors, some Peoples Democratic Party chieftains and other well-wishers.
While speaking to some reporters at the Airport, the First Lady denied speculations that she went to Germany to have a costmetic surgery.
"I have to explain what God has done for me. I do not have terminal illness, neither did I do any cosmetic surgery, talk more or less of tommy tuck. My husband loves me as I am and I am pleased with how God created me I cannot add anything," The Will Nigeria reports.
She added that she was particularly miffed at statements insinuating that she would die like Stella Obasanjo, former military dictator Sani Abacha and former President Umaru Yar'Adua, who all died while they resided in Aso Rock.
"Thank God Almighty for bringing me back safely to Nigeria. Wherever they are good people they are also bad ones. They are few Nigerians that are saying whatever they like not what God planned because God has a plan for all of us. And God has said it all that when two or three are gathered in his name that he will be with them. And Nigerians gathered and prayed for me and God listened and heard their prayers, so I thank God for that."
It's good to see her back. Welcome back!
Photo Credit: The Will