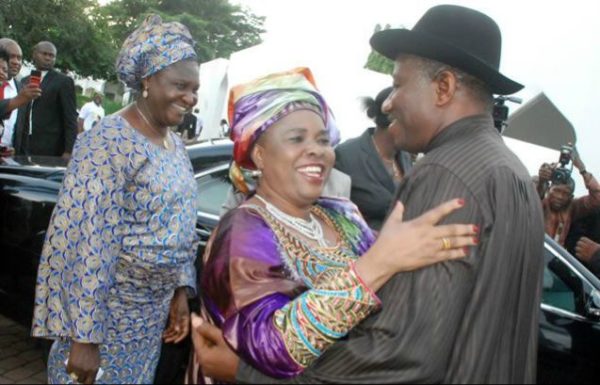 The kind of carnival-like reception that was given to Nigeria's First Lady, Patience Jonathan upon her return from Germany yesterday afternoon is one that I'm yet to understand. I am one of the first people to admit that I am glad to see her back to Nigeria, glad that she is healthy and reunited with her family. But I still don't understand the need for all the paparazzi and fanfare that greeted her return to Nigeria.
She arrived Nigeria aboard a Presidential Jet at the Nnamdi Azikiwe International Airport, Abuja on Wednesday 17th October, 2012. As soon as she stepped out of the plane, she was greeted with a loud cheer and flashing of cameras. She was welcomed by a large number of government officials, women's groups and cultural dancers. Some of her family members including her son and mother-in-law were also present at the Airport.
There was a reception held for her at the Presidential wing of the Airport attended by notable people including Hajiya Bola Shagaya, Hon. Ndudi Elumelu, Chief Arthur Eze, Prof Dora Akunyili and Chief Emeka Wogu. There were also some  traditional chiefs at the reception.
I knew the First Lady had a large number of female followers, especially members of the People's Democratic Party and indegens of her home state, but I didn't quite understand it until yesterday. I didn't understand the branded T-shirts, the aso-ebi, the cultural dancers… I can only imagine how many millions was again spent on this sort of reception.
We are still being kept in dark on the reason why she spent so long in Germany. She didn't say where she was, or why she was away for so long. Yet, she was welcomed like someone who went in search of some treasures and brought lots back to Nigeria. Despite the speculations that she was receiving treatment in a Germany for an undisclosed illness, she denied being an in-patient in any German hospital. "I read in the media where they said I was in the hospital. God Almighty knows I have never been to that hospital. I don't even know the hospital they mentioned," Punch quoted her as saying. She also denied having a cosmetic surgery or tummy tuck as was widely speculated.
It's bad enough that the Presidency handled information about her state of health and the nature of her rumoured sickness poorly. They then proceeded to rub in our faces this sort of lavish ceremony. I just have to ask; was this really necessary?
Photo Credit: Vanguard | The Will