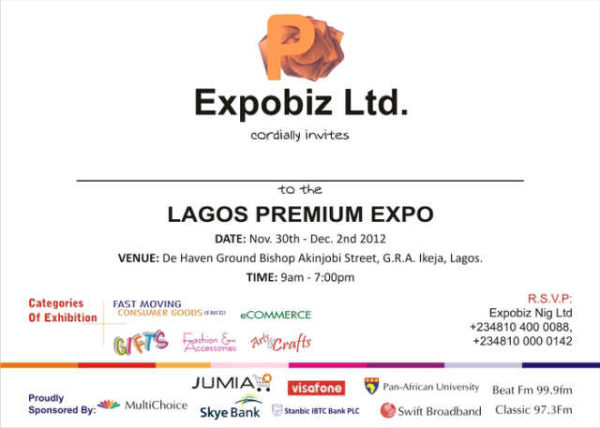 From Friday 30th November 2012 to Sunday 2nd December 2012, Expobiz Ltd, an organisation with an objective to create a world class, top rated expo with opportunities to interact with leading brands and companies in Nigeria, cordially invites you for the Lagos Premium Expo taking place at De Haven, Ikeja, Lagos.
Don't miss out on this fantastic opportunity to buy wonderful items for you and your loved ones, just in time for the holidays. With 3 Days of shopping experience, the event promises to be exciting and an avenue for buyers and vendors to interact.
If you are a vendor and you would like to order for one of the 10 stands left, be sure to get in touch with them. Admission is free for all.
Date: Friday 30th November 2012 – Sunday 2nd December 2012
Time: 9 AM – 7 PM
Venue: De Haven Ground Bishop Akinjobi Street, G.R.A, Ikeja, Lagos
Contact: For more info and general inquiries, call 081040000088 | 081000000142 | log on to their website – www.LagosPremiumExpo.com
___________________________________________________________________________________
Sponsored Content