True talent has no hiding place. When it is utilized and developed, somehow, doors would be opened and opportunities for growth would find its way to the individual with the talent.
At the age of 13, Kelvin Doe started creating batteries and generators using materials he picked up around the house or from trash bins. He went on to manage his own fully-staffed community radio station in Sierra Leone. But somehow, his abilities were discovered  and now he is wowing experts in the U.S.
Kelvin is the youngest person in history to be invited to the "Visiting Practitioner's Program" at MIT, according to CNN. In his home country of Sierra Leone, he is considered a genius.
What is noteworthy about his story is that he has no formal training. He figured out most of this on his own, and the stuff he built, he reverse-engineered from items people threw in the trash that was largely broken or otherwise useless. This is a kid who built a generator because his self-engineered radio station could use one. And also built a radio station because his community needed one.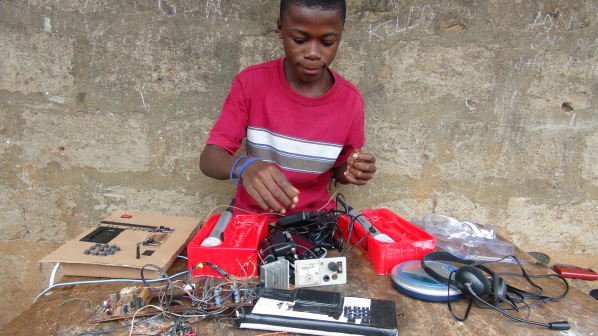 "We have not too much electricity," Kelvin says in the video. "The lights will come on once in a week and the rest of the month, dark. So, I made my own battery to power lights in people's houses."
Kelvin not only taught himself how to engineer, he also plays news and music at his radio station under the name "DJ Focus." The radio station is powered by a generator created from a deteriorating voltage stabilizer, which he found in the trash, while a simple antenna lets his neighborhood listen in.
Kelvin's abilities was discovered during Innovate Salone, a national competition for high school students held in Sierra Leone by an international organization called Global Minimum. A Doctoral student from MIT named David Sengeh noticed him right away. Prior to the camp, Sengeh says Kelvin hadn't left a 10-mile radius of his home.
With Sengeh's help and funding from MIT, he journeyed to New York for the 2012 World Maker Faire in September, where he sat on a "Meet the Young Makers" panel with four American inventors.
Kelvin's fame only promises to grow from here. Soon he will be a resident practitioner with the International Development Initiative at MIT and a guest presenter at Harvard School of Engineering, where he'll gain even more practical knowledge to help his community.
In the video, he claims his next project will be a windmill for people to use for electricity supply. As he said, wiping tears from his eyes, "I want to help my family—to provide the facility for them."
Truly inspiring stuff!
Learn more about Kelvin's journey from Sierra Leone to M.I.T in the video below: