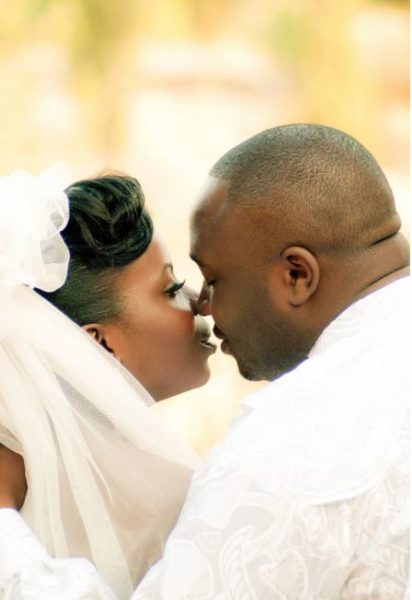 I started up a boutique destination wedding planning and design company straight after planning my own. I came from a Marketing and PR background. I have organised and hosted social events including special birthdays across the world .
When my husband proposed, we weren't comfortable with the idea of getting married in London. We love to travel;  loved the idea of going on holiday with our close friends and family, and wanted to offer our guests an unforgettable experience, so we opted for a destination wedding. Event planning and designing is definitely my strength, so naturally I turned into wedding planner extrodinaire and started with the first task – where?
I was born in Paris and I spend half of my time there so my husband didn't want Paris. He wanted us to pick a neutral ground as well as celebrate our African heritage. We eventually narrowed it to Marrakech, Morocco.
Thankfully I had a great insight on Marrakech. I had been there a few times, and since it was a French speaking country I did not struggle to manoeuvre and make the essential contacts. Our aim was to create an unforgettable experience for our guests so we wanted to find the venue that will revitalise our guests' senses upon arrival. After months of searching high and low, we found a waterfront hidden gem on the outskirts of Marrakech.
It was essential that we had the buy in from our mothers, so I organised what I like to call a selling trip. After the Hamman, the warm welcome at the hotel, the suppliers who treated us as if we were made of gold, all I can say it SOLD.
On our return we were ready to announce to everyone. We had previously done a travel themed engagement shoot to give our guest a taste of what was due to come and was used through all communications and wedding collateral. We set up a website with all the information our guests could possibly need – including flight and accommodation packages that I had brokered directly with British Airways, Royal Air Maroc and the hotel.
We wanted to incorporate travel and the African theme into the design of our wedding. The majority of our stationery incorporated the travel theme – such as the passport invitation, boarding pass save the dates, fan program, menu and escort card on post card and so forth. We incorporated the African theme into other elements such as naming our tables after African countries. We also celebrated some elements of our traditions, from traditional Nigerian drummers to Congolese dancers.
My husband and his groomsmen wore Itsekiri outfits to honour his mother's tribe. My bridesmaids used the same george that the groomsmen wore to create fan dresses.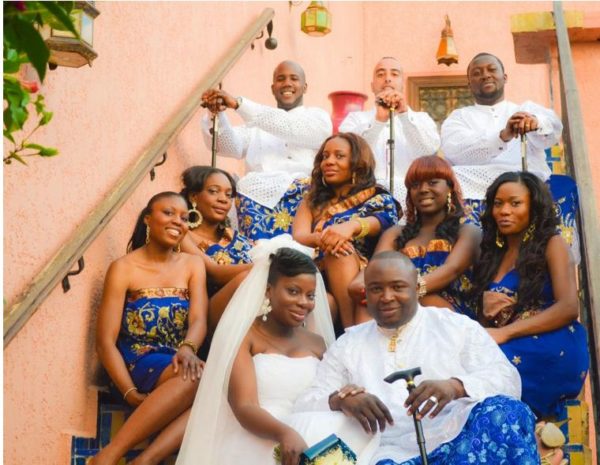 We were happy to have 100 people who were ready to join us. Our  families hosted our traditional engagement two months before the 'white wedding' and this number went up to 180.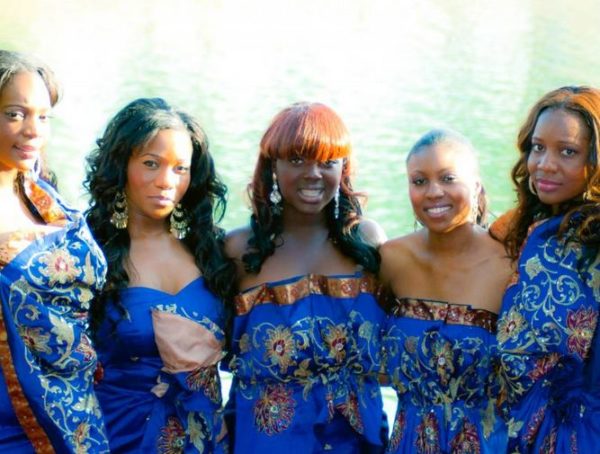 A month to the wedding, a couple's worst nightmare happened. A bomb exploded in the centre of the tourist part of Marrakech – Djemaa el Fna. Thankfully my PR/crisis management skill came in handy. I immediately sent out a note to all our guests within the minutes of receiving the news. I informed them of what happened and reassured them that their safety is of utmost importance to us. We continued to update them on information as we were receiving it from liaising with the government officials and airlines. We received the go-ahead, but 20 people decided that they weren't comfortable with go ahead with the trip – so we went ahead with 160 guests.
The first flight had 100 of our guests flying with us – to say that it was a fun trip is an understatement. The airport was buzzing. The wedding itself was a fun and definitely an unforgettable experience for us and our guests. From the ceremony that took place by the lake – I was so blessed that my pastor flew in with his family to bless us- to the cocktail reception and the five course meals. The entertainers were great too. We were fortunate that one of my husband's friends was a belly dancer and boy could she dance. The Gnawa musicians were also at hand to remind us where we were (in case the mesmerising surrounding didn't) and the party went until the early morning courtesy of our DJ that we flew over from London.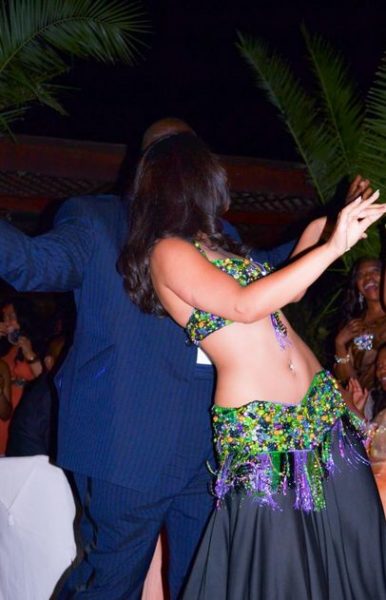 We held a post wedding brunch and started saying our goodbyes. My husband and I (and a few others) stayed longer as part of our honeymoon. We also had some other events we organised such as the welcome dinner and the group day at Nikki Beach (for the young people only).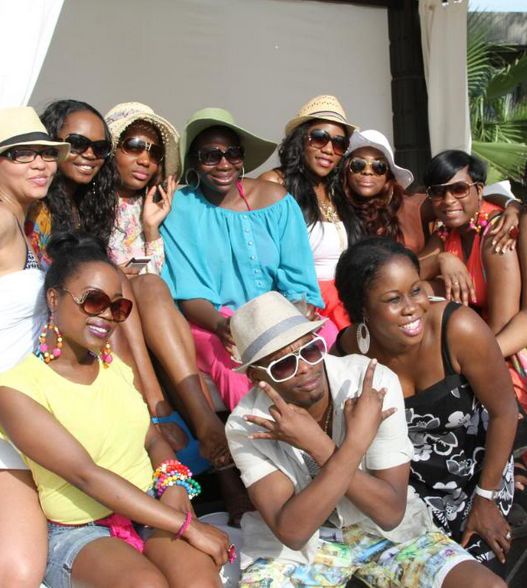 Our guests had an amazing time, and as the host, that was my priority. I found out what their interests were and negotiated discounted rates for them. So whether it was a luxurious hamman experience or Golfing – all of this was negotiated prior to the trip.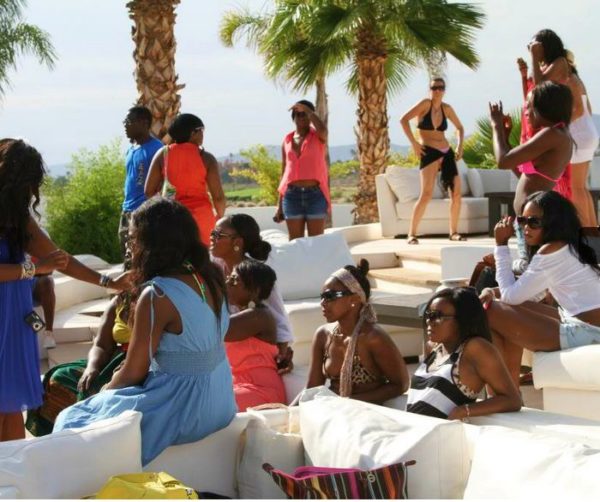 Attention to detail makes wedding a truly unforgettable experience – regardless of where you decide to host it.
If you're planning a destination wedding, here are some tips to guide you in your quest.
1. Get people to buy in to your idea!
2. Remember that your guests are priority
3. Use trusted vendors
4. Make sure the venue is a feast for eyes
5. Do your research
6. Get to know the legal requirements and regulations for getting married
7. Personalise your wedding
8. Incorporate your destination in your design
9. Get organised
10. Hire a destination wedding planner
11. Have fun
____________________________________________________________________________________________
Magali Dunkwu is based in London but caters to couples worldwide. She owns the exclusive boutique destination events company – La Jet Fete. Magali and her team specialises in creating unforgettable experience everywhere they go. They have done weddings in Paris, French Riviera, Marrakech, Portugal to name a few. They cap their weddings to 10 a year – in order to allow their clients to receive the utmost attention and care. www.lajetfete.co.uk. Twitter @lajetfete. www.facebook.com/lajetfete