Most Nigerians love weddings. This is a widely accepted fact. We love to spend large sums on weddings and are attracted to the glitz and glamour of the event. This has resulted in a boom in the wedding industry in Nigeria, creating room for entrepreneurs who are cashing in on the existing opportunities. Designers, event planners, make-up artistes, caterers and a host of vendors are making it big in the industry today, with more joining in daily.
Bringing all these vendors together under the platform of a wedding magazine is Akin Eso, the publisher of the well acclaimed WED Magazine. Every edition of the magazine is a bride's delight, a vendor's platform for publicity and a rich display of typical Nigerian weddings. Akin raised standards in the wedding industry a notch higher when in March 2012, he organized a wedding exhibition, WED Expo, which was widely regarded as being very successful. He chats with Bellanaija's Adeola Adeyemo in this exclusive interview about his passion for the weddings and the opportunities that exist in Nigeria's wedding industry.
Discovering his Passion
My first question might be a bit unusual. Are you married?
Not yet. I would be getting married in January 2013.
How then did a bachelor like you develop such a passion for weddings, turning it into a viable business venture?
Growing up, I've always been that person who wanted to attend weddings. I loved the whole culture around weddings as well. I had been a fan of wedding magazines even when I wasn't planning on getting married.
Did you have any work experience or formal training in something related to the wedding industry before starting the WED Magazine?
Actually, I studied Computer Science at the University of Benin. After my degree, I did my Youth Service and then I travelled out of the country. I went to Stevens Institute of Technology, New Jersey and graduated with a Masters degree in Management with a concentration in Project Management which is what brings the expertise to WED Expo. I was in the US for six years and I did some work over there in small business consulting. Now I'm based in the US and Nigeria.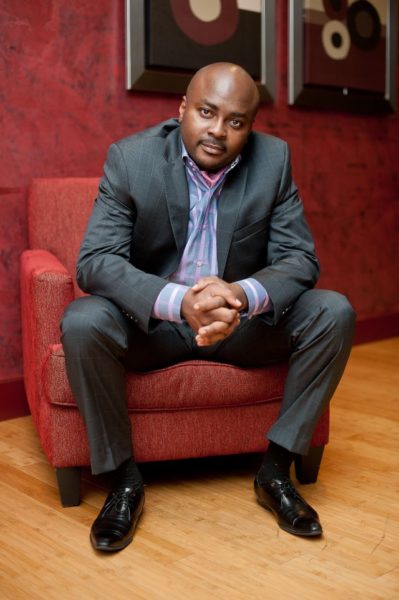 Tell me more about this love for weddings and how you got the idea of publishing a wedding magazine?
I've always loved the idea of weddings and I saw how many young people were in the wedding industry. The Nigerian wedding industry has the largest amount of entrepreneurs today. We have make-up artistes, photographers, caterers and so on. It has really created an avenue for those who can't get a job to follow their passion in the wedding industry and there are a lot of people that do extremely well. When I came home in 2010, I saw how large the industry had grown compared to before I travelled and I said to myself that the wedding industry needed the right media to propagate it to the international audience. I looked at what we had in the market and I said we could definitely get something of international standard. That was how WED Magazine started. It was basically from my love of weddings and my love for small business consulting.
Most ideas, they say, are formed from the desire to meet a need. What need would you say you were trying to meet when you conceived the idea of WED Magazine?
I have a lot of friends in the US who wanted to get married in Nigeria but they have no clue as to what vendors to use and how to plan their weddings. I used to do a lot of online research on weddings and I didn't come up with much information. So I wanted to start a website that would be able to solve that problem. When I had the idea initially, it was meant to be a website but when I came in 2010, I noticed that there was actually a space for print media. So we closed down on the website idea and went with print because with print, it has given us the platform and that is what we are building the whole brand on.
How long have you been publishing WED Magazine?
About a year now.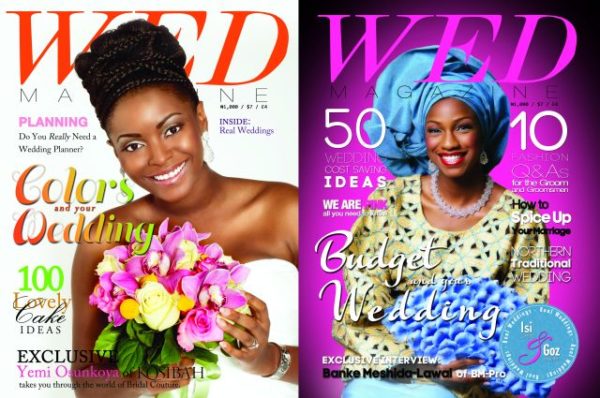 That's impressive. The idea a lot of people have is that publishing a print magazine in Nigeria is not as profitable as it used to be. Has printing a wedding magazine been a viable business for you?
We've been able to do very well. The whole idea of print is that people want to get inspired. In Nigeria, print still has a lot of ground to carry. Yes, there are challenges but I look at them as opportunities for us to actually be innovative at every edition we do.
On a recent post about WED Magazine published on Bellanaija, some readers complained they don't get to see traditional wedding attires from other cultures apart from Yoruba often in WED Magazine. What are you doing about this feedback?
We definitely follow comments like that. We've done showcases on the Igbo tribe and other attires. We are working on an edition where we'd really go very diverse but the truth is even people from other tribes these days use Aso-oke. I know of vendors who do Aso-oke and people travel from the north and east to come and buy from them. There is a way they make the double wrapper Aso-oke and Igbos actually wear it. But we've taken that comment into consideration and we'd be having a very diverse edition that would have most of these things.
What is your team like at WED Magazine and where do you operate from?
For now we do our designing and printing outside the country but we're trying to see how we can do more of the designing here. We run on a structure where most wedding vendors work with us and they also write the articles so that way, it is professionals that are talking and not just someone who has done some research. I am the publisher, we have the assistant publisher, editors, a marketing team and a business development team which focuses on WED Expo and other projects that we have in line.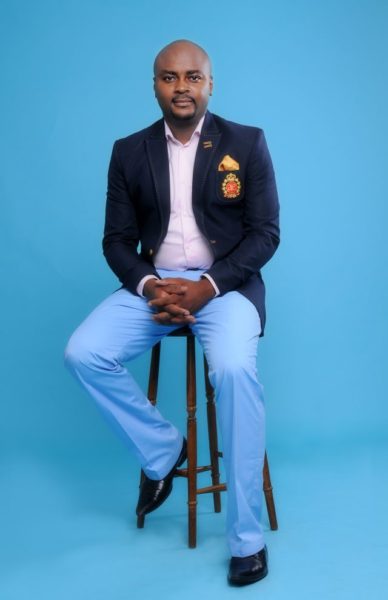 WED Expo
Talking about WED Expo, the first edition generally had positive feedback from vendors and attendees. What inspired the decision to organize a wedding exhibition?
With the large number of people in the industry, we wanted to put all these entrepreneurs under one roof to have a large wedding exhibition. Actually we wanted it to be the largest wedding exhibition in Nigeria and at the end of the day we could comfortably say that it was Nigeria's largest wedding exhibition so far.
You must have faced some challenges while organizing an exhibition that large. What was the major challenge you faced?
One major challenge was sponsors. It was the first of its kind and most people that could have sponsored did not believe that it could be that large. We had to make sure that we had the right partners and meet people's expectations even with little funding from sponsors.
What are your long-term dreams for WED Expo?
We hear of Nigerians going to Dubai or London wedding show, meanwhile, the wedding industry in Nigeria is extremely large. So why not people come to Nigeria to attend our own wedding show?  Our dream for WED Expo is to grow it to a point where people travel in from everywhere and that week would be known as "Wedding City Week".
The Wedding Industry Boom
I once came across a CNN feature called "My Big Fat Nigerian Wedding" where Nigerian weddings were described as extravagant. As someone who works in the wedding industry, do you think Nigerians spend too much on weddings?
The writer of that feature interviewed me for that piece and I told him it is more of our own culture. There are a lot of weddings with 500 to 1000 guests that are really not extravagant. But for the fact that they know people and their parents know people, there is that automatic crowd. Unlike in the US, at the age of 18, you leave your parents house so that absolves your parents from much influence. People comfortably do their wedding receptions on the dinner table and that's fine. A wedding with 250 guests is a big wedding in the US. If you have about 500 guests, that is extremely big. But here we have 2000 to 3000 guests at a wedding. I look at it this way – if you can afford it, that's fine. But if you cannot afford it and you do it, then that's not fine. I wouldn't say we spend too much on weddings because it's something to celebrate. There are certain cultures that spend more on burials but we prefer to spend more on weddings.
Reading through a copy of WED Magazine, I noticed a lot of avenues for wedding vendors are springing up. For instance, "Asoebi Concierege", someone who delivers Asoebi to wedding guests as a business venture is quite new. Tell me more about new opportunities in the industry.
At WED Expo, we've been able to inspire different business ideas. Asoebi Concierge is a company that helps you purchase the Asoebi and delivers to your guests at a very little fee. That is business there. There are lots of them. There are people who focus on just planning; we've seen cocktail companies spring up; a lot of people going into deserts, make-up artistes. It's really fun because the industry is extremely large and growing very fast.
What do you think is responsible for this boom?
I'd say a lot of it has to do with the creativity of Nigerians. Unlike in the US where you have a hall and it's all done with chandeliers and the rest, in Nigeria, you really have to recreate an empty space into what you want it to be. The boom has also come from more people believing in using professionals unlike years back where people wanted to do everything by themselves. It is less stressful for the couple that way.
Doesn't less stress translate to more expenses? The general notion is that it is quite expensive to hire a wedding planner.
The truth about it is getting a wedding planner might actually be cheaper for you. Your wedding planner has vendors they use that they can get discounts from but if you go directly to the vendors, you might not get that same deal. If you get the right wedding planner, you should be fine.
Looking into the Future
Your wedding is quite close. What is the wedding of the WED Magazine publisher going to be like?
It has a lot to do with what my fiancée wants but personally, I'd want a pretty decent wedding. Nothing over the top, but it is still in the planning stages right now so we're looking at having the best of it.
I'm looking forward to seeing your wedding on BN Weddings.
Yes, you will have my wedding on BN and the full coverage in WED Magazine.
Tell me about your fiancée. Where did you meet her and how did you know she was the one?
Her name is Fola Ayoola. I met her through her sister, the CIA agent (just joking) but it took a lot of drilling before I could get her contact. We met in the United States and it has been a ride since we met. She attended my graduation and that was our first date. I knew she was the one because she was God fearing, calm, supportive and had all my secret wifey qualities.
I understand you are in the planning stages for the next edition of WED Expo. What sort of vendors have indicated interest in being part of the exhibition?
The last one had a lot of big names like Kosibah, Kelechi Amadi-Obi, Banke Meshida-Lawal, Cakes by Tosan. In the next one, you would still get most of those names and a lot more. Right now, four exhibitors from London have already booked their booths.
What should attendees be expecting from the next WED Expo?
WED Expo 2013 is going to be an experience. It would hold for four days. We are also going to have WED Awards. The wedding industry needs an award programme to appreciate excellence. A lot of industries have that but we don't. We also have the Lagos Wedding Fashion Week where we'd have designers showcase their works. The goal is to get 300 exhibitors this time and we are looking at over 50,000 people coming through our doors within those four days. There would also be an 'Experience Room' where people would be able to chat one on one with vendors, decorators… everybody in one room showcasing their best. So you get into that room and you get so inspired, you'd want to get married the next day!
Akin shares with us a video of his pre-wedding photos. Check on it!